St.Georges Anglican Cathedral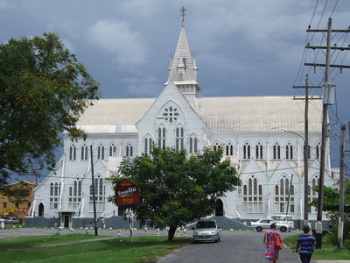 St.Georges Anglican Cathedral is part of the Tentative list of Guyana in order to qualify for inclusion in the World Heritage List.
St. Georges Anglican Cathedral is one of the tallest wooden churches in the world. It is characterised mainly by Gothic arches, clustered columns and flying buttresses. The decorative stained glass windows reflect myriad colours in the sunlight. The cathedral was built in the 1890's on the design of the English architect Arthur Blomfield.
Map of St.Georges Anglican Cathedral
Load map
The coordinates shown for all tentative sites were produced as a community effort. They are not official and may change on inscription.
Community Reviews
---
Chinese-Canadian - 14-Aug-19 -
Wow, Guyana, didn't do my research until a day before flying and it's super unsafe, as in, don't go, really don't go, not the kind of US fear of everything "Tunisia is Arabic thus it's not a safe country" but for realsies. So basically if you stay in the town center you risk getting mugged, ironically just near Robb Street. So with daylight robberies in that area and the evening full of drunks and prostitutes I made my visit very very brief (also saved me $17 departure tax for being staying less than 48h). I even rented a car because I wouldn't trust taxis alone especially going back, with the hotel quoting me something ridiculous high, plus I wanted to have the option to get to Fort Island (Zeeland) which got washed out from the heavy rainfall.
So the cathedral, right smack in the middle of a roundabout, is in dire need of repairs and already got some fancy upgrades like a wheelchair ramp. Inside they are still fixing up the southern side. After seeing many cathedrals around the world this place is puny, but for a cathedral in Guyana it is special. Definitely not special enough to be world heritage although a combined "Georgetown classical buildings" may just have a chance - just wait for the ICOMOS experts to get their scribble notebooks stolen while inspecting the town! It's grand inside, mainly wood and simply colored windows (pink...hehe). I'm not entirely sure about the opening times but a sign pointed out that Mon-Fri has service from 12-13 and is closed to visitors, and I assume there is a Sunday service too. With little to see it is all done in 10min and just in time to check if the car hasn't been stolen or stripped or smashed up by a van yet. Parking is basically on the roundabout.
I realise the travel warning paragraph is longer than the actual cathedral review because seriously think twice about coming here. Sad really because the car rental guy was one of the nicest people I had met in the world.
---
St. Georges Cathedral is one of Guyana's 3 T-list entries located in the capital Georgetown. It is its major landmark, and the most likely candidate of them all I guess.
It's a huge wooden cathedral, rivalling the one in neighbouring Paramaribo for the title of tallest wooden structure in South America or even in the world. It dates from the late 19th century, and though it is a National Monument it is still very much in active use.
The exterior is the most picturesque part, it is located in the center of a "traffic island" and therefore can be viewed well from all sides. A comparison to the one in Paramaribo is tempting of course, and I must say I prefer this one in Georgetown. The historic wooden monuments of Paramaribo are in much better shape though.
The interior is nicer too, although it has a bit of an odd collection of decorations.
Guyana has no WHS to date, and had its no.1 tourist attraction Kaieteur Falls withdrawn in 2001. Maybe they should try again with that one: the policy nowadays seems that every country should get its WHS. The Falls are in every Top 10 List of waterfalls around the world, and are located in Guyana's only National Park. I think it would be a huge stretch to get this gothic cathedral included in the WH List, as well as any other of the current sites on Tentative List.
---
Community Likes
Site Info
Full Name

St.Georges Anglican Cathedral

Country

Added

Type

Cultural

Categories

Link
Site History
1995

Added to Tentative List
Visitors
12 Community Members have visited.