Gwaii Haanas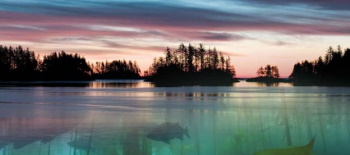 Gwaii Haanas is part of the Tentative list of Canada in order to qualify for inclusion in the World Heritage List. It is a proposed extension of SGang Gwaay WHS.
The Gwaii Haanas National Park Reserve and Haida Heritage Site are located on Queen Charlotte Islands, an archipelago 80 km off the northwest coast of mainland British Columbia, and includes highly diverse living intertidal and subtidal marine communities. It is also strategically located along the Pacific flyway, hosting huge seabird breeding colonies as well as being an important migrant stopover. Two other remarkable former Haida villages, Tanu and Skedans, are located within the park reserve, alongside the SGaang Gwaii World Heritage Site.
Map of Gwaii Haanas
Load map
The coordinates shown for all tentative sites were produced as a community effort. They are not official and may change on inscription.
Community Reviews
---
Gwaii Haanas National Park Reserve and Haida Heritage Site, located on the southern islands of Haida Gwaii, is a proposed extension to SG̱ang Gwaay, a World Heritage Site marking the cultural heritage of the Haida people who live throughout Haida Gwaii. I have to say right off that I am in favor of such an extension, since the Haida are letting SG̱ang Gwaay return to nature, which means that the remarkable memorial and mortuary poles there will one day be only memories.
What would an extension provide from a cultural perspective? Well, in addition to SG̱ang Gwaay, Gwaii Haanas includes four other Watchmen sites: villages with resident Haida interpreters who live on site during summer months and meet with visitors who come through the park on guided tours. When I traveled to Gwaii Haanas in early September in order to visit SG̱ang Gwaay, the tour I was on also took me to three of the four additional Watchmen sites, and each of them provided a different aspect of Haida history and culture. Here's what to expect at each of those sites:
Skedans (Ḵ'uuna Llnagaay): This is the northernmost and most accessible Watchmen site in Gwaii Haanas, and it includes a good mixture of mortuary and memorial poles (though none as spectacular as those at SG̱ang Gwaay) and several house pit depressions showing the former location of longhouses. The Watchmen couple I met at this site were very knowledgeable and welcoming, sharing quite a bit about Haida history, culture, and their life experiences.
Tanu (T'aanuu Llnagaay): This site has a strong sense of loss, with a cemetery at the edge where many who died in the smallpox epidemic were buried. The site is lushly covered with moss, and includes many house pit depressions, as well as the remains of some mortuary poles. This is probably the best site to get an understanding of the typical layout of a Haida village, due to the number of extant house pits.
Hotspring Island (G̱andll K'in Gwaay.yaay): This island was a traditional source of food for the Haida. Although the hot springs on this island briefly stopped after an earthquake in 2012, the springs are again flowing, and this is a great place to relax and enjoy nature. There are three maintained hot spring pools that visitors can use, including one that is almost like a natural infinity pool, looking out over the Juan Perez Sound.
In addition to preserving the cultural heritage of the islands of Haida Gwaii, the proposed extension seeks to also preserve the natural heritage as a mixed site. On my tour, I was able to appreciate the rich intertidal zones around the islands, with its bountiful kelp forests, and sealife such as sea urchins, starfish, and jellyfish. Offshore, we saw many humpback whales, a possible orca whale, and several harbour seals. Back on land, salmon were running upstream, and we saw evidence that bears had been nearby, although we never saw any. The islands are on the Pacific flyway, and during the long weekend, we saw a variety of birds, ranging from bald eagles and seagulls to oystercatchers and murres.
I would leave it to IUCN to determine if Gwaii Haanas National Park Reserve and Haida Heritage Site meets the natural requirements to be added to the list, since I am not sure if it is distinct enough from Glacier Bay National Park to the north and Olympic National Park to the south. I am strongly in favor of Gwaii Haanas serving as a cultural extension to SG̱ang Gwaay, though, since it would provide a much richer and more varied overview of Haida culture, particularly as the remarkable memorial and mortuary poles at SG̱ang Gwaay continue to fade away.
Logistics: Gwaii Haanas National Park Reserve and Haida Heritage Site can only be visited via established tour operators operating small tours. Most of these tours run out of Sandspit on Moresby Island. By taking the ferry from Sandspit (via nearby Allisford Bay) across the channel to Skidegate on Graham Island, you can also visit a Haida Heritage Center that was highly recommended by fellow members of my tour group. The two main ways to get to the islands of Haida Gwaii are by plane to Sandspit on Moresby Island or to Masset on Graham Island, or by ferry from Prince Rupert to Skidegate on Graham Island.
---
Site Info
Full Name

Gwaii Haanas

Country

Added

2004

Extension of

SGang Gwaay WHS

Type

Mixed

Categories

Link
Site History
2004

Added to Tentative List
Visitors
2 Community Members have visited.