Western Stone Forts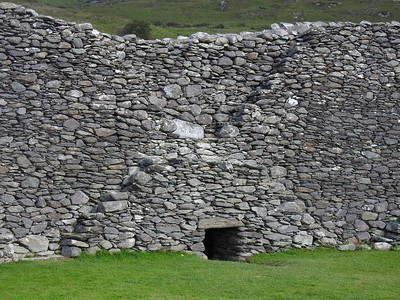 Western Stone Forts has been part of the Tentative list of Ireland.
The Western Stone Forts are 5 ringforts from the Early Middle Ages. They used to house a farmstead that was inhabited by an extended kin group. The forts are enclosed by thick, drystone walls.
Map of Western Stone Forts
Load map
The coordinates shown for all tentative sites were produced as a community effort. They are not official and may change on inscription.
Community Reviews
---
Staigue Fort is one of five early medieval drystone enclosures that make up the Western Stone Forts, a site on the Irish Tentative List. It is located along the touristic route known as the Ring of Kerry, a few kilometers off the main road at the end of a narrow way. I visited it on my way back to Cork Airport after an unsuccessful hit at Skellig Michael (BTW - I did see the island so well from the Kerry Cliffs that I was tempted to count it as a 'visit'! If it had been inscribed on natural criteria as well, I would have).
Back to Staigue Fort: it lies in a lovely location, against a hill and due to its massive size (up to 5.5m high and 27m in diameter) it can be seen from afar. There were two other cars at the parking lot when I arrived, plus a shepherd and his two dogs. At the entrance gate they want you to put a 1 EUR coin into a moneybox as a "Land Trespass charge", though there's no one to enforce it. The trespassing sign may indicate that this land is in private ownership, which limits its chances of ever getting inscribed as a WHS.
The dates and function of these Western Stone Forts are all very unclear. Wikpedia has it that the one at Staigue was built somewhere between 300 and 400 AD, as a defensive stronghold for a local lord or king. The sign at the site itself says "in the early centuries AD" and the "home of a very wealthy landowner or chieftain who had great need for security". The description at the UNESCO website mentions a period of 700-1000 AD for all and them being "the principal residences of the kings or sub-kings of various Early Medieval dynastic groups".
Well, whatever. It is a fine piece of drystone construction. What remains is only the outer wall – the people would have lived in huts inside the perimeter. Somehow it reminded me of the Fujian Tulou. It's a mystery why there are so many stairways on the interior to get to the top of the wall. Was it to defend it from invaders coming from all angles?
Three of the other Stone Forts stay unreviewed on this website til this day. I only just added their approximate locations to the map. The ones for Benagh and Cahercommaun are unsure to say the least. Caherconree Promontory Fortress on the other hand may be worth checking out in the future by someone stuck at Portmagee waiting for a boat to Skellig Michael. There is a 2 hour return hike towards it on the way to the summit of the Caherconree. Details on the trail can be found here.
Read more from Els Slots here.
---
As our last stop on the Irish West Coast, we boarded the ferry to Inishmore. The Aran Islands had gotten raving reviews in Lonely Planet and while I am generally distrustful of Lonely Planet recommendations, the pictures sure look nice. With some excessive driving through Connemara we made it in time for the noon ferry.
Staigue which we had seen before on the Ring of Kerry had not impressed me too much. It's a fairly small site. Interesting to see, but putting it into historical context (300-400 CE), you realize how backwards this area really was.
Dùn Aonghasa, meanwhile, is just stunning. Situated on a cliff with the Atlantic Ocean just beneath you it is a site to behold and well worth the praise it receives. If you are in the area, e.g. to visit Skellig Michael, you should find time for this.
I tried to visit more of the proposed locations, but they were literally impossible to find. I am pretty sure we were within a kilometer of Benagh on the Dingle Peninsula (that's at least where out map puts it), but there were no signs to be found whatsoever and we drove on.
OUV
If I had only seen Staigue, I would give a rather dubious review. Yeah, a stone fort. I could see inscription chances, but only as a niche nomination. Dùn Aonghasa has a superior, more general quality and I would heavily favor inscription. However, the Irish list hasn't progressed much of late, so I am not holding my breath. In place of the Stone Forts, I could also see an Aran Islands inscription as a unique cultural and natural landscape. See our discussions in the forum.
Getting There and Around
Staigue is a few kilometers off the Ring of Kerry. It is signposted from the main road. Don't drive to fast or you will miss the road.
Dùn Aonghasa on Inishmore can be reached by ferry from Rossaveel. A shuttle bus to Galway is included in the ferry ticket. In high season you may have to reserve, but this wasn't an issue for us. On the island you can join a tour by mini bus. We rented bikes instead. There are multiple bike rentals directly at the port. Word of advice: You should manage your time well as the island is rather large, a bit hilly and very windy.
While You Are There
The Aran Islands deserve more time than we afforded them. I would have loved to stay a few days longer.
Most sites are situated along the Wild Atlantic Way, a great road trip destination with impressive views of Ireland's coast. On the Dingle Peninsula you will find the 7th century Gallarus Oratory and several beehives. There are also several beaches. The largest city of the area, Galway, sees its fair share of tourists, but we weren't all that enthralled by the town and quickly drove on.
---
The UNESCO website is not particularly clear on which sites are incorporated by this proposal. Only Dún Aengus (on the Aran Islands) is specifically mentioned.
I visited Staigue Fort in Western Kerry in February 2009. It was a great stop on a lovely drive on the Ring of Kerry.
The fort itself was small but very impressive, built of thick dry-stone walls and commanded a nice view of the valley down to the Atlantic. It is circular with a very small entrance at the front and a few stone chambers in the wall. The stones inside of the walls have been piled up to create stairs to enable you to get to the top of the walls. I climbed up and was surprised by how big the drop was on the other side; it certainly would have taken a lot of effort to get inside if it was being defended. The fort was a fair way of the main road and I was the only soul here, apart from one sheep. The out of the way charm of the place made it a worthwhile stop.
I am not sure if these sites would be put forward as the Irish tentative list is pretty old now and nothing much has happened with it for a long time. They could be an interesting addition, similar in character to the Temples of Malta, though nowhere near as old. From what I can gather Dún Aengus is a very impressive site, but perhaps not strong enough to make it on the list by itself. Putting the western stone forts togther seems like a logical way of making it a more viable candidate for inscription.
---
Site Info
Site History
2023

Removed from Tentative List
2010

Revision

Renomination as a TWHS under the same name
1992

Added to Tentative List
Visitors
9 Community Members have visited.