Derbent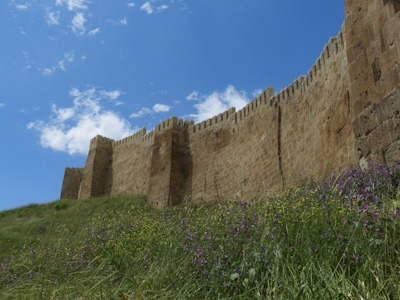 The Citadel, Ancient City and Fortress Buildings of Derbent are part of a strategic Sasanian defense system from the 5th century.
Situated on the western shores of the Caspian Sea, Derbent was in a position to control the traffic between Europe and the Middle East. The defense structures that were built by the Sasanians were in continuous use by the succeeding Persian, Arabic, Mongol, and Timurid governments. Its military function lasted till the 19th century.
Community Perspective: Derbent now lies in Dagestan, which has a troublesome reputation but still a fair number of community members managed to visit and you can do so without a special permit. You may find a heavily reconstructed fortress and have to walk around the ramparts with no rails.
Community Reviews
---
Derbent was the first and only part of Dagestan Ivan and I have managed to visit in our first year in Russia together. In 2013, Dagestan was still quite a wild place to visit. Ivan arranged via his tyre-seling colleagues for two local bike club members to meet us at the train station and to show us around. We arrived via night train from Baku, which was quite an adventure all by itself, including some cockroaches on train and very puzzled border guard who probably never saw our kind of passport and visa before. But it was well worth it, we made it up the Naryn Kala fortress, walked around, took shots of the city and imagined the 5000 years of history. There were some exhibits and info panels. I remember walking around the ramparts with no rails and pondering how more Health and Safety conscious countries would have had a field day here.
After visiting Derbent, our biker guides took us to Makhachkala for some lunch and drove us to the airport for our flight back to Moscow. I remember it having a place where one deposits their weapons before flying to Moscow. It was definitely a curious visit, though even back then the people of Caucasus have been very welcoming and friendly, genuinely interested in foreign tourists. And that has not changed. We toured Dagestan in November 2021, skipping Derbent this time as we only had four days and the hospitality was amazing as always. The general vibe was much more touristy and popular, both with foreign people and Russians alike. There's more infrastructure and loads of guides on 4x4 cars taking you anywhere you like. If you manage to make it there, due to current situation.
---
Many think that a visit to Derbent is our of the reach of an independent Western traveler. Dagestan has a very bad reputation as a troublesome region with high crime rate and as a source of jihadist threat. Practically all Western countries issued travel warnings, discouraging travelers to go there, and even Moscovite Russians have a firm conviction that Dagestan is a dangerous place. But -if you venture to go there - literally everybody will try to convince you that there is no calmer and friendlier place on Earth than Dagestan. And after two days I was ready to believe rather them than my own bureaucrats in the ministries.
But let us see the practical side: Travelling to Dagestan is not difficult at all, there are no restrictions, extra permits, checkpoints, you can get the visa with the normal procedure, and travel around freely. From Moscow there are a lot of flights daily to Mahachkala. If you book the ticket well in advance a fares are quite low - 40-60 euros one way. I was flying Utair, a low cost company based in Moscow's Vnukovo airport. (Advisable for those who understand Russian as they do not have English website.) From Mahachkala airport you have to take a taxi to the bus station (avtovokzal), from where there are innumerable marshrutkas going to Derbent. As a rule they leave when full, but normally as I realized you don't have to wait more than a couple of minutes. The bigger ones (Gazella minibuses) cost 200 rubles (3 EUR) per seat, but they make the 170 km-s in 2-2,5 hours. Faster, more comfortable shared taxis cost more -cca 500 rubles (7,7 EUR) per person. As you arrive to Derbent you have to take another taxi to your hotel. Taxi rides within the town cost somewhere between 80 and 160 rubles 1-2 EURs so it is really not necessary to walk anywhere if you are not into it. Accommodation cannot be a problem - there are a lot of local hotels, guesthouses on booking.com. Prices generally are much lower than anywhere else in Russia, Dagestan is still among the poorest regions of the country - it will be a relief after th skyrocketing prices in Moscow.
The Old Town is easily walkable, but the Naryn-Kala fort is on the top of a hill, and can be quite exhausting experience to walk up there in the summer heat. The fortress is heavily reconstructed but retains some traces of the olden ages -it worth the 500 rubles, and you can easily spend there 2 hours. An ambitious reconstruction project is (or rather was) on the way. Parts of the city walls and some streets are nicely restored. An impressive staircase leads along the wall from the fortress towards the center. But it ends halfway in a clamped backyard.
Juma Masjid - the other crown jewel - is much more atmospheric place, than the fort. It's the oldest mosque of Russia and the interior is really stunning . Unfortunately taking pictures inside is forbidden.
Though there are some Russians who still dare to come, Dagestan is absolutely off the beaten track. You have to be prepared for quite limited tourist facilities - no souvenir shops and fridge magnets - the only tourist spot is in front of Naryn-Kala (on the picture) - but the obligatory accessories of the 21st century are present from ATMs to diet coke. The good command of Russian makes it hassle-free - but I am sure that you can survive without Russian also.
Getting back to the airport is easier as it is on the way to central Mahachkala, so most probably your driver will drop you there without any surcharge.
---
Site Info
Full Name

Citadel, Ancient City and Fortress Buildings of Derbent

Unesco ID

Country

Inscribed

Type

Cultural

Criteria

3

4

Categories

Link
Site Links
Unesco Website
Related
In the News
Visitors
24 Community Members have visited.