Chongoni Rock Art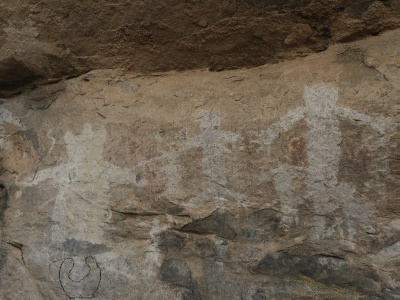 The Chongoni Rock Art Area consists of 127 sites that feature the richest concentration of rock art in Central Africa.
They reflect both the traditions of rock art of the hunter-gathers and of agriculturalists from the Late Stone Age til the present day. The paintings are connected to living traditions: funeral rites, girls' initiation and rain making.
Community Reviews
---
Visit in July 2022.
This place is rather remote and gets very few visitors.
The rock art of Chongoni is of international importance because it has large and well-preserved rock paintings sites belonging to rare African rock art traditions: by Chewa farmers and by the hunter gathering BaTwa Pygmies. The Chongoni area contains some of the finest examples of Pygmy, rock arts in Africa and more than half of all of central Africa's farmer rock art. Chongoni has one of the world's greatest concentrations of rock art known to have been made by women.
They have discovered 127 different panels, but they believe there are more. At the time we visited, only one site was open for public, the Mphunzi site. We picked up a guide at the Dedza pottery and lodge. He drove with us out to the site, about 45 minutes' drive mostly on a bad dirt road, but a scenic ride through rural villages.
The site consists of 7 panels. We first hiked up to panel 7, one km uphill. This is the youngest site with white paintings about 500 - 2000 years old. The images symbolize rituals with animal's masks. Many images are clearly visible, but others are faded. These paintings were made by the Chewa agriculturalist. Amongst the white figures, there was one figure in black color, which is quite rare. These people are stilling living in the area and rituals/ceremonies are still taking place in the rock shelters.
This shelter also seems to be used by hyenas. We spotted several fresh tracks! The view from the mountainside is fantastic, well worth the effort getting up here. Then we went all way down again, as the rest of the panels are closer to the parking.
The rest of the panels are with red paintings and presumably up to 10 000 years old made by the BaTwa Pygmies.
The panels look like "a mess", but when our guide explained it, it all made more sense. They used the panels more as "information" like marks of capture of animals, and fertility divination. They were made by women. For fertility, people still go to make offerings when they have fertility concerns. Many of the images are unfortunately faded
There are no signs, not a clearly marked trail and no information panels. The panels close by the parking are not easy to locate either, so you will need a guide.
Not many people find their way out here. When we signed the visitor book there were only 3 other visitors signing in the past two months!
The rock art is not the greatest, although they might appear quite simple and not as artistic as for instance Kondoa, they tell a story from the past.
An extra point for the remoteness and the beautiful surroundings.
---
1.00 Chinese-Canadian - 26-Dec-21 -
Usually this place isn't high on the list of travelers to Malawi. My visit was part of a safari tour that took me from Lake Malawi through Zambia to Botswana and it had this as a scheduled stop. The driver stated he rarely goes there and only because I had selected the "extensive" tour. From the only road across the country there is a road leading south that goes to the rock art. It is clearly signed, not that I think you'll be driving on your in Malawi but it's not unheard of. The closer you get to the sites the worse the road gets, eventually just dirt roads and little villages. That might explain why most safari tours avoid it. After just one site I told the driver I am not really interested, which of course in hindsight seems crazy BUT I stay with my rating that they are utterly garbage. While I'm not a fan of rock art in general, (I mean, who is?) I have seen my share of good ones. Colorful tigers in caves, various animals to show the changes to the landscape over time, even just traditional stuff is ok with me. However, what you see at Chongoni are very primitive drawings that seem to mainly focus on the local customs. Immediately that makes me thing why it's supposed to have a global impact, and honestly I'm not sure it's unique. There must be very similar rock art sites across southeast or just southern Africa that presents similar stuff.
---
Joseph Colletti
First off, Malawi is well deserving of its reputation as "the warm heart of Africa," with welcoming, friendly people and some beautiful scenery. (I did see another piece of unofficial but edgier tourist literature that touted Malawi as "more than Madonna's children.")
However, Malawi's location, surrounded on three sites by Mozambique places it off the usual safari, African tourist track. It's not difficult to get to, just off the beaten path, so you have to make Malawi a destination and want to visit. This world heritage site is in the same category--not hard to get to but it does take some specific effort (and patience).
I visited two of the three Chongoni rock art sites that are open to the public (i.e., accessible without unsafe hiking into the bush, for several hours with a guide, if you can find one able to take on the task) in August 2014, from Dedza, a busy transport center in the (thankfully) cool highlands. Dedza is easy to reach by bus or car from either of the big cities in Malawi, Lilongwe or Blantyre. Once in Dedza, to get to the rock art sites, unless you have your own transport you must arrange a car and driver/guide. Any of the staff at the lodges should be able to do this. My cost for a full day was about $65.
There is a dirt road to the sites, full of pot holes, ruts and gullies used mostly by heavy sawmill trucks, which I imagine doesn't help the situation and, according to my driver, the road is not well maintained, so every rainy season the situation gets worse. So although the distance between the sites is not much, average speed is going to be about 20km an hour or less with much bouncing around and, in the dry season, dust.
The first site I visited, Chentcherere, is a brief and not to difficult (unmarked) climb up a hill and through some brush with beautiful views of the countryside and what's left of the forest.
As for the rock art--unless you're an expert on petroglyphs and have a discerning eye it was hard to differentiate the white paintings the driver (admittedly not a guide but familiar with the site)pointed out from lichen, geological fault lines and other natural coloring on the rocks. There are no explanatory signs or directions to the paintings so I took the driver's word for it that what I was looking at was a giraffe or a lion (perhaps, finding only one of the four or so rock paintings clearly to be the depiction of a person my driver said it was. Several of paintings in the rock overhangs are also marred by mindless "I was here" graffiti.
It was about an hour drive (but perhaps only 15km or so) from the Chentcherere site to Mphunzi, 90% of it over bumpy dirt roads and through spread out villages, so you will get lots of stares and friendly waves. The Mphunzi site is at the boundary of a village and marked by a rusting UNESCO world heritage marker with the reason for inscription and that's it. A guide from the village joined me and the driver and over the next hour or so took us up and down hillsides and over unmarked paths around and over rock outcroppings. He pointed out the five or six rock shelters that featured drawings of animals. Besides pointing out what they were, (not always clear to the untrained eye) he explained, with knowledge and obvious pride, their significance both to the local culture and the history of that part of Malawi, an explanation without which I would have been lost, in all senses of the word. This gave me an sense of why this is a world heritage site--its strong and ongoing connections to the people of the area, rather than any intrinsic artistic merit (in my opinion.)
The climbing and scrambling over rocks to get to the five or six best paintings in this section of the site is not demanding but in the heat of the day it can be taxing on some, so bring water. On the plus side, their location in shady rock shelters or over hangings is an added pleasure, as are some of the views over the village and the countryside.
Unfortunately, Mphunzi, although better maintained than Chentcherere, also has some paintings that are defaced or damaged to the point of disappearance (which the guide acknowledged) and there did not appear to be any attempt at preservation or protection, other than that which nature provides. The red paint drawings, despite being older, are much better preserved than the nearby newer white paint drawings.
Overall, if you are a) in Malawi and b) a world heritage fan, then check out the Mphunzi site with a knowledgeable guide, a must if you want to even find the paintings, scattered and hidden as they are over the hillside, and also to gain some insight into what they signify. There is supposedly more information about the sites at the Dedza Forestry camp, (which also has a restaurant and lodging) about 20 minutes or so from the Chentcherere site on the way to the Mphunzi site but I did not stop there. Make it an early start to avoid the worst of the heat and finish with lunch at the Pottery Lodge.
---
Site Info
Site Links
Unesco Website
Official Website
Visitors
16 Community Members have visited.