Central Sikhote-Alin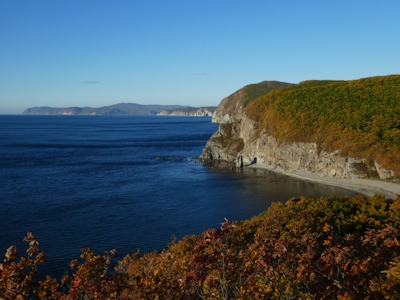 The Sikhote-Alin is a mountain range in Primorsky and Khabarovsk Krais, Russia, extending about 900 km to the northeast of the Russian Pacific seaport of Vladivostok.
The highest summits are Tordoki Yani (2,077 m) and Anik Mountain (1,933 m).
Sikhote-Alin comprises one of the most extraordinary temperate zones in the world. Species typical of northern taiga (such as reindeer and the brown bear) coexist with tropical species like the Siberian tiger and the Himalayan bear.
Community Reviews
---
Desperate times call for desperate measures. So when Ivan and I got stuck in Russia for a progressively longer and longer time, we started not only revisiting old Russian WHSs, but thought about visiting the new ones too. Not many left, but we did what we could and Ivan planned a week-long trip along regions of Russian Far East.
Having been to Kamchatka and Lena Pillars already, it was Sikhote-Alin Natural reserve that remain to be visited. Your hub will be Vladivostok. From there, there are three ways of getting in and out of Terney, a gateway to the park. One is comfortable, another two are weatherproof. September is said to be the best weatherwise, so we chose the comfortable one - with a small De Havilland Canada DHC-6 Twin Otter aircraft on a daily line between Vladivostok and Terney, operated by Aurora Airlines, a subsidiary of Aeroflot. Prices are subsidized by the government and a plane ticket (2600 rubles) is actually cheaper than 14-hour bus ride (3000 rubles). The bus to and from Vladivostok departs twice a day: in the morning and in the evening. Alternatively you can rent a car in Vladivostok and drive yourself (11 hours approx. without stops) but the roads are quite ghastly, especially between Dalnegorsk and Terney.

We flew to Terney, but our return flight from Terney got cancelled due to bad weather - airport has a dirt-road of a landing strip and if it rains it gets muddy thus impossible
to land on. Weather forecast was warning of storms two days ahead so we succumbed to the inevitable and the second evening arranged a taxi to Vladivostok. It cost us 190 euros for 700km of a bumpy ride. But it got us there in time for our train, so great. Takeaway: have a backup plan or extra days available if you're flying to Terney.

There is a single eating and sleeping option in Terney - hotel Terney. It costs about 45 euros per room per night, which is quite expensive given the locality and general state of affairs, but it has no competition and at least is clean. It isn't to be found on any major booking sites, so either calling or e-mail inquiry will have to do. Given small population (2,5 thousand), Terney's got surprising amount of grocery stores: we counted six in immediate town centre only.

The Sikhote-Alin Natural Reserve has and administrative centre in Terney that handled tour bookings: you have to book in advance in any case, but they can rustle up English speaking guide for you.

There are four basic tour options:
Northern Cape - 4,6 km, easy walk, changing nature and seal-watching. Takes 2-3 hours
Lake Blagodatnoye - 4 km, easy walk, forest flora, saltwater lake good for birdwatching. 2 hrs tops.
Lake Golubitchie - 6-8 hours, 11 km hike (plus 2kms to and from parking place), not difficult, 300 metres in elevation. Can also de done with overnight stay in a shelter by the beach.
Arseniyev's Trail - 70 km hike done over 5 days, sleeping in shelters (food already brought in), 700 euros per group of 3-4 people. A great way to enjoy the tundra, they say.

We did first three routes, all with a guide, it cost us 60 euros overall - there's 5,5 euro surcharge if you need a ride from the park administration to park site (17 km off Terney). Two shorter ones in one day (6 hrs) another on second day (also 6 hrs). Season lasts from July to October, July to August is a tick season so September is your best bet. The views of the nature are lovely and there's plenty for everyone to enjoy. We spotted wild boar on the second day, bear and tiger encounter is possible, but rare. Guides carry bear spray on them but that's the only thing they have. I enjoyed the visit and the ever-changing nature of the park trails. Pity it's so far away from everything and getting there can get quite difficult. I'd maybe plan with a trip to Kamchatka.
---
Site Info
Site History
2018

Extended

With Bikin River Valley
2018

Advisory Body overruled

IUCN advised a Referral for the Bikin River extension
Site Links
Unesco Website
Official Website
In the News
Visitors
8 Community Members have visited.