Buddhist Vihara at Paharpur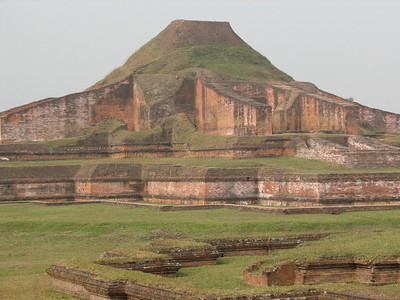 The Ruins of the Buddhist Vihara at Paharpur comprise a Buddhist Monastery dating from the late 8th century.
The site is located in Paharpur, in the northwest of Bangladesh. It is said to be the second largest single Buddhist monastery south of the Himalayas. It was made a WHS as a tribute to the Pala dynasty, that ruled Bengal and Bihar for 3,5 centuries from the middle of the 8th century.
The monastery is built as a quadrangle, measuring 281 meter on each side. All outer four wings contain monastic cells, 177 in total. In the center of the vast open courtyard of the monastery stands the shrine. Its remains are still 21 meter high and have three gradually diminishing terraces. The walls were built of burnt bricks, some ornamented with motifd of flowers and seated Buddhas. There were also bands of terracotta plaques in rows all around the terraces.
From the 12th century on, after numerous attacks by invaders, the monks left and the monastery buildings suffered decline and desintegration.
Map of Buddhist Vihara at Paharpur
Legend
Visit December 2006
The Somapura Vihara of Paharpur is located in the middle of some industrious villages. The monastery can be seen already from far. We first stop at the museum. It has some original ornaments (the ones at the site itself are largely replicas).
The remains of the monastery are now in a peaceful environment. Two children are cutting grass. A woman is drying saris on the field. Almost all of the archeological terrain is covered by grass. The monasterial remains have been hidden under the same grass and stones for centuries, after the monks left in the 13th century. Locals thought it to be a hill, hence the name Paharpur (hill town). The monastery complex that was discovered behind the rubble had 177 monastic cells, a water pit, a kitchen, various stupas en the centrally located main temple.
The whole complex is much bigger than I had anticipated. Because of its location (in the far northwest corner of Bangladesh) it doesn't see many visitors and also isn't widely known. The whole area seems to be well cared for, although many of the bricks are in need of repair. Fortunately there are many brick factories around.
Community Reviews
---
---
---
---
---
---
Community Rating
Community Rating 3.00. Based on 3 votes.
Site Info
Full name: Ruins of the Buddhist Vihara at Paharpur
Unesco ID: 322
Inscribed: 1985
Type: Cultural
Criteria: 1 2 6
Site History
1985 - Inscribed

1984 - Deferred

For confirmation of action regarding prevention of nearby mining
Site Links
Unesco Website
Official Website
In the News
Terracotta artefacts at Paharpur monastery damaged due to lack of maintenance (24.04.09)
Archaeologists in Bangladesh have discovered an ancient brick-built structure with floor and artefacts. (29.03.08)
Archaeologists find structures older than Pala Era (16.03.08)
Connections
The site has 6 connections.
Visitors
15 community members have visited Buddhist Vihara at Paharpur. Show all