The Andaman Sea Nature Reserves of Thailand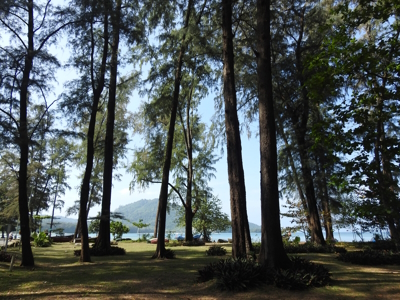 The Andaman Sea Nature Reserves of Thailand is part of the Tentative list of Thailand in order to qualify for inclusion in the World Heritage List.
The Andaman Sea Nature Reserves of Thailand covers a marine region where the Indonesian marine biota meets with the Indian Ocean biota. The 7 included conservation areas comprise mangroves, inshore islands, offshore islands, beaches, and coastal forests. They stand out for the beauty of their coral reefs, marine animal breeding grounds, and undisturbed Holocene beach and gallery forests.
Map of The Andaman Sea Nature Reserves of Thailand
Load map
The coordinates shown for all tentative sites were produced as a community effort. They are not official and may change on inscription.
Community Reviews
---
It took a lot of self-motivation to drag myself to the holiday island of Phuket, especially since it is quite a detour by public transport on the way south from Hua Hin to the Malaysian border. But the Chinese influences (the result of a 17th-century tin mining boom) in the Old City of Phuket turned out to be a refreshing change from the monoculture of the rest of Thailand.
From Phuket Town, I visited Sirinat National Park, one of the 7 nature reserves included in this tentative site, which lies some 30km to the north. I took the bus that runs hourly from inner city bus terminal 1 towards the airport and got off about 3km before the final stop when the bus passes the park entrance road. There's no lack of signage that you are approaching and entering a national park. It was renamed to 'Sirinat' (after the Thai queen mother Sirikit) in 1992, but maps.me still has it listed under its older name 'Nai Yang'. Officially there is a 200 baht entrance fee, but the gate wasn't staffed and I don't see how they would enforce it anyway as the area includes a public beach.
Finding something appropriate to see and do is another matter. The best thing I could find was to hike the 'Beach Forest Nature Trail' – all 500m of it! It's a forest trail with interpretative signs, totally underwhelming although it must be said that the signs are relevant to its possible future WH status. Sirinat consists of a coastal forest, with sandy and salty soil that keeps plants low.
I don't think there is anything more 'natural' to the park than this. I also went to the visitor center (one room), saw a youth camp, bungalows, park headquarters, and a lot of cars on the main road that crosses it. The beach is fairly nice and wasn't too busy. I had to laugh at the stray dogs that had buried themselves in the cool sand and were sleeping comfortably. I walked via the beach towards the airport, where I caught a bus back to town.
The park area is so tiny (2 km²) that I can't see how its values are preserved despite the commercial development all around it and it wouldn't surprise me if IUCN requested it to be dropped from a final nomination. Thai politics may want to keep it in though, as Sirinat NP was a prestige project of the former governor of Phuket, it would give Phuket a WHS (resulting in even more tourism!) and the park is full of references to the Thai royal family.
Read more from Els Slots here.
---
Chinese-Canadian - 07-Jan-22 -
Visited Phuket in 2016 and had just passed my diving certificate - so everyone tells you to go diving in the Similan Islands as must-do vacation. It sounded great on paper but the tour operators are all dodgy and diving in Thailand is always a little on the skeptical side. It's cheap and backpackers love it for that; however, it's like the dorm rooms on booking.com that all get 9.x ratings but they are rather crappy as a stay for the regular traveler, the people who do stay for $10 a night will love it and rate it highly. So basically the type of divers that were on the trip consisted of alcoholic Russians that would drink hardcore vodka all the time, possibly in-between dives, and WITH the dive master(!!), the maniac tattooed young hotshot "yanks" that would try to do backflips with a tank on, and generally people who haven't been diving in any better place and just felt that it's the best there is - and maybe for the price that is true although Bali shouldn't cost you more and you certainly don't need to stay on a boat for several days to see fishes and even maybe mantas. While dive operators never want to promise you anything like sights or visibility, they talked big about whalesharks and how great the sites are but they ended up being rather average. While I don't remember the operator anymore I still remember the dive guide taking the group against strong currents and trying hard to visit a spot to see - wait for it: an underwater grave - even though most of the guests were novice divers. A couple of divers even got lost from the group and oh my it just seemed so...Thai? Anyway, I wouldn't want this review to become a rant about how lousy my dive trip was. At least they served delicious fresh spanner crab.
So looking at the list of sites suggested for this inscription one particularly stands out: Sirinat NP. It's just next to Phuket airport and I even stayed at that beach because it was so cheap, not wanting to stay in the crowded Patong Bay at the south end. It doesn't get many tourists because the beach isn't smooth sand like down south and I guess it's even closed when the turtles come? I didn't even know it's a turtle nesting ground when I was there. If you are making Phuket your vacation next and just want to tick this off then it would be your best bet, but going further out to the outer islands is better than the run-of-the-mill mangroves on "the island".
I can't speak for any of the other areas but if it's true that there are many endemic and rare species around these parts then I'm naturally all for it being more protected.
---
Community Likes
Site Info
Full Name

The Andaman Sea Nature Reserves of Thailand

Country

Added

2022

Nominated for

Type

Natural

Categories

Link
Site History
2022

Added to Tentative List
Visitors
8 Community Members have visited.