Archaeological Site of Priene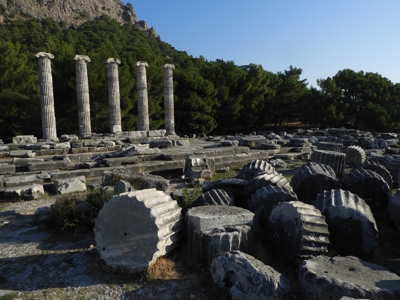 Archaeological Site of Priene is part of the Tentative list of Turkey in order to qualify for inclusion in the World Heritage List.
Priene is an example of Late Classical and Hellenistic urban planning. It is known for its rows of residential homes which show the principal of equality of all citizens. It was built along a stringent city grid.
Map of Archaeological Site of Priene
Load map
The coordinates shown for all tentative sites were produced as a community effort. They are not official and may change on inscription.
Community Reviews
---
Chinese-Canadian - 26-Dec-21 -
Priene is a great location next to the mountains. It's a vast area that will take you hours to see. The map alone will show that. Its layout is easy to walk around too, like a well-designed town. The main problem is that that most of what remains are in ruins, and what surprises you is that most of the building blocks are still around, waiting for some money and time spent on getting this place put back together. Potential is huge here as none of the huge pieces were taken away to build something new later, a common thing with so many antique sites. So as there is a lot of rubble what's really worth seeing now are the few large columns with a lovely background (see pic) and the small theater with VIP seats where nothing seems to stop you from actually taking a quick seat (the moral question if you should is all yours). If you have the Aegean card then this place is a nobrainer but even if not it's worth the time and money to visit.
---
The archaeological site of Priene in Western Turkey is the opportunity to visit a middle size Hellenistic city from the last centuries BCE. There are no outstanding monuments like in other nearby inscribed sites, but all typical buildings of a city of that time can be visited : bouleuterion (the "city council room"), agora (main square), theatre (well preserved with many architectural details), temple of Athena (a few still standing columns, and many more on the ground floor…). This feeling of walking in an everyday, human size environment makes the experience different than visiting e.g. Ephesus or Aphrodisias, enhanced by the nice location of the site on the slope of a rocky hill and the more than welcomed shadow of pine trees.
Priene is also famous for being one of the best and oldest surviving examples of a city build according to Hyppodamus of Miletus rules: straight streets crossing at right angles, dividing the city according to a grid pattern of identical areas. Remarkably, builders strictly adhered to that plan, and when the slope was too important, they transformed the street into stairs: nowadays visitors access the site via such a "stairs street". The city was moved and rebuilt to its current location because the former one had been totally destroyed by war. Re building the city ex nihilo was a good opportunity to implement these new principles of urbanism (note that Milet is only a few kilometres from Priene).
Another important innovation is the design of the capitals of Athena temple, which are said to be the first ones in ionic style, replacing the then standard doric style. Following a narrow trail behind the temple, we also enjoyed visiting the remains of houses, of which stone walls still clearly mark the layout of the courtyard and rooms around: quite unusual, and the consequence of these houses being built with stones, not perishable materials.
As you may have guessed already, we clearly recommend the short detour to Priene. It is also worth mentioning that there were almost no visitors (forget the crowds of Pamukkale) and ticket price is very low.
---
Community Likes
Site Info
Full Name

Archaeological Site of Priene

Country

Added

Type

Cultural

Categories

Link
Site History
2018

Revision

Renomination of Priene: a Hellenistic settlement built on Hippodamos plan (1984-1996)
2018

Added to Tentative List
Visitors
14 Community Members have visited.