Imperial Kiln Sites of Jingdezhen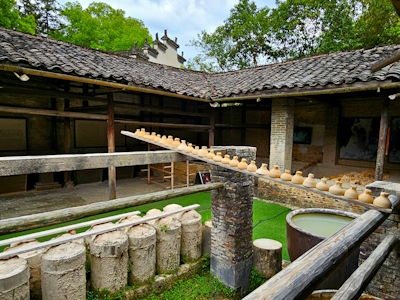 Imperial Kiln Sites of Jingdezhen is part of the Tentative list of China in order to qualify for inclusion in the World Heritage List.
The major component of Imperial Kiln Sites of Jingdezhen is the Imperial Kiln Site, which fired, produced and served porcelains for the imperial family during Ming and Qing dynasties. They reflect the unique art and culture taste of Chinese society. These heritage sites demonstrate a complete course of development of the imperial kiln in workshop layout, kiln structure, processing technique, management system and other aspects, and provide concrete evidence for the highest level of porcelain-making craftsmanship in China and over the world.
Map of Imperial Kiln Sites of Jingdezhen
Load map
The coordinates shown for all tentative sites were produced as a community effort. They are not official and may change on inscription.
Community Reviews
---
Chinese-Canadian - 07-Jan-21 -
As I descend to hell..oh, wrong review, although one could think by the picture on the right that's where I was heading. Jingdezhen kiln sites are by no means a visit to anything such, and in fact they are quite enjoyable.
Having previously thought that the site should be akin (akiln?) to the sites in Korea and that it should be a join inscription I find that China has more to offer than the Korean "counterpart". In truth, both places have a large claim to their porcelain heritage but I suppose China's (the word CHINA is supposed to come from Jingdezhen because they make fine China) is much bigger. I wouldn't place it at the same level as the silk road but if you think about how the porcelain industry at the time was a huge thing and put China on the map, obviously it was already on the map but everyone wanted fine porcelain from China and it got traded around the world. Tell me one (non-looted) palace you visited that didn't have a porcelain vase from China (don't actually tell me I know they all don't contain one). For this reason alone I would say that Jingdezhen is worthy of cultural heritage even though a visit isn't super exciting in any way.
Jingdezhen is basically all about porcelain. Statues, signposts, the airport is even in a vase shape!! You could visit a whole number of places here. Many corners of the town still produce porcelain and are stacked with vases, pots, plates, tea sets. I didn't include a picture but it's basically what that China shop would look like when the elephant enters. I would buy stuff but I don't really have earthly possessions nor do I want to schlepp heavy, fragile things around on my trips (they can of course courier it to your home if you live in China).
I figured the best place to visit is Jingdezhen Ceramics Folk Museum, positioned on Zhushan, a small hill in the center of town. It originally had a lot of kiln sites. You can see them for free, but all there is left are bricks on the floor that outline the kiln. The kilns inside are, from what I gather, original. I don't think ALL of them are and they rebuilt some to give you an idea of how they looked like. There are three types of kilns: a very basic horsehoe shape, a more localized mantou (bun bread) and the very Chinese dragon kiln that stretches 15m long and up a slope. There are also lots of old houses and temples around the area but they aren't anything special. They have been turned into display cases for mannequins to show how workers used to go on about their daily business.
One of the downsides to my visit is that: have you ever been to a place you paid a high entrance ticket and then a lot of stuff inside was basically shopping? No, not a Disney Shanghai review either, and I suppose that artists and artisans make the kiln sites their workplace now isn't entirely odd but then I wouldn't expect to pay a high ticket price to visit it. Which is actually why I would recommend going to the kiln sites at the outskirts of town called Hutian. Entrance is free and you get to see pretty much the same thing as far as I know - only that the museum is closed on Mondays...bummer that "Zilly Zoe" happened to arrive on a Monday and couldn't check it out (travel trip: Mondays is transportation day, day off, or a natural place, as cultural places often close). Anyhow, towards the end of a visit I was a little annoyed at the shops padding a house/kiln and having to turn away because I want to avoid it. Small issue but meh.
By the way, I took a taxi TO the site because it's up the hill and I wasn't sure where the entrance is looking at the map. On my way out I walked down the hill and found a bus stop nearby to continue with public transportation. Jingdezhen buses cover every area of town and even have lit-up displays to show where the bus is on route (you might bet thinking that's nothing new but it's something that isn't too common in China at the moment, I know Korea, the UK etc had this for a long time) and the buses are only 1 kuai (2 with aircon).
I wish Chrome spell check would stop telling me to correct Jingdezhen into Jingle....although Jingle Porcelain does sound pretty good too!
---
Community Likes
Site Info
Full Name

Imperial Kiln Sites of Jingdezhen

Country

Added

2017

Nominated for

Type

Cultural

Categories

Link
Site History
2017

Added to Tentative List
Visitors
9 Community Members have visited.