Yivli Minaret Mosque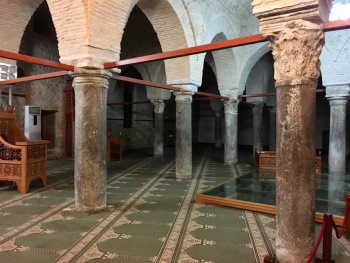 Yivli Minaret Mosque is part of the Tentative list of Turkey in order to qualify for inclusion in the World Heritage List.
The Yivli Minaret Mosque is known for its 38m high fluted minaret. The mosque dates from 1230 and was built on the foundations an earlier church. The blue-tiled minaret is built on a square stone base, with eight fluted sections.
Map of Yivli Minaret Mosque
Load map
The coordinates shown for all tentative sites were produced as a community effort. They are not official and may change on inscription.
Community Reviews
---
I visited this tWHS in Spring 2021 while shortly visiting the busy seaside city of Antalya. Although I enjoyed my visit I wouldn't say it possesses enough OUV to make it on the WH list.
The Alaaddin Mosque or Yivli Minaret Mosque literally means "Fluted Minaret" Mosque, and is also commonly called Ulu Mosque or "Grand Mosque". This historical mosque is part of a complex of buildings (külliye) which includes the Gıyaseddin Keyhüsrev Madrasah, the Imaret Madrasah, the Seljuk and Dervish lodge, and the vaults of Zincirkıran and Nigar Hatun. Not much is left of these buildings though apart from the 38 metre tall free-standing fluted minaret and the mosque. The 6-domed mosque is located in Kaleiçi (the old town centre) along Cumhuriyet Caddesi, next to Kalekapısı Meydanı, and is the oldest example of a multi-domed mosque in Anatolia. The fluted minaret is decorated with dark blue tiles and is a landmark and symbol of the city.
Forty graves were found during excavations to unearth the madrasah gate and the restoration works conducted after nomination on the tentative list revealed some 800 year old water channels beneath the mosque and minaret used for cooling and heating which can be seen inside the mosque. The mosque is still in use and is accessible for free except during prayer times. It was not possible to climb the minaret when I visited. It surely is one of the highlights of the old city centre of Antalya in a lovely setting close to the Mediterranean Sea but I don't think it would add any value to the WH if inscribed.
---
Community Likes
Site History
2016

Added to Tentative List
Visitors
10 Community Members have visited.