Rijal Almaa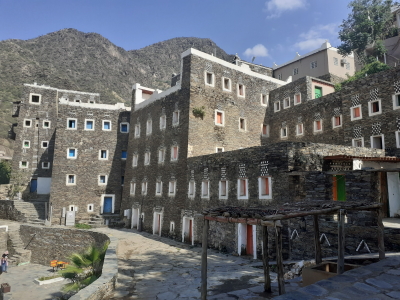 Rijal Almaa Heritage Village in Assir Region is part of the Tentative list of Saudi Arabia in order to qualify for inclusion in the World Heritage List.
Rijal Almaa is a traditional village that was founded in the 8th century. It was an important regional commerical center. The town includes 60 old tower-houses made of stone and clay.
Map of Rijal Almaa
Load map
The coordinates shown for all tentative sites were produced as a community effort. They are not official and may change on inscription.
Community Reviews
---
Visited January 2023.
At the moment most of us from WH travellers want to see this site, this kind of a village, inscribed on the UNESCO list. And I do not understand why, 'cos I could not see any universal value (not speaking about outstanding universal value) of this very pretty nice, very well maintained and recently partly rebuilt village.
It is old, but the oldest houses are 200 years or less old… Probably underpinnings of some of them are much older but it was never researched. Yes, it was never researched. The village used to be a very important stop on the caravan route. But not the only one, 'cos in the amazing landscape of Asir Mountains (there are some walking and signed trails, monkeys and species of deer) there are other similar villages that were never rebuilt (and looks more picturesque) and are more remote… I spent two days in the area walking and hitchhiking (being a solo traveller without a driver license meaning no car), talking to the people, losing myself in the mountains and following the paths local people show me… And discovering that the thing being unique the area is already registered on UNESCO list – al-qatt al-asiri paintings (photo of the inside of one of the nominated house; https://ich.unesco.org/en/RL/al-qatt-al-asiri-female-traditional-interior-wall-decoration-in-asir-saudi-arabia-01261).
Getting there without a car from the nearest city (Abha) is another adventure. You can take a taxi from Saptco bus station to Clock Roundabout in Rijal Almaa (around 100 SAR) or take a taxi/uber (around 30 SAR) to the Green Plaza Hotel and then just wave and – probably with waiting long and some stops and car changes on the way – you'll get to the site having some new friends who'd be more than happy to invite you for a cup tea or dinner… To get out of the area, it is even easier – you do not even have to wave, local people would stop and help you when they see you walking alone… And bring you closer to your final destination.
---
For this leg of the trip, Ivan and I met up with Thomas and his wife Vanessa who were also travelling around Saudi, testing out their public means of transport. We met up in Abha and spent three days travelling together. Our first outing was the Rijal Almaa Heritage Village located about an hour of a scenic route uphill from Abha. The road is alright, unlike the madness that is the mountain segment of the road from Jeddah to Abha, where I genuinely feared for my life for some really crazy overtaking.
Rijal Alma Village is a peculiar village with rich history spanning over 900 years - at one time or another, the local inhabitants helped to protect Medina and to fight off Ottoman invasions. It consists of about 60 multiple-storey houses made of local stone, clay, and wood, with additional watchtowers built on the surrounding hillside.
The route to the village is signposted well from the main road, there are a few parking spaces on the street next to the large courtyard, but no dedicated parking from what I could remember (spaces available on the street where the entrance is). Entering through the large circular square, we passed along the large sign with the name of the village, then up the stairs towards the entrance. The entry is 20 riyals (5 euros) per person and it includes entry to the museum located on the other side of the village. The streets along the village vary, some are more narrow than others, with paved and rough paths, even some chicken roaming around. It's a nice mix of refurbished and still let-down buildings and provides for some nice exploring.
The museum has some curious artifacts (including some really decrepit and unfortunate taxidermy) as well as lovely interior paintings of vivid colours and tribal symbols. There's a large gift shop by the exit, obviously prepared for much more tourists than the four of us (and one lone gentleman). A poster on one of the walls promoted Heritage Inn located in a house 200 years old with view on the village (ifathy_tourguide on Instagram as a contact - if anyone's interested).
I found the mix of refurbished and decrepit really interesting and enjoyed both views on the coloured windowpanes as well as landscapes that opened to us once we climbd further up the village (as the state of the footpaths would allow us). It's a charming village and in my opinion, more ready to welcome tourists than Thee Ain.
---
Chinese-Canadian - 12-Aug-21 -
As I was starting to review I noticed the tentative site already has two thumbs up, but I didn't really think it's worth seeing so I took a bit longer to think about if I'm wrong about it, re-read the document and in the end - one big problem with it that stops me from recommending it.
So first off, Rijal (Rojal) Almaa has a rich history. A natural trade center between many destinations settled right here in the mountains. Second, military reasons with a long list of armies stationed here, what battles were fought, not my kind of thing but ok so it's historically important. However, that's still not what made me dislike it.
When you arrive at the village the first thing you will notice is how clean everything is, how museum-like the setup is. It's all "too" perfect. I have this strong feeling that, welp, it's been rebuilt? Restored too well? There is no way this village is ancient in the state it is now. Plus they ARE some modern houses thrown into the mix here and there, you can easily spot them in my picture at the back row. Have you ever visited a mine and they put these puppets or wooden mannequins around, well I was sort of expecting that for a real theme park experience but I got spared that.
My next though? Hang on, did I get the wrong village? Nope... a search online gave me the same pictures, and even worse, tacky light shows that make any Chinatowns look mild in comparison. As if I needed to be won over but I guess some visitors get a kick out of it.
How about some positives though. The building structures are unique, not that unique but a small niche that is probably enough to get it inscribed, because I don't feel there is much authenticity left. Second, it's a nice visit! Yes, it really is. You can walk around the buildings, up and down the steps, many buildings are open to visit and it's more or less an open air museum, and it's in an area of the Kingdom where you get more greenery, fresh air - not a drive through the desert for 5-6 hours until you spot another small settlement again. I came very early in the day and nobody was around thus the nice empty picture. After walking around for a bit the shops started to open even though I was the only visitor for the entire hour I spent in the village. Lastly, it's photogenic. I took many pictures trying to hide the ugly ones in the back and every angle is interesting, with the mountains in the background and a large valley beyond it.
---
Community Likes
Site Info
Full Name

Rijal Almaa Heritage Village in Assir Region

Country

Added

2015

Nominated for

Type

Cultural

Categories

Link
Site History
2019

Requested by State Party to not be examined
2015

Added to Tentative List
Visitors
8 Community Members have visited.