Zagorochoria - North Pindos National Park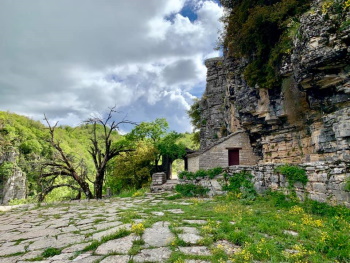 Zagorochoria - North Pindos National Park is part of the Tentative list of Greece in order to qualify for inclusion in the World Heritage List.
Zagorochoria - North Pindos National Park is a mountain region in north-western Greece near the Albanian border. Most of the villages were founded in the 15th century and are examples of vernacular stone architecture adapted to the conditions of a mountain region. The natural environment, especially North Pindos, is characterized by steep gorges and dense forests, including areas with ancient beech forests. Pindus National Park is also home to rare and endangered animal species, including a population of brown bears.
Map of Zagorochoria - North Pindos National Park
Load map
The coordinates shown for all tentative sites were produced as a community effort. They are not official and may change on inscription.
Community Reviews
---
I visited this magical corner of Greece in early summer of 2006. After arrival to Thessaloniki by plane from Prague, we went to Ioannina by bus with one change in Kozani. The bus trip was quite lengthy but it was immediately clear and at the same time enchanting that we enter very different part of Greece as compared to touristy coast and islands. Ioannina is the best basement for trips to Pindus Mountains close to the border with Albania, and we stayed in the camp by the Ioanina Lake for a couple of days. On the opposite side of the lake, we could see the mountains, where Zagorochoria starts. The name is of Slavonic origin and thus understandable even for us, Czechs: Zagori = the place behind the mountains, and being by the lake we actually were just on the opposite side.
To reach the area and enter the place behind the mountain, we took an early morning bus to the mountain-village of Monodendri, which is the usual starting point for tourists who want to explore the Vicos-Aoos gorge the main attraction of the area. The gorge and mountains are wonderful there but I would say that the potential OUV of this site is rather the interaction of the Slavonic immigrants from the North with remote mountains that isolated and protected them from the majority population.
From Monodendri, we first went to Paraskieva monastery located on the edge of the canyon. The place was deserted early in the morning, thus, we quickly descend to the gorge. Unfortunately, the friend of mine injured his leg that meant spending in Zagori only two/three days that is much shorter than we had planned. It was not enough to fully understand the potential OUV of Zagori.
The upper parts of the canyon were very rocky and totally dry, and we lost our way a little bit. After overnight in a tent, we found our way and continued to Papingo village, so we missed the Vicos village with its bridge. However, we spot the huge spring that turned the completely dry canyon to the wild river with almost painfully cold water contrasting with hot summer weather. Mikro and Megalo Papingo villages are located on the slopes of huge rocky mountain that was very picturesque. The houses there are made from stone and they are built in quite uniform style. The second night we overnight just in the outskirts of the village, where we saw wild horses, friendly homeless dogs, turtles running over the roads, scorpions beneath the stones, huge fireflies in the evening, and other slightly fantastic things and creatures. I felt like in Carpathians and Balkan, indeed, rather than in the stereotyped Greece.
Next day in the morning, we went by bus back to Ioannina, and we could see one of the famous bridges at least through the bus window.
After recovery in Ionnina, we traveled further to the South in direction to Meteora and Olympus Mountains. However, we did a short stop to overnight in hotel in Metsovo that is mountainous town located still in Pindus Mountains but already outside Zagorachoria, although it name also sounded Slavonic to Czech ears, because it was inhabited by Aromanian (Vlach) minority. Metsovon was surprisingly touristy place but visited only by local tourists. It is built in quite distinct architectonic style with half-timber houses.
Well, I spent too short time in Zagori reagion, and I promised myself to return one day and explore this interesting area a bit longer and more intensively.
---
This Website currently suggests that Zagorochoria - North Pindos National Park (NP) will be nominated at the 2020 WHC. I can find no evidence for this, and the announcement in Dec 2014 of the intention to go for nomination made no mention of a possible date. However, that uncertainty should not reduce anyone's interest in visiting it, nor be taken as an indication that it would be any less "worthy" a WHS than many other Cultural Landscapes (CLs) which have gained inscription! We visited in April 2018 and were impressed with what we saw - wishing indeed that we could have given it more time than the half day we had allocated. We travelled by car and targeted 3 aspects - Gorges, Bridges and Villages - but with more time and different interests there is so much more, with fine walking country, flora and fauna, monasteries/churches….
The scenic "star" of the area is the Vikos Gorge. According to the Guinness Book of Records, it is the deepest canyon in the world in proportion to its width - though this is disputed! There is a trek route though it but, travelling by car, 2 good locations we discovered for viewing it were in the village of Vikos in the North (Photo. 39.951248, 20.708274 ) and the Oxya Viewpoint in the south ( 39.906705, 20.751794 ). The latter possesses a rather fine lookout along a 1 to 2 metre wide path in the cliffside past a sign stating "You pass at your own risk" (not really that dangerous provided you don't get carried away looking though the camera viewfinder!)
Stone "Bridges" are significant man-made features of the area. They date mainly from the 18th C and were built to connect the villages with mule train paths (many of which are now used for hiking). There are said to be 92 of them, with the biggest concentration in the south around the village of Kipi. One of the "most photographed" is the 3 arched Bridge of Plakidas (39.861714, 20.786348 ). See link
Finally, the 46 "traditional" villages. Based on the title of the intended nomination, they constitute its cultural heart – "Zagorochoria" = Zagori Villages. Whilst, as the UNESCO T List introduction states, "Zagori ("the place behind the mountains", from the Slavic za "behind" and gora "mountain") constitutes a distinctive geographic and cultural unit of great architectural and environmental interest", we felt that they possibly looked a bit "better" from a distance, dotting the hillsides. Close up it was clear that many of them had undergone a fair bit of reconstruction and expansion recently to provide more and more accommodation, restaurants etc, But the planning authority has done a good job in ensuring that the new structures fit in well with the older ones and adopt the traditional rectangular design in stone with loose stone tile roofs. Such signs of economic growth and the, often new, roads hide the fact that the area was left almost entirely empty after the Greek Civil War and suffered from remoteness for many years thereafter. The Zagori area possesses a proud and distinctive culture with an economy in which transhumance was important. There are also significant "intangible" aspects to discover - I suspect we could have gained more value from a longer stay during which we could have investigated such matters!
Much of the area likely to be covered by any nomination has already gained inscription as a "UNESCO Global Geopark" (GG) in 2015 under the name of "Vikos – Aoos GG" (Having joined the pre-existing "GG Network" in 2010. Transfer from that onto the UNESCO-badged scheme seems to have been automatic in 2015 and all new sites now become members of both). Currently there are 140 UNESCO GGs and our Connection shows that 21 WHS are, or contain, GG areas. In addition there will be a number of T List sites such as this one. The full situation regarding the overlap between and coexistence of, the GG and WHS schemes is not clear to me. One would think that prior inscription as a UNESCO Geopark should be a good start towards gaining WHS status at least in terms of having adequate Management plans etc. But what about OUV? The criteria for becoming a Geopark are set out in Section 3 of this document and only partly duplicate those for WHS. The issue of whether existing WHS should also become GGs is addressed - but not the other way round! A quick perusal of the dual inscription sites would seem to indicate that perhaps more were WHS before they became GGs than vv. Whilst the prime objective of a GG is to recognise and preserve "Geological Heritage" ("a unified area with a geological heritage of international significance") it also majors on matters such as sustainable development. At the Aspraggeli NP information center we asked the helpful and knowledgeable ranger if she knew of any intention to gain WHS status in the near future. I am not sure she fully understood the difference between UNESCO "GG" and "WHS" but certainly there was no indication of any involvement of/knowledge by staff at her level in any WH nomination at this point. But we have found such communication "disconnects" between work-face and executive staff are common around the World so that may not be conclusive!
---
Community Likes
Site Info
Full Name

Zagorochoria - North Pindos National Park

Country

Added

Type

Mixed

Categories

Link
Site History
2014

Added to Tentative List
Visitors
22 Community Members have visited.