Ancient Ruin of Drukgyel Dzong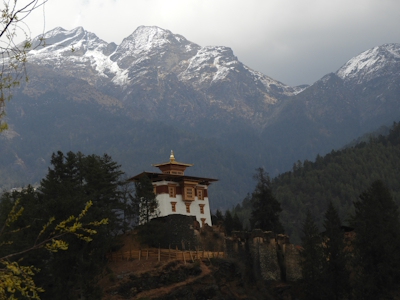 Ancient Ruin of Drukgyel Dzong is part of the Tentative list of Bhutan in order to qualify for inclusion in the World Heritage List.
The Ancient Ruin of Drukgyel Dzong represents a purely defensive dzong without religious or administrative role. It is strategically located near the border with Tibet. It originally dated from 1649 but was destroyed by fire in 1951. There are plans to reinstate it to its former glory.
Map of Ancient Ruin of Drukgyel Dzong
Load map
The coordinates shown for all tentative sites were produced as a community effort. They are not official and may change on inscription.
Community Reviews
---
Chinese-Canadian - 09-Dec-18 -
King of Bhutan: "In celebration of my son's birth by my beautiful wife I hereby announce the renovation of the Drukgyel monastery."
Ministry of Tourism: "But, my dragon king, as beautiful as your wife may be, we just placed the monastery on the list of tentative works heritage sites as ruins. If we renovate it the entire work will be in vain."
Zoë: "Honestly, this never had a chance to begin with because you are basing the unique value of the ruins on it never having been changed since its original construction and having just a few brick walls left doesn't show that, at all."
Bagan Tourism: "We rebuilt everything and will get on the list eventually…"
The guides were a little confused why I asked to see it. It takes a 20 min ride on good road west of Paro and past the entrance of the Tiger's Nest. I still find it beautiful like everything in Bhutan, with a good view of the sacred Jomolhari mountain. There are a few parking spots, a restaurant, trash (unfortunately, and their usual excuse for the Indian tourists to dump it out of the window doesn't apply in this remote spot), and lots of workers getting it ready for a grand re-opening. The guides claim it is 40% complete although from the outside you couldn't tell as it already looking redone. It is not open for public, one could walk around if they wanted to, but the best views are not even from the parking lot below but from the road coming here with the mountains in the background. The guides don't seem to do this often because they had no good spot to let me out for pictures like they know with the dzong and Tiger's Nest, and also seemed much more concerned about getting me to lunch (maybe something about how the package deals work: spending it with tourists is better than having used up too little of the daily minimum).
I couldn't resist attaching the 3rd version of the current look with Solivagant's picture. If he disapproves he will surely let me know in the forum but I didn't want to ask and spoil the "surprise". I think he took this from an angle I wasn't standing at or the guides didn't give me any chance to shoot from. Shows again this isn't on their regular route.
---
The presence of this site on Bhutan's T List came as a surprise to me as we had (apparently) visited it back in Autumn 2001 without any great feeling of having visited somewhere significant!
It consists of a ruined dzong situated 14 kms north of Paro not far from the path up to the Tiger's Lair. It only became "ruined" in 1951 by fire – an "occupational hazard" for Bhutanese buildings with all those butter lamps around – although poor wiring seems to be the most common cause nowadays! Of course, European countries happily inscribe ruined castles etc, so I suppose there is no particular reason why a ruined dzong couldn't also gain inscription. On the other hand, Bhutan isn't exactly short of perfectly good "living" dzongs to choose from! Nevertheless the UNESCO introduction describes the ruins in glowing terms – "The ancient ruin of Drukgyel Dzong, considered as the most beautiful and famous archaeological sites in Bhutan". Indeed the introduction also tries to make a merit out of the dzong's ruined state in a somewhat double edged argument which seems to call into question the authenticity of the country's other dzongs - "The Dzong was never reconstructed since 1951 fire. It was freed from any form of changes as opposed to other Dzongs, which were subjected to major renovation and alteration in order to integrate new functions and usages into old structures, accelerated by the process of modernization and development."!
At the time, we had gathered the impression that this dzong had particular "nationalistic" relevance to the Bhutanese because of its historic role in guarding the country against Tibet. It was built in the 17th century by the same ruler who built the dzongs in Bhutan's T List entry titled "Dzongs: the centre of temporal and religious authorities" and was given its name, which means "Bhutanese Victory", to commemorate a battle of 1644. It is situated on the standard tourist route for seeing the sights of Paro. Lonely Planet (LP) mentions that it is also a location for gaining a good view of the snowcapped cone of Jhomolari. I can confirm this but there isn't really a great deal else of note to see among these ruins and I would be surprised if this T List entry progressed further in its current form, given Bhutan's other cultural and natural merits. However, the Bhutanese ministry responsible for its T List has different views and, when announcing the List, claimed that "The current state of the Dzong as a ruin appeals even more to the sentiments of the Bhutanese people" – so who knows!! See – http://www.thebhutanese.bt/bhutan-submits-eight-sites-for-unesco-world-heritage-sites/ (Though this article seems to be predicated in the misconception that being on Bhutan's T List is the same as being a WHS!)
Another possibility for Drukgyel might be as part of some future serial "South Asian Silk Roads" nomination. Although, at the moment, Bhutan has no sites on its T List related to this, it has been taking part in multinational discussions on the subject (http://whc.unesco.org/en/events/1193/ - Sept 2014. Follow link for the agenda but no output yet available?). Drukgyul lies on the historic trade route from Phari in Tibet over the 15000ft Tremo La – this branch of the route continued down to the plains of Bengal and beyond. The following article describes the trade route specifically in the 19th century (but going back long before) with particular reference to the section from Paro to Tibet and, on page 66, specifically mentions "Dakya dzong" (clearly Drukgyel – "a walled fort that was constructed to combat the Tibetan invasion") as the first resting place for caravans going north from Paro http://himalaya.socanth.cam.ac.uk/collections/journals/jbs/pdf/JBS_15_03.pdf . As it becomes more "worldly wise" in World Heritage matters Bhutan will no doubt come to recognise the benefits of not relying on purely "local/national" value.
Regarding our visit – after 13 years I had some difficulty convincing myself that we had indeed seen this exact site. I didn't seem to have any photos which were obviously of a ruined dzong and, without any "mind jogger" I only dimly remembered seeing/being told something along those lines during our visit. But LP refers to the dzong figuring in a National Geographic article from 1914 – every NG published is available on DVD but I have original paper magazines going back to 1905 so have been able to refer to the specific April edition. I did also eventually find some photos of the ruin among my "discarded" photos from the trip and attach a composite of an NG photo alongside one of mine taken from similar locations as in c1914 and in 2001 after some "Photoshopping" to try better to align the aspect! The latter shows the shape of the walls and the rocky outcrop which are clearly the same even though the trees are rather different after 87 years! If further "proof" is needed look at the little triangular hill on the horizon at top left of each photo! The UNESCO introduction describes the structures inside the walls thus - "Utse, the central tower building, which housed a shrine of guardian deities, and Shabkhor, rectangular buildings surrounding the courtyards" but, a comparison of the current central structure across the years, seems to show that it has been significantly rebuilt, albeit on the same footprint.
The NG article is well worth viewing/reading by anyone interested in Bhutan and its culture/history. The current king has "preserved" Bhutanese culture in a rather self-conscious way such that every modern building has to be constructed in "traditional style" and citizens have to wear "traditional" costume. The NG article's sepia and B+W photos show the country and its people in a genuine historical condition at a time when not many travellers from outside recorded what they saw. And I wonder how much more Bhutan has changed in the mere 13 years since we were there. I was interested to discover a YouTube video of the recently constructed 4 lane "Thimpu Expressway"! This country of a mere 750k people might seem "remote" when one flies in, as we did, from Kathmandu in sight of Mt Everest – but it is actually very close to the "teeming" plains of India. In late 2012 we were driving through Assam towards its capital city Guwahati - population almost 1 million and rising fast. On passing a surprisingly large number of Bhutanese-registered Landcruisers etc, we were told that these were on a "regular run" taking Indians and Bhutanese on a 450km drive to Thimpu taking just 8 hours. Imagine the impact on Bhutan in coming years as the Indian middle class continues to increase and travel and as Bhutan further improves its infrastructure. Genuinely "remote" and unspoiled Bhutan is likely to become harder and harder to find!
---
Community Likes
Site Info
Full Name

Ancient Ruin of Drukgyel Dzong

Country

Added

Type

Cultural

Categories

Link
Site History
2012

Added to Tentative List
Visitors
9 Community Members have visited.