Bahoutdin Architectural Complex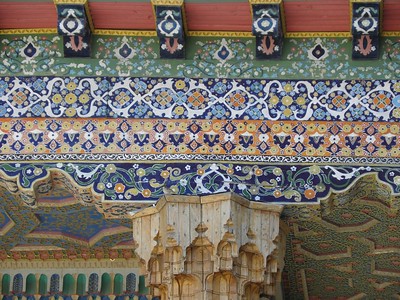 Bahoutdin Architectural Complex is part of the Tentative list of Uzbekistan in order to qualify for inclusion in the World Heritage List.
Bahoutdin Architectural Complex (also included in both serial nominations "Silk Roads Sites in Uzbekistan" and "Silk Roads: Zarafshan-Karakum Corridor") is a necropolis and memorial complex built the burial place of Bahoutin, a spiritual patron of Bukhara governors, who died in 1389. It was then later developed until the 18th century. It is in the outskirts of Bukhara.
Map of Bahoutdin Architectural Complex
Load map
The coordinates shown for all tentative sites were produced as a community effort. They are not official and may change on inscription.
Community Reviews
---
Uzbekistan is an unmissable destination for any serious traveller, mainly for its monumental and well-preserved architectural heritage. Next to the famous higlights such as Samarkand and Bukhara, there are a number of lesser known sights that I would not hesitate to propose to for example a "Missing Top 50 Asia" list. One of those is the Bahoutdin Complex, a group of Sufi funeral and religious monuments some 10 km outside of the city of Bukhara.
Bahoutdin Naqshaband was a 14th century Sufi saint. He was the founder of the Naqshbandi order, and was considered the spiritual patron of Bukhara governors. His order became influential as far as India, Dagestan (Russia), Syria, Egypt and China. Therefore, his tomb remains the most esteemed in Uzbekistan and attracts visitors from other Islamic countries as well. It apparently is nicknamed "Mecca of Central Asia".
The tomb is part of a large memorial and religious complex, with constructions from different periods in time starting from 1544. The complex has been renovated in 1993 with Turkish and Pakistani funding, after it had been abandoned during Soviet times. When I visited (in May 2010) it was busy with Uzbek pilgrims. I was prepared to cover my arms, legs and head here due to the site's religious nature - but many of the Uzbek women also walked around with short sleeves and without a headscarf.
The complex surrounding Bahoutdin's mausoleum is large. After entering through the monumental gate, one first passes the rows and rows of tombs of a cemetry. Here local Bukhara governors and descendants of Tamerlane are buried. In the courtyard lies the large gray marble tomb of Bahoutdin Naqshaban. You'll find believers praying in front of it. They also walk in circles around a beautiful small pavilion. On the grounds there is also an old mulberry tree stump that people crawl under 7 times for luck.
Most of the structures on the property are made of brick, with wooden pillars and wooden ceilings. Characteristic are the ayvan – veranda's with wooden columns and richly painted ceilings. They were used as spaces for praying. The complex also holds two mosques, a madrassah and a khonaqo ("a hostel widely spread in the Muslim east. It includes a mosque and living rooms that mainly sheltered dervishes in the past").
What I most remember from this visit is its vibrant atmosphere – mostly because there were so many 'regular' Uzbek visitors. They apparently were just having a day out, the ice cream seller was doing good business. When I sat down for a moment to take it all in, I was suddenly surrounded by a school class of 17/18-year-olds including their teacher. They came from Bukhara and wanted to know where I was coming from and going to.
---
Site Info
Full Name

Bahoutdin Architectural Complex

Country

Added

Type

Cultural

Categories

Link
Site History
2008

Added to Tentative List
Visitors
7 Community Members have visited.