Kerman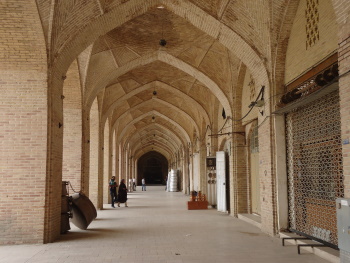 Kerman Historical-Cultural Structure is part of the Tentative list of Iran in order to qualify for inclusion in the World Heritage List.
The Kerman Historical-Cultural Structure represents a commercial town. Its Old Bazaar, founded in the Timurid period, consists of four locations from different periods. It lies adjacent to the Ganjali Khan Complex, which is composed of a school, a square, a caravanserai, a bathhouse, a water reservoir, a mint, and a mosque.
Map of Kerman
Load map
The coordinates shown for all tentative sites were produced as a community effort. They are not official and may change on inscription.
Community Reviews
---
Site visited in May, 2017. Located in south-eastern part of Iran is a good base for exploring Lut Desert and nice place for admiring its own monuments. Kerman as a town (or at least its historical structure) is to certain extend similar to Yazd (general layout of mosques) or Isfahan (covered bazaars).
It was established in the 3rd century during Sassanid rule. Later in the 7th century it was captured by Muslims (Abbasid Caliphate). Taking advantage of the location at the intersection of trade routes the city the city started to produce cashmere wool shawls and other textiles. Kerman was visited by Marco Polo (XIII century) during his trip to China.
The gloomiest episode in Kerman's history took place in 1794 during the wars for throne succession in Persia. Local residents supported Lotf Ali Khan, the last shah from Zand dynasty so the city was besieged by Qajar troops led by Agha Mohammad Khan. He was known as one of the cruelest rulers, even by the 18th century Iranian standards. In his quest for power, he razed cities, massacred entire populations but the most shocking incident took place when Qajar troops conquered the town. In retaliation they killed or blinded all the man in the town forming a huge pyramid made out of 20,000 detached eyeballs in front of the victorious Agha Muhammad Khan. Women and children were sold into slavery and the city was destroyed over ninety days. Horrible. Agha Khan himself was assassinated in the palace coup d'etat a few years later – at least there is some justice in this world.
However current Old Town of Kerman having in mind total destruction of the city is relatively well preserved. There are a lot of historical mosques, medresas, baths, bazars, even part of town walls. The most interesting places are located around the area around Ganjali Khan Complex (google coordinates: 30.290937321973086, 57.078913775253156, school, caravanserai, bazaar, mosque, bathhouse, the latter one is a real treasure as it is extensively covered by paintings depicting animals, flower motives and humans). Other notable feature of Old Town in Kerman are trading areas (bazaars) that spread all over. They are mostly covered (similarly to those in Isfahan). Main axis of Old Town (from Shohada Square to Arg Square) is almost entirely a great bazaar. If you go further west you can find part of Old Town walls (google coordinates 30.287747080371467, 57.07052318075818). One of the Kerman's landmarks - Jabaliyeh Dome – is located 4 km from Old Town to the east (google coordinates: 30.29233996974566, 57.11678933501039).
Practicalities: As already mentioned, Kerman may be a good base for exploring Lut desert (that can be organized with the help of taxi drivers, be prepared for hard negotiations). For Meymand you should go to Shahr-e Babak (3-4 hours drive, several buses daily). I stayed overnight at Omid Guesthouse, descent backpackers option, google coordinates 30.29233996974566, 57.11678933501039), may be occasionally crowded as it is close to the hospital).
Places on the photo, bottom left, than clockwise: paintings at Ganjali Khan Bath, Ganjali Khan Mosque, Old Town walls, fragment of Old Town
---
Community Likes
Site Info
Full Name

Kerman Historical-Cultural Structure

Country

Added

Type

Cultural

Categories

Link
Site History
2008

Added to Tentative List
Visitors
19 Community Members have visited.