The Historical Village of Abyaneh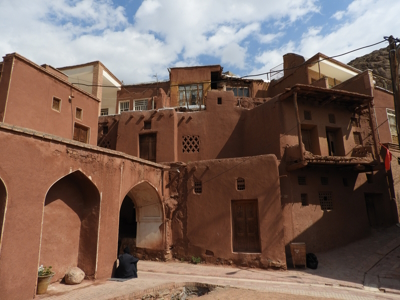 The Historical Village of Abyaneh is part of the Tentative list of Iran in order to qualify for inclusion in the World Heritage List.
The Historical Village of Abyaneh comprises a multi-leveled, vernacular town. The Harpak Fire Temple is among its notable buildings. The present villagers' distinctive clothing and dialect are part of their living culture.
Map of The Historical Village of Abyaneh
Load map
The coordinates shown for all tentative sites were produced as a community effort. They are not official and may change on inscription.
Community Reviews
---
Iran's T List contains a number of "Villages" (sometimes titled "Cities"!) whose claimed OUV lies significantly in their vernacular architecture. Abyaneh is among them (along with Masouleh and Uramanat). It is something of a "hot spot" for domestic and international tourism in Iran (One article mentions 500k visitors in 2010) and was heaving with people when we visited on May 5 2016 which turned out to be a national holiday for "The Prophet's Ascension". This gave us a chance to experience a different aspect of Iranian life but, unfortunately, detracted somewhat from viewing the architectural aspects of the site.
Abyaneh lies c80 kms south of Kashan, which is itself a major site for Iranian tourism. Its location up a valley with a running stream makes it "paradise" for Iranians wanting to escape the heat of their ever more crowded cities by finding themselves a spot for a family picnic and "connecting" with their rural past. A few kilometers out each car has to pay an entry fee - higher if there are foreigners (but we weren't recognised!). As an aside, on the drive-in from the main Isfahan - Kashan highway you will pass the buildings containing the centrifuges which had been (are still?) powering Iran's Nuclear Enrichment Program – the cause of the diplomatic stand-off leading to the sanctions regime. You know that "something" is special because of the anti-aircraft guns in the surrounding hills! I didn't take a photo!
Abyaneh's particular "claims to fame" lie in its closely packed red mud brick houses and in its remaining inhabitants, who seem to consist almost entirely of aging men in black baggy trousers and old ladies in colourful shawls and dresses (photos)! The latter spend their day selling packets of dried fruit to tourists. Apparently, as well as preserving their costume, it is said that they have also preserved their ancient language known as "Middle Persian" or "Parthian Pahlavi". I can't say whether that is still true but I can attest to their attachment to their traditional costume. On the festive day we visited, I noted that large numbers of the younger visitors were also dressed traditionally. I couldn't see anywhere for them to "rent" such costumes but our driver said that they brought them from their city houses whenever they visited their "home village". Subsequently I found this comment on the Web "No matter how well educated a person from Abyaneh might be, he or she puts on the traditional Abyaneh costume on coming back to the village from anywhere in Iran".
I can't say that we found the architecture particularly "exceptional" and any potential atmospheric ambiance was somewhat ruined by the hordes of tourists. For that reason I have chosen photos of the "inhabitants" rather than the "architecture" to accompany this review! Ok, the bricks/mud walls had a rather pleasing and unusual "red" tint, but the maze of streets and the overhanging wooden balconies etc didn't seem that much different from similar (albeit less "red") mud brick villages we had seen elsewhere. A lot of the houses - certainly along the main street, appeared to have had their mud faces restored. But, behind this façade, many houses were in dire need of repair - more work is required if this village is to be brought to nomination. It would have been nice to have climbed the hills around the village - it is one of those places where some of the "best" views are going to be had from outside and above. Also there are Sassanid and Zoroastrian remains and castles out there (one of the latter can be seen from the road in/out) – but we lacked the time and had to get a move on to Kashan!
Among noteworthy "sights" we did take in were -
a. "His and her" door knockers - with different sounds and used according to the gender of the caller so that the ladies inside can know whether they should answer or not!
b. A balcony at the mosque containing a "Nakhl" the wooden "palm shaped" structure representing Hoseyn's coffin and carried around towns and villages in Iran at Ashura (and referred to in the Jun 2007 article linked to below).
c. The Zeyaratgah Shrine – with a pleasing pool and a view of the surrounding countryside/mountains as well as a "Martyrs Room" containing photos of 19 locals killed in the Iran-Iraq war
d. The Anthropology Museum at the village entrance. More of interest for the fact that it seems to have been created as part of Abyaneh's push towards WHS inscription than because it has anything within of great note. I was reminded of the equivalent we had seen a few days earlier at Maymand. Iran seems to believe that a WHS "needs" a museum.
In an attempt to understand where any possible future nomination of Abyaneh might stand I have investigated relevant articles on the Web. Herewith a selection -
a. This from 2005 dates from before Abyaneh's addition to Iran's T List and refers to the creation of the Museum. (CAIS is the "Circle of Ancient Iranian Studies" - a UK based organisation)
http://www.cais-soas.com/News/2005/December2005/06-12-abyaneh.htm
b. This from Jun 2007 seems to date to just after Abyaneh's addition to Iran's T List. Note the concern about the hotel development
http://www.payvand.com/news/07/jun/1247.html
c. This from Sept 2007 claims that "hotel construction in Abyaneh by families of Islamic regime's prominent members and their close allies has put the status of this historical village at risk." http://www.cais-soas.com/News/2007/September2007/04-09.htm
d. This scholarly article from 2013 cites Abayaneh in terms of its potential as a "Cultural Landscape" http://www.irjabs.com/files_site/paperlist/r_2036_140211215923.pdf
e. This scholarly article from 2013 describes the "Visitor management" problems arising at Abanyeh
http://www.ijamad.com/4(2)/IJAMADJune2014P95.pdf
f. This from 2015 seems to suggest that Abyaneh is very much "in the frame" for nomination by Iran
http://financialtribune.com/articles/people-travel/20890/abyaneh-path-unesco-listing
The general impression gained is that the village has a few problems to solve before it could consider going for inscription. Also that, rather like Maymand, it would seem most likely to succeed as part of a wider "Cultural Landscape", as opposed to relying solely on its architectural values. This would encompass the way of life of those "famous" villagers and the "continuing" aspects of human habitation there.
---
Community Likes
Site Info
Full Name

The Historical Village of Abyaneh

Country

Added

2007

Type

Cultural

Categories

Link
Site History
2007

Added to Tentative List
Visitors
22 Community Members have visited.