Imeong Conservation Area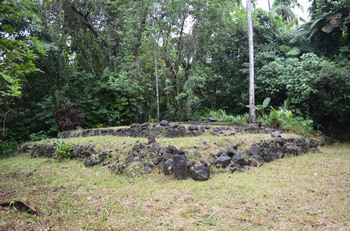 Imeong Conservation Area is part of the Tentative list of Palau in order to qualify for inclusion in the World Heritage List.
Imeong Conservation Area is a mixed site consisting of a diverse ecological area containing cultural sites representing a chronology of Palau from the prehistoric to historic period. The conservation area contains savanna, rain forest, mountains, freshwater wetlands, and mangrove swamps that provide habitats for a large number of plant and bird species, including several endemic to Palau. The cultural sites include Ii ra Milad, a rock shelter with petroglyphs and historic artifacts that is considered the most sacred site in Palau, and Ngerutechei traditional village, which includes a council of chiefs meting house, bathing pools, house platforms, and piers all connected by stone paths.
Map of Imeong Conservation Area
Load map
The coordinates shown for all tentative sites were produced as a community effort. They are not official and may change on inscription.
Community Reviews
---
For one day of our Palau vacation, we decided to rent a car and have a self-made circle-island tour of Babeldaob, the largest island of Palau. Armed with our Cultural, Natural and Historical Sites of Palau pocket guide and map we set off. We noticed the Imeong Traditional Village on our map and thought it sounded interesting. We drove through where we thought it should be from the map, but didn't notice anything other than a very small modern settlement. Turning around and coming back, we finally noticed a wooden sign saying "Imeiuns Ancient Village" and "Emeraech (North Star) Stone Path." We walked up a gently sloping 4 meter wide stone path/staircase made of black basalt stones. At the top was a similar long basalt paved path, that just sort of dwindled out, leaving you to see the drying laundry of a couple local houses. Maybe some other stones. That's pretty much what we found. I don't think there was much else there, certainly no other signs or anything indicating what or where. But at least we found it (with a slightly variant spelling). Part of the description for this site includes the natural landscape of the area, and it is interesting to see the jungle-covered mountains. That area isn't really set up for casual hiking though.
The description mentions various Japanese WWII artifacts in the area. I'm not sure if it was included, but on the way to the Imeong Village, we also saw a sign pointing to a Japanese Zero (airplane) wreck. We started walking down the trail, but decided to turn back after a couple hundred meters because we didn't know if the plane was miles away or what.
We had other similar frustrations trying on our tour, trying to find one of the "bai", traditional meeting houses of the island. We were pretty sure we had followed the road as marked on the map and the bai had to be very close, but there was no sign pointing to it or saying "200 meters more" or anything like that.
I don't mean to give the wrong impression about Palau in general: our circle island drive wasn't all bad! We hiked to a couple nice waterfalls, and enjoyed the drive and the views in general. We did successfully find the Badrulchau Stone Monoliths at the far tip of the island (but even then, we had to ask directions a couple times). But that's not part of this tentative site.
I think you really need an expert guide to really get any appreciation for this tentative site as it isn't really set up for casual tourism. Even then, I think what there is to see is pretty low key.
---
Community Likes
Site Info
Full Name

Imeong Conservation Area

Country

Added

Type

Mixed

Categories

Link
Site History
2004

Added to Tentative List
Visitors
4 Community Members have visited.