Edifices for Worship of Fortress Type in Belarus, Poland and Lithuania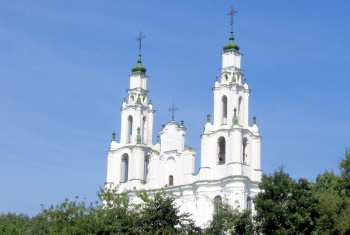 Edifices for Worship of Fortress Type in Belarus, Poland and Lithuania is part of the Tentative list of Belarus in order to qualify for inclusion in the World Heritage List.
The Church-Fortresses in Belarus comprise three 16th-17th century churches in the former Grand Duchy of Lithuania. They are built in the Belarussian Gothic style. They had a defensive role during war times, which is still visible in their thick walls and towers.
Map of Edifices for Worship of Fortress Type in Belarus, Poland and Lithuania
Load map
The coordinates shown for all tentative sites were produced as a community effort. They are not official and may change on inscription.
Community Reviews
---
Still in October 2019 we continue our 6 days roundtrip of Belarus and found our first edifices church in the town of Kamai a little more than 2 hours southwest from Polatsk. It's Church of Saint John the Baptist.
On a Friday afternoon it's a sleepy little town, only a few raised eye browses on the market square met us.
We went up to the church just meteres from the square - seeing just another church! It was closed and not accessible except from the outside, though inside stone fence. It's a typical "normal church" from our point of view, the only difference we could see was in addition to "normal church windows" a set of small round windows as a set of loopholes on the round towers.
A couple of hours later the same day we visited the second church in the village of Murovanka. It's the Khram Rozhdestva Presvyatoy Bogoroditsy D.Murovanka.
This church was also closed and in addition it was also fenced with a closed gate, so this church we had to behold from a distance.
It's a nicer church than the first one and we even had some sunbeams, but that's all. The only "fortress" image are the towers, but it's not unusual having towers on a church?
We didn't visit the third one (Church of St. Michael, Synkavichy) but by seeing Walter's photo we can tell that the three are different, but still the same.
I'm sure they have a special history, but it's hardly great enough to be a worthy WHS.
---
I was a bit baffeled by this project : it sounds like a trans-national nomination, but is only mentionned on the Belarus TL, with only three compnonents. I visited two on them on my 5-day visa-free visit to Belarus. It was close to my itinerary in and out of Hrodna.
I had a rental car, which made it easy to reach. There are no signposts, but I had printed out google maps.
The church-fortress in Muravanka, is few km south of the main Minsk-Hrdona M6 highway in the middle of the village of the same name. It was constructed between 1516 and 1542. It is an orthodox church with Gothic and Romanesque architecture style. Since 1990, the Church is again an active place of worship. It was closed the day I visited, but could get a good view of its impressives exterior walls and towers.
The second church is the Synkavichy Church. It is situated a few km west of the town of Slonim. The church was made of brick in the middle of the 16th century with Gothic-style features. The church was probably constructed by local workmen who used simple, not very precise sizing tools for the lay-out. It switched several times between Catholic and Orthodox church. Today the church is an active orthodox place of worship.
The defensive nature of both churches is visible from far, with their four towers on each corners, arrowslits and murder-holes. They are impressive and massive, especially Synkavichy as it lies in the middle of corn fields.
I missed the third church on the list : the Catholic Church of St. John the Baptist in the village of Kamai was constructed of brick in 1603-1606. It is situated in the north of Minsk, near the Lithuanian border.
---
Community Likes
Site Info
Site History
2004

Added to Tentative List
Site Links
Locations
The site has 3 locations
Edifices for Worship of Fortress Type in Belarus, Poland and Lithuania:
Muravanka Fortified Church
(T)
Edifices for Worship of Fortress Type in Belarus, Poland and Lithuania:
Church of St. Michael, Synkavichy
(T)
Visitors
8 Community Members have visited.