Gebel Qatrani Area, Lake Qaroun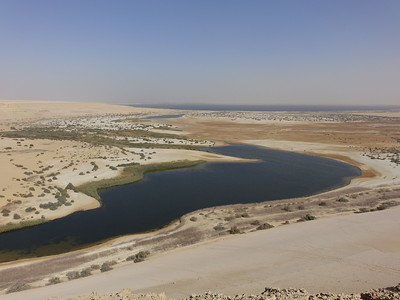 Gebel Qatrani Area, Lake Qaroun Nature Reserve is part of the Tentative list of Egypt in order to qualify for inclusion in the World Heritage List.
Gebel Qatrani and Lake Qaroun are sites of palaeontological and geologic interest. Quarries produced basalt and gypsum for use by the ancient Egyptians. At the ancient quarry sites fossils of prehistoric mammals have been found.
Map of Gebel Qatrani Area, Lake Qaroun
Load map
The coordinates shown for all tentative sites were produced as a community effort. They are not official and may change on inscription.
Community Reviews
---
This site, if inscribed will pose a dilemma for me and probably a few other community members. The road to Wadi Hitan from Cairo leads right through it, along the Qarun Lake. Thus, all those who have visited the whalebones have probably visited at least the nature reserve. I saw the lake and I stopped there for pictures. Therefore, I will probably have to count it. I did, however, completely miss the fossil part.
It was not an intentional visit. Back then, I did not look at the Tentative List, when planning trips. Just a nice stop on a long drive. The area is nice, but I wouldn't have imagined this could become a WHS. It is an oasis and water and green in the desert is always special. But that's about it. Will definitely be one of these WHS where you have to research before to grasp its value. I would really appreciate a review that points us to the places to be visited regarding the fossil part. If I get the information and this is inscribed, I will probably revisit. Along with the fantastic Wadi Hitan.
---
Gebely Abuelkheir
Iam responsible for this area. it is very important area in the presence of 13 order of 28 order of vertebrate fossils. it has a fossils of the ancestors of primates, elephants, hyrax, rats, bats and so on. beside the natural heritage site, it has the ancient paved road all over the world as a cultural site and some ruins of pharoans and Roman periods, there are a fantastic landscapes of varigated cloroured rocks, we need fund to protect this area.
I built asmall check point without any funding exept doonars
but we need furnature, workers salaries, sign posts and so on to protect this site.
Iam so sad becouse this area is ignores untill now and there is arodomely tourist tips and many factors gamage this
very important herritage site all over the world
if some body or authority ready to help in protecting this area
please call me on 02201004535453- mmm_517@yahoo.com
---
Site Info
Full Name

Gebel Qatrani Area, Lake Qaroun Nature Reserve

Country

Added

2003

Nominated for

Type

Mixed

Categories

Link
Site History
2019

Incomplete - not examined

As Jebel Qatrani
2008

Incomplete - not examined
2003

Added to Tentative List
Visitors
13 Community Members have visited.