Gebel Qatrani Area, Lake Qaroun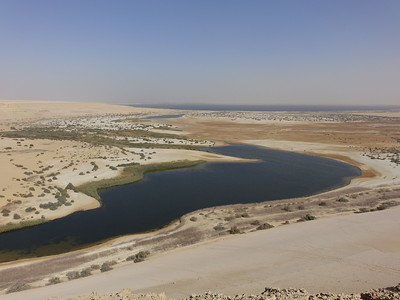 Gebel Qatrani Area, Lake Qaroun Nature Reserve is part of the Tentative list of Egypt in order to qualify for inclusion in the World Heritage List.
Gebel Qatrani and Lake Qaroun are sites of palaeontological and geologic interest. Quarries produced basalt and gypsum for use by the ancient Egyptians. At the ancient quarry sites fossils of prehistoric mammals have been found.
Map of Gebel Qatrani Area, Lake Qaroun
Load map
The coordinates shown for all tentative sites were produced as a community effort. They are not official and may change on inscription.
Community Reviews
---
After reading the description of this place provided by Egypt on the official UNESCO website, I could not quite understand what is to be the subject of the proposal. The state party refers to the ancient quarries of Widan el-Faras and Umm es-Sawan, where the remains of prehistoric animals were found. However, there is little information on the Internet about these places. So I decided to see for myself.
Google Maps probably shows the wrong route to Widan el-Faras. In fact, it is impossible to get there from the north. You have to drive from the south, preferably entering the road to Soknopaiu Nesos, the ruins of an ancient, well-preserved city from the time of the Ptolemaic. A few kilometers from Soknopaiu Nesos is the entrance to Lake Qarun National Park. You have to pay 5 USD per person for entry (no discounts for children, but the guard allowed my two children for one ticket). The exit to Gebel Qatrani is about halfway between the entrance to the park and Soknopaiu Nesos. After about two kilometers we came across a building where a guard was sitting. The guard checked our tickets, wrote down our phone number and gave his. Thanks to this, he saved us from serious trouble!
A few minutes further we came across a junction. The road to the left led to Widan el-Faras, to the right to the Petrified Forest. We chose the latter and almost arrived when we got stuck in the sand (we traveled in an ordinary sedan). Pushing and digging out did not help, we had to call the guard, who came in an off-road Toyota and pulled us out of the sand. Then we travelled in the guard's car.
We reached the Petrified Forest, a completely unusual place in the desert. There are hundreds of fossilized tree trunks from 37 million years ago! And among the trees you can find the remains of petrified animals, including whales, crocodiles, turtles and Arsinoitherium – a prehistoric rhino with a twin horn. The place is very reminiscent of Wadi Al-Hitan, except that it focuses mainly on terrestrial and water-land animals. It is easy to understand – the place is located on a much higher altitude than Wadi Al-Hitan and while eons ago in Wadi Al-Hitan there was a sea, here a tropical forest grew. The educational path is quite long, although not as long as in Wadi al-Hitan and can be walked in less than an hour.
The guard took us also to Widan el-Faras, but there is nothing interesting except beautiful desert landscapes and basalt rocks.
It seems to me that Egypt is trying to play with the inclusion of Gebel Qatrani as a separate entry. For me it is evident that it deserves an entry on the list, but as an extension of Wadi Al-Hitan, not a separate inscription.
By the way – let's wait for the official maps, but it seems that the road from Cairo to Wadi Al-Hitan through the southern part of Lake Qarun will not be included in the entry. Lake Qarun National Park is located on the north side of the lake and only this place should be treated as the core zone.
---
This site, if inscribed will pose a dilemma for me and probably a few other community members. The road to Wadi Hitan from Cairo leads right through it, along the Qarun Lake. Thus, all those who have visited the whalebones have probably visited at least the nature reserve. I saw the lake and I stopped there for pictures. Therefore, I will probably have to count it. I did, however, completely miss the fossil part.
It was not an intentional visit. Back then, I did not look at the Tentative List, when planning trips. Just a nice stop on a long drive. The area is nice, but I wouldn't have imagined this could become a WHS. It is an oasis and water and green in the desert is always special. But that's about it. Will definitely be one of these WHS where you have to research before to grasp its value. I would really appreciate a review that points us to the places to be visited regarding the fossil part. If I get the information and this is inscribed, I will probably revisit. Along with the fantastic Wadi Hitan.
---
Gebely Abuelkheir
Iam responsible for this area. it is very important area in the presence of 13 order of 28 order of vertebrate fossils. it has a fossils of the ancestors of primates, elephants, hyrax, rats, bats and so on. beside the natural heritage site, it has the ancient paved road all over the world as a cultural site and some ruins of pharoans and Roman periods, there are a fantastic landscapes of varigated cloroured rocks, we need fund to protect this area.
I built asmall check point without any funding exept doonars
but we need furnature, workers salaries, sign posts and so on to protect this site.
Iam so sad becouse this area is ignores untill now and there is arodomely tourist tips and many factors gamage this
very important herritage site all over the world
if some body or authority ready to help in protecting this area
please call me on 02201004535453- mmm_517@yahoo.com
---
Community Likes
Site Info
Full Name

Gebel Qatrani Area, Lake Qaroun Nature Reserve

Country

Added

2003

Nominated for

Type

Mixed

Categories

Link
Site History
2019

Incomplete - not examined

As Jebel Qatrani
2008

Incomplete - not examined
2003

Added to Tentative List
Visitors
14 Community Members have visited.