Nanxi River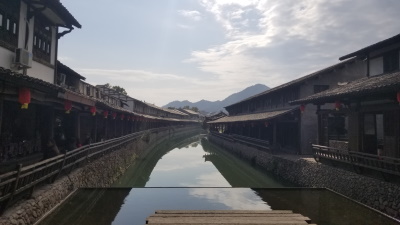 Nanxi River is part of the Tentative list of China in order to qualify for inclusion in the World Heritage List.
Nanxi River, a tree-shaped water system with 145 kilometers in length, is the biggest northern branch in the row reaches of Ou River. In the scenic spots, there are various kinds of plants and some rare trees (such as, Chinese sweet gum, and ginkgo). It also contains several ancient villages.
Map of Nanxi River
Load map
The coordinates shown for all tentative sites were produced as a community effort. They are not official and may change on inscription.
Community Reviews
---
Chinese-Canadian - 06-Jan-21 -
"Charming scernery" (sic), to quote the crappy description of the 2001 documentation. Honestly, this place isn't great even if the description would be updated. I also do not believe the ENTIRE river would be inscribed but only the "better" parts north of Wenzhou which happens to be east of the much better Yandang Mountain, and thus I would call this inscription attempt either a future expansion (assuming Yandang is inscribed first which it should) or a feeble attempt to inscribe a very mediocre place. Now that this long sentence came to a close I'll say something clearer: the pictures look nice but the scenic areas aren't really that nice.
To get to the scenic areas your base would be Wenzhou, and Oubei town just northwest of the river to be precise, which also happens to the be start of Nanxi river if I'm not mistaken (I'll make up a rule and say it won't count as a visit). With public transportation one would either arrive with the Wenzhou South station, or in Oubei if you dare to get a train that stops there. If you arrive by plane you have to get across town first. All minibuses start from the Oubei station and you will easily get to the scenic area. I had planned to take an early 7am bus and get there in an hour. Getting around the scenic area is a little more adventurous as hailing a tricycle is the norm but I'm sure one can find taxis too. I couldn't tell you about the latter because my plans of getting around with public transportation got dashed when my friend decided we would rent a car at WenzhouNan instead. The trip up north is easy with mostly G roads leading up to Furong village where we stayed overnight. There is a decent looking hotel that may also be foreigner-approved but we had pre-booked an inn with rock-hard mattresses as it was super cheap and just 20 meters away from Furong village entrance.
In the morning we went to said [sad] village. It is only open daytime, costs 20 kuai or a 40 combined with the nearby Lishuijie (=waterstreet) that looks very similar to the ancient watertowns and probably a lot of more picturesque than the village section. The combo ticket also gives you access to Cangpo village which require a trip to the next town in the north so if you skip it you are better off with single entries to the former two sites. Furong isn't very interesting. Cobble paths, dirty and not always ancient buildings, the highlight being the pagoda as seen in the top left pic. It starts to get a drag getting around and all the locals want to sell you things like dried fruit, plus it smells in several alleys. There is a small museum for traditional medicine if you are into that (Chinese only). Lishuijie is not only more attractive but also has more to do. In summer it would be full of shops and trinket sellers as well as shows and blossoming trees, but in winter it lost some of that charm. There was still a show on the weekend. I recommend walking up and down both sides to get a nice feel for it, and also I recommend shushing away li'l kids from the photo ops spot which as you can see didn't work for me... Eventually we felt that 2 hours in town was enough for these two sites.
On the way back to Wenzhou we stopped at the Lion rock. Entry is free and you can start a raft trip from here. Keep in mind that this is slow bamboo rafting, punting more or less, and it is not the only place to do it. If you want to do it at all of course because the river doesn't look anything as exciting as in Yandang nearby or other nice places in China e.g. Wuyishan, Yangshuo. The rock itself isn't special, and I don't think those are the unique trees the description is pointing out. It was on the way and it's free so you'd think no harm to check it out but we did pay 10 kuai for parking and on the way we almost got hit by a coach doing a crazy passing maneuver at the corner of a mountain pass. That seems to be normal for the bus drivers around there. We were happy to be back on the G highway.
Alright so maaaaybe it gets better further north but the scenic area also stops soon thus I'm not sure that could be true. The mountains in the background of the waterstreet sure look nice but they are far from the river. Overall I cannot recommend a visit even if you are nearby for a visit to Yandang Mountain.
---
Community Likes
Site Info
Full Name

Nanxi River

Country

Added

2001

Type

Mixed

Categories

Link
Site History
2001

Added to Tentative List