Yandang Mountain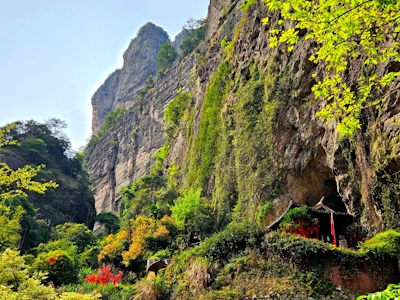 Yandang Mountain is part of the Tentative list of China in order to qualify for inclusion in the World Heritage List.
Yandang Mt. has mid-subtropical oceanic and monsoon climate, characterized by abundant heat, enough light and rich rain in synchronization. There are three ecosystems in Mt. Yandang region, forest ecosystem, fresh water ecosystem, and ocean ecosystem. For a thousand years a great deal of historic culture has been accumulated: in the Song Dynasty there were eighteen famous ancient temples. With the rebuilding of hill roads and the renovation of temples travelers began to visit Yandang Mt and left many poems and inscriptions.
Map of Yandang Mountain
Load map
The coordinates shown for all tentative sites were produced as a community effort. They are not official and may change on inscription.
Community Reviews
---
Chinese-Canadian - 17-Dec-20 -
Yandang Mountains is awesome, you should go visit. End of review.
Oh, you expect me to write more? It has been a few years since my visit and I hadn't even noticed it was on the Tentative list without any review. The listing is a little old - clocking in at almost 20 years without any update, the official description gives you some idea of the place but is still not very good, and there seems to be no movement on this becoming a World Heritage site since then.
The main attraction are the rock formations. To the average person, and thus most tourists, there isn't much detail going into the rock formations type being rhyolitic volcanic rocks. In fact the description is very, very geeky and a turnoff to read. Cretaceous revived caldera, Cenozoic, acidic magmatism, oh my. In-between all that they do mention what you see: mountain & water in harmony, beautiful water landscapes, and I suppose no mountain in China would be a proper mountain if not for temples and thus propelling this into a natural/cultural mixed site.
Arriving by train you get off at the appropriately named Yandang station. It is still a bit off from the park entrance (sorry I don't remember how I got there, probably a taxi). Inside there are two variations of things to do: rafting, similar to Wuyishan, and hiking along the rocks. The former I found rather second rate and I threw in a picture into the collage to show that there is such an activity which destroyed the feng shui of the overall picture - but anyway: it's very popular. The hiking was one of my favourite around China. The hike is along the mountainside with safe walkways and every corner is breathtaking. The "elephant trunk" rock is one of the popular ones (left pic). Rocks overgrown in lush green, not quite Guilin but also not single trees a la Huangshan. It's not obviousy from my pictures because they have been reduced so much but the lower one has a walkway along the cliff. On a sidenote that is not actually a picture that continues form the elephant trunk it just happen to overlap almost perfectly. Overall a marvelous day out which everyone would enjoy. Almost odd that it didn't get more reviews and visits up to now. Not that it means much but it is worth mentioning that it a 5A tourist site according to the national rating ;)
Nanxi River, a nearby Tentative List at the time of writing, could probably be combined into one future WH site. However, with public transportation one needs to first return to the train station, head towards Wenzhou and then take buses to that scenic area. So if you want to do both it will take some time do move from one to the other (but they are both very much worth it). By car you can potentially drive around Yandang and enter the Nanxi area somewhere in the middle. I would still recommend 2 days for both places anyway so I'm not sure you are losing much time by going the "long" way via Wenzhou.
---
Community Likes
Site Info
Full Name

Yandang Mountain

Country

Added

2001

Type

Mixed

Categories

Link
Site History
2001

Added to Tentative List
Visitors
5 Community Members have visited.