Saar Heritage Park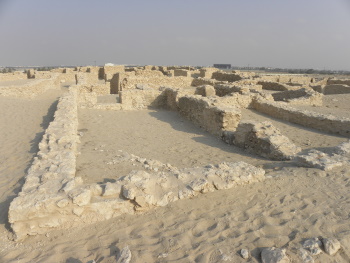 Saar Heritage Park is part of the Tentative list of Bahrain in order to qualify for inclusion in the World Heritage List.
Saar Heritage Park covers the remains of a town with streets, housing, honeycombed burial chambers and a temple, all built during the Dilmun era of Bahrain's history. It thus gives an insight in daily life in Bahrain 4,000 years ago. Artifacts found within the households include copper fishhooks, bitumen nodules, and numerous shells from shellfish, including pearl oyster.
Map of Saar Heritage Park
Load map
The coordinates shown for all tentative sites were produced as a community effort. They are not official and may change on inscription.
Community Reviews
---
As with many sites in Bahrain, I found this difficult to find at first. I gave up trying at my first attempt. During my last afternoon in Bahrain I had some time left and decided to try again. And this time with success: it is actually quite easy, there is a sign "Saar Archeological Site" from the main highway between Manama and Saudi Arabia. The mistake I made the first time is to get off at Saar village - but that's a sprawling town where you'll never find it. You just have to wait for the next exit from the highway.
The only other creatures around at this dusty site were a policeman and a couple of dogs with puppies. I was a bit scared of the dogs at first, but the guard waved me in. The site is quite extensive, and with clear roads has the feel of a village. Unfortunately I did not have much background info on me, and there's only a small interpretative sign at the site itself
---
We visited most of Bahrain's T List sites in 2005 and, with Bahrain hosting the 2011 WHC, are interested to guess which (if any) might be inscribed as that country's "reward"! Could it be the "Saar Heritage Park"? Despite its grandiose title this site took some finding in our rentacar. Our Lonely Planet guide book for the Gulf States didn't even mention it – although the title of the eponymous nearby village did appear on our Bahrain road map – but how to get into it? There were no direction signs. After passing through a lot of suburban housing estates we were eventually directed to it down a cul-de-sac and were met by a very bored policeman who seemed genuinely pleased to have a visitor. The site contains several groups of excavated remains (and no doubt many as yet unexcavated) .These are described as an "Early Dilmun town, South Burial Complex (the "Honeycomb" complex), North Burial Complex, Late Dilmun temple and Single Burial mounds". The T list documentation states "To maximize their appeal to the general public, these monuments should be promoted collectively as a single attraction." So there are big plans then! And we certainly found it an interesting visit – walking through remarkably well preserved remains of streets and houses (photo) from 4000 years ago isn't something you do every day. And the honeycomb tombs were particularly interesting "Here, there is a large number of interconnecting graves. Each one consisted of a rectangular chamber, usually enclosed by an arc of outer walling tacked on to the side of earlier cells, so that graves multiply outwards from the original single cell at the center. It is a type of burial unique to Bahrain" We like researching sites after we have paid a visit but you will find almost nothing on the Web about the site apart from hits related to its T List status and there is so much more I would like to know about it. But a WHS? Possibly, but I think not! Its case is stronger than Barbar Temple but its chances appear to have been invalidated by the inclusion of its Honeycomb Tombs within the definition of the "Burial Ensembles of Dilmun and Tylos" site (q.v) added in 2008 to Bahrain's T List.
---
Community Likes
Site Info
Full Name

Saar Heritage Park

Country

Added

Type

Cultural

Categories

Link
Site History
2001

Added to Tentative List
Visitors
9 Community Members have visited.