Degania & Nahalal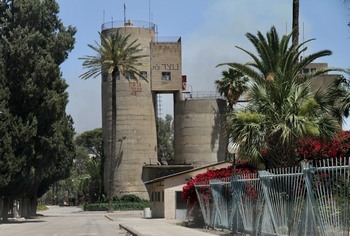 Degania & Nahalal is part of the Tentative list of Israel in order to qualify for inclusion in the World Heritage List.
Degania and Nahalal are agricultural settlements in the northern district of Israel that represent two communal settlement movements, kibbutz and moshav. A kibbutz is a collective with common property and is based on socialist and Zionist ideas. Degania was the first kibbutz, its original buildings dating back to 1910. A moshav is a community of privately owned farms, where purchasing and selling are organized on a cooperative basis. Nahalal was built in 1921 and was the first moshav. It was designed similar to a wheel, with the public buildings in the middle and the individual arable land radiating from it like spokes.
Map of Degania & Nahalal
Load map
The coordinates shown for all tentative sites were produced as a community effort. They are not official and may change on inscription.
Community Reviews
---
The original moshav and the earliest kibbutz may have non-trivial meaning to students of sociology, but I can't imagine that Nahalal and/or Degania ever become a WH site. Israel's withdrawal from UNESCO a few years ago obviously puts a damper of any new Israeli sites being inscribed in the near future, but even if Israel rejoins at some point I can't see how these two villages can claim anything of OUV.
There is literally nothing to see at either. Nahalal may be a model of concentric village design, but if you drive to its center or along its main circular road, you will only see an unimpressive - and in places rather neglected - backwater rural habitation. Degania grounds are a few degrees prettier and a tiny shade livelier. But not in any sense remarkable or even reflective of its pioneering impact.
I stopped by each of them for about 15 minutes or so on my recent 2-week trip to Israel solely because I was driving by. If these were dedicated trips, I'd be mad at myself for wasting time.
Read more from Ilya Burlak here.
---
Israel has selected 2 communities for placement on its T List to represent the many streams of thought (religious, political and social) across the 20th Century, as to how cooperative agricultural settlements within the country should be organised. Nahalal was founded in 1921 as a "Moshav" which operated a system of communal farming whilst maintaining the individual family structure. Degania, on the other hand, was the very first Kibbutz dating back to 1909 and was founded on non-religious socialist lines with shared facilities for dining, laundry etc, children living together and wealth/income being shared. They are situated around 50kms apart with the former a few kms west of Nazareth and the latter near the south end of the Sea of Galilee.
We visited both, but, for various reasons, were not able to explore the history and the current reality in as much depth as we would have liked. Our first visit was to the "Moshav" of Nahalal. Although by no means the first Moshav (the original settlers at Degania actually moved from one at nearby Kenneret to set up their different communal approach) it is "famous" for its concentric layout (which apparently was followed by others). Admin buildings are at the centre, then living accommodation, then farm buildings followed by gardens and fields. The aerial photo in this link gives a good idea of what it looks like. http://www.nahalal.org.il/english-page/ . We drove around to make a couple of complete circuits but, as far as we could see, there was nothing provided in the way of information for "outsiders". I guess we should have stopped to try to engage some locals in conversation but we were running a bit short of time and felt we had gathered a reasonable idea of the layout. With its specific "village planning" aspect linked to its social structure Nahalal would indeed seem to be a good candidate for nomination.
The Kibbutz of Degania was a bit more promising for a visitor, with notice boards advertising its historical status and a display of some historic agricultural implements/machines (as well as a captured Syrian Tank to commemorate a battle fought there in 1948). At its centre lies a small group of buildings going right back to those early days (Photo). The design of this "Pioneers Yard" (now acting as a social centre) is based on that of a German farm house and provides a direct link to those early pioneers from Europe. The original dining room has been converted into a museum – we looked in but, unfortunately, a lecture to a group of visitors was ongoing and we were unable to pay it a proper visit but, on this occasion we did "put ourselves about a bit" and strike up conversations with residents and discover some aspects of life in the Kibbutz in 2014.
As well as visiting the 2 T List sites we also stayed overnight at 2 of the current c250 Kibbutz remaining in Israel - 1 with religious affiliation, and 1 with secular. In both we ate in a shared dining room but it appeared that this was now viewed as more of a restaurant by the inhabitants and they didn't eat there regularly. These small exposures demonstrated to us the extent to which the "Kibbutz" concept has had to move with the times both socially and economically. The production of Oranges and Avocadoes by people paid equal wages and sharing their property is (unfortunately??) no longer enough to cut it in the 21st Century and provide an adequate standard of living. So, our 2 Kibbutz had both moved into the tourism business by setting up hotels/guest houses. We gathered that many "kibbutzniks" now worked in the towns and, whilst contributing to the Kibbutz to some degree, "kept" the remainder of their unequal wages. The units had also moved from reliance on agriculture to involvement in industry – Degania, for instance, seemed to be operating a "1909 Brewery". Above all, the houses and the production units had been "privatized". Given its historic status within the Kibbutz movement such moves at Degania would seem likely to be controversial and, indeed, a movie has been produced which chronicles the move towards privatization there in 2008 - http://en.wikipedia.org/wiki/Degania:_The_First_Kibbutz_Fights_Its_Last_Battle
Despite (or even because of) such social and economic changes it seems right that some physical aspects of the early Kibbutz should be maintained whilst they still exist and I would regard their WH inscription as being justified – even if politically problematical.
---
Community Likes
Site Info
Full Name

Degania & Nahalal

Country

Added

2000

Type

Cultural

Categories

Link
Site History
2000

Added to Tentative List
Visitors
13 Community Members have visited.