The Céide Fields and North West Mayo Boglands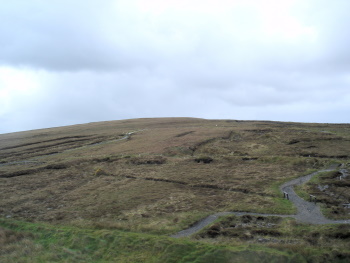 The Céide Fields and North West Mayo Boglands has been part of the Tentative list of Ireland.
The Céide Fields and North West Mayo Boglands comprises a landscape of megalithic burial monuments and othe drystone structures. They have been preserved in peat layers. Together they represent a still visible farmed landscape from the Neolithic era.
Map of The Céide Fields and North West Mayo Boglands
Load map
The coordinates shown for all tentative sites were produced as a community effort. They are not official and may change on inscription.
Community Reviews
---
I must admit my local bias with this one. I grew up just outside the nearest town and have memories of visiting several times. The pyramid-shaped Céide Fields visitor centre, built in 1993, in this remote part of one of the most isolated treeless parts of our small country has always stood out, and while I distinctly remember its bog oak centrepiece, I haven't been inside since I was a child. I visited the outdoors (always open) near sunset sometime again in the last decade. It is situated just above a spectacular sea-cliff landscape, complete with viewing platform. There are little visible archaeological remains on this short uphill boardwalk, since everything is essentially under the bog, and I have no memory of the court tombs mentioned in the T-List description.

It will always be quiet, regardless of season, with visitor numbers in the vicinity of 30-40,000 per annum. Visitors may be inclined to stay a good bit less than a couple of hours for sure, although they may wish to linger longer in the remote coastal landscape situated 30-40 minutes from the town of Ballina. Own transport will almost certainly be required, particularly if you were to be following the increasingly popular Wild Atlantic Way.

The description outlines it as one of the world's oldest field systems, and the "most extensive Stone Age monument in the world and the oldest enclosed landscape in Europe". Naturally, when studying local history, we all watched videos of the archaeologist Seamus Caulfield plunging steel poles through the bog until he hits a wall rock, thus estimating the age of the wall from the depth of the bog.

The blanket bog landscape that stretches across the county is also included in the nomination, across which I have traversed many times without considering that this landscape charts environmental and climate changes - what was once woodland, then arable farmland and pasture, the centuries have since turned into blanket bog.

Again, my bias might colour adjuding if it is World Heritage-worthy. Blanket bog will likely be inscribed in the Flow Country in the UK. Is Céide Fields like Stari Grad in Croatia, except natural processes have removed it from view? In any event, the site is seemingly going to be removed from Ireland's T-List (hassle with landowners and protection being the usual problems in Ireland). But its age, historical importance and its surrounding impressive landscape gives it a thumbs up from me.
---
Site Info
Site History
2023

Removed from Tentative List
2010

Revision

Includes former TWHS Ceide Fields (1992)
2010

Revision

Includes former TWHS Northwest Mayo Boglands (1992)
2010

Added to Tentative List