Historic Centre of Tchernigov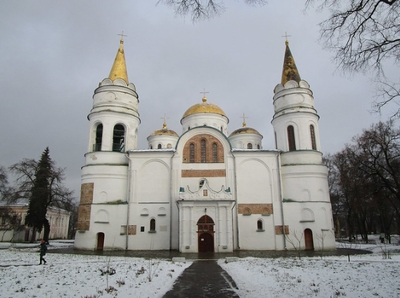 Historic Centre of Tchernigov, 9th -13th centuries is part of the Tentative list of Ukraine in order to qualify for inclusion in the World Heritage List.
The Historic centre of Tchernigov is an ensemble of more than 30 historical buildings and monuments. The ensemble includes some of the few preserved buildings from the pre-Mongol period of Kievan Rus' (late 9th to mid-13th century). Among these, the Borissoglebsky Cathedral from the 12th century and the Preobazhensky Cathedral from the early 11th century are the most important.
Map of Historic Centre of Tchernigov
Load map
The coordinates shown for all tentative sites were produced as a community effort. They are not official and may change on inscription.
Community Reviews
---
Japan / USA / Europe - 17-Dec-17 -
[ ] was added in January, 2023
I initially visited Chernihiv (Chernigov in Russian) in winter 2017-18.
The provincial city of 300,000 people 100 miles north of Kyiv was surprisingly modern, well, at least the center was. It was filled with pleasant cafes and was completely devoid of the physical turmoil in the east of the country or the political one in Kyiv, at least to the eyes of this foreigner who stayed there only for 3 nights.
But this is a very historic city. In fact it's so much so that I'd call this city Ukrainian equivalent of Veliky Novgorod in Russia, which I have visited twice before. Indeed both cities played major roles in the formation of Kyivan Rus in the 9th century, which is the predecessor to both Ukraine and Russia of today, and come with the oldest church in both of these countries.
As such, all the main attractions of this city are religious edifices, the concentration of which also reminded me of Novgorod.
The UNESCO web page mentions only two of these edifices, but I'm assuming that the nomination covers all or part of the historic center, not just two churches.
Of the two churches the Cathedral of Transfiguration (top photo of this thread) in the Dytynets park (Chernihiv's former Kremlin) is regarded as the oldest church in Ukraine. The other church is the Borys and Gleb Cathedral in the same park.
I also visited other main attractions, including the Cathedral of St. Catherine, the Church of St. Paraskevi, the Yeletsky Monastery, the Cathedral of Holy Trinity with a belfry, which looks magnificent at night, and the Church of St. Elijah adjoining the Cave of St. Anthony.
[Of these, the Church of St. Paraskevi (photo) from 12-13th century is said to be Chernihiv's crowning architectural achievement, although it was damaged during WW2, and the current one is a faithful reconstruction. This photo was taken in summer when I subsequently went back to Chernihiv to stay for cumulative 18 months between 2018 and 2021. In winter you don't see water fountains in Chernihiv because they are all shut down due to the freezing temperature.]
How to get there from Kyiv:
I took a train from Kyiv to Chernihiv. 15 min. before the departure at the Kyiv train station I was told that all tickets were sold out, so, as is usual in this sort of case in Ukraine (and in Russia), I rushed to the train to bribe the conductor welcoming passengers, or rather, waiting to be bribed. "I don't have a ticket." "Money?" "Yes, how much?" "1000 Hryvnia." You should always bargain. "I have only 600 Hryvnia." "Get on." Then he unlocked for me an empty compartment, which had perhaps been reserved for bribers. When he came to collect the money after the train departed, however, I was surprised that he actually asked only for 100 Hryvnia (4 USD), which is the normal price for the ticket. Well, maybe things are finally changing in Ukraine. (The train was going all the way to St. Petersburg, so I am not sure if he was a Ukrainian or a Russian conductor.) It took 3.5 hours to get to Chernihiv.
How to get back to Kyiv:
On the way back I took a Marshrutka (long-distance mini bus), also for 100 Hryvnia, from the central intersection of Chernihiv where Hotel Ukraine is located, and was dropped off right outside the Lisova metro station in Kyiv. It took less than 2 hours.
So in fact taking a Marshrutka is easier to move between the two cities. You can find this Marshrutka (that leaves at least every 30 min.) outside the Lisova metro station without much hustle.
Read more from Tsunami here.
---
Community Likes
Site Info
Full Name

Historic Centre of Tchernigov, 9th -13th centuries

Country

Added

1989

Type

Cultural

Categories

Link
Site History
1989

Added to Tentative List
Visitors
9 Community Members have visited.