Sbeïtla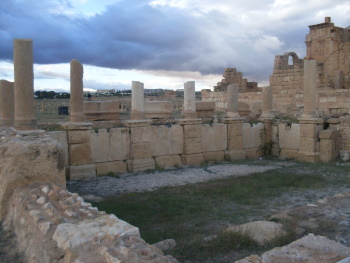 Le site archéologique de Sbeïtla is part of the Tentative list of Tunisia in order to qualify for inclusion in the World Heritage List.
The archeological site of Sbeïtla comprises a Roman town that was especially built to settle an indigenous tribal, nomadic population. It was called 'Sufetula' during Roman times. It had a forum, Triumphal Arch, baths, temples, as well as Byzantine churches.
Map of Sbeïtla
Load map
The coordinates shown for all tentative sites were produced as a community effort. They are not official and may change on inscription.
Community Reviews
---
Sbeïtla is located slightly south of the center of northern Tunisia, as the countries map visually divides in two by the vast salt pan of Chott el Jerid. It's on the north-south line between Dougga and Chott el Jerid some 100 km southwest of Kairouan. It's a large roman remain with some near complete structures and a lot of lower structures. In total it shows the size of this once great city.
Arriving just an hour before closing time and even at Ramadan we weren't very popular neither at the ticket counter nor the gate. The counter had practically been closed already, but er got tickets, and at the gate they told us that we couldn't do it within the hour. Thus, we hasted along not really knowing which direction to take. Soon we had an uninvited "guide" with us speaking only a few words of English. After telling him a couple of times we could do this by ourselves we gave that up. He hasted along with us saying "mill, olive press, bathtub, fountain, church" and so he continued. After a while we had to admit he was in fact informative in his short language way. Arriving at the more complete structures he could tell us "Jupiter, Juno, Minerva". In addition to these bigger structures the mosaic floors and mosaic bathtubs are impressive. And of course, the arc is great! It might be an entrance, but it might not?
In the end we had to admit our hasty guide was helpful and a "proper guide" and more time would even better.
After leaving the site we rented a room on the hotel Safetula with verandas overlooking the archaeological site, which was nice. The hotel is not one of the better ones, but panorama view made up for it. And we had a good meal and even beer while still daylight – at Ramadan. A Ramadan meal is something to remember, a fixed menu with lots of food! Too much for us!
Sitting on the veranda in the evening we could see the grey skies we have had the last few days turning black south of us. Is it rain coming from the Sahara area? That's strange! The next morning, we had rain all the way to Dougga.
There should be room for "more roman remains". This site is not the best one, but it is good enough to make the list.
---
Chinese-Canadian - 06-Apr-22 -
Sufetula ruins are quite big and some highlights as pictured but overall I found they aren't unique enough to be inscribed. Haven't we got enough Roman ruins already, better, more unique and really worth visiting.
The ticket office is across the entrance by the way, so if you just walk in they'll follow you to buy a ticket. Somehow they only do this to foreign guests which seems a little discriminating, and while I don't care about the difference in entrance ticket price the fact they can just waltz in but I get chased after with a buggy because there was nobody at the entrance made me feel like I dislike the place too...
And seeing that I spent most of the review ranting about something else I'll say that the arch is quite nice and you can see plus take pictures of it from outside the walls, but seeing that you came all the way I suppose you are entering the site proper.
---
Site Info
Full Name

Le site archéologique de Sbeïtla

Country

Added

2021

Type

Cultural

Categories

Link
Site History
2021

Revision

Renomination of FTWHS Site archeologique de Sbeitla (1988-1996)
2021

Added to Tentative List
Visitors
10 Community Members have visited.