Zerzevan Castle and Mithraeum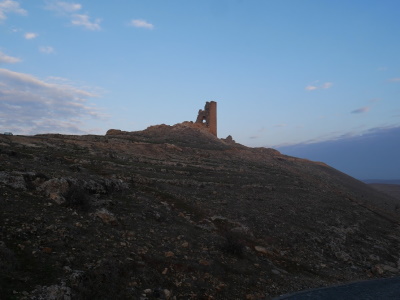 Zerzevan Castle and Mithraeum is part of the Tentative list of Turkey in order to qualify for inclusion in the World Heritage List.
At the Roman built Zerzevan Castle an important Mithras temple has been discovered. It was located underground. It shows the spread of this originally Persian cult among Roman soldiers. The military settlement also held underground water cisterns, rock tombs and 2 Christian churches.
Map of Zerzevan Castle and Mithraeum
Load map
The coordinates shown for all tentative sites were produced as a community effort. They are not official and may change on inscription.
Community Reviews
---
Zerzevan Castle is a fairly recent addition (2020) to the Turkish tentative list. The available information on Zerzevan Castle is limited. Indeed, google maps will not find it, if you search for it.
I had stayed in Mardin for two nights and was going to Diyarbakir, as the last step of my Turkey trip in January 2021. Zerzevan Castle lies along the road connecting the two cities; not coincidentally, as the modern road follows the ancient trade route. In antiquity, this was the border region between the Roman Empire and first the Parthians and later the Sassanians. Looking at the geography you quickly understand why. South of Mardin, you leave the mountains of Anatolia and reach the plains of Mesopotamia. This is a natural frontier.
As such, the Romans needed fortifications. Zerzevan was built in the 4th century CE on a hilltop overlooking the historic trade route. The term castle is a bit misleading. It's a Roman fort with a town including a canal, a basilica, town houses and most notably an underground Mithraeum. As such, it's way larger than the single picture of the iconic tower suggests. Excavations are still ongoing and it will be interesting to see how much more they unearth.
I arrived in the early morning by cab. Climbing up the hill, I felt a bit reminded of Macchu Picchu, as the rising sun painted the site in great colours. I would recommend arriving early.
OUV
I will go out on a limp and say this will pass flying colours. The scope is clear, the remnants are great as is the scenery. With the underground Mithras temple (off limits) it also has a unique spark. And unlike many inscribed sites I have seen in Turkey, this tentative site is already tourist ready with proper signs and paths set up. Only questions the Turkish authorities should consider is whether to include nearby Dara, another Roman border fortification.
Getting There
Zerzevan is on the road between Diyarbakir and Mardin. There are dolmus connecting both cities and there is even a bus hut along the main road. I couldn't work out where the dolmus are in Mardin and ended up taking a cab (<20EUR). The dolmus certainly do not leave from the otogar where I went first. I think it's on the North Western side of town, but please ask.
Entry to the site is free and you don't have to worry about entry times. However, several parts are off limits for visitors and you should respect this as excavations are still ongoing.
Plan was to leave by minibus, but this being Kurdistan I got offered a ride without even asking. He let me off in Diyarbakir at the junction for the bridge (Ongözlü Köprü). I was going to walk, but I got offered another ride pretty much immediately.
---
Site Info
Full Name

Zerzevan Castle and Mithraeum

Country

Added

Type

Cultural

Categories

Link
Site History
2020

Added to Tentative List
Visitors
4 Community Members have visited.