Pereslavl-Zalessky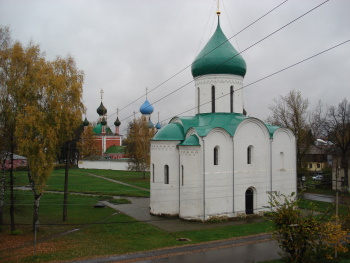 Cathedral of the Transfiguration of the Savior with the Medieval Rampart City Wall of Pereslavl-Zalessky (1152-1157) is part of the Tentative list of Russia in order to qualify for inclusion in the World Heritage List.
The fortified city of Pereslavl-Zalessky is home to the Cathedral of the Transfiguration of the Savior and the Rampart City Wall, both dating from the 12th century. The cathedral was the first white-stone example of Russian architecture, which gained popularity later at Vladimir-Suzdal. The wall around the city was the first example of a circular lowland fortress.
Map of Pereslavl-Zalessky
Load map
The coordinates shown for all tentative sites were produced as a community effort. They are not official and may change on inscription.
Community Reviews
---
Site visited in October, 2007. This time it was not even on the TL. Due to climatic reasons, October months are not perfect period of time to visit these areas of Russia, as far as I remember the days were short, it was raining almost every day and the temperatures were around 10 degrees (especially mornings were cold), in some days, even less (below 0).
Anyway Pereslavl Zalessky (Russian: Переславль-Залесский) is one of the main attractions within Golden Ring of Moscow (ring of medieval towns including some already inscribed heritage places as well – Sergiejev Posad, Yaroslavl, Vladimir, Suzdal or other that are already on the TL like Rostov). It is an easy stop on a way from Moscow or Sergiejev Posad to Yaroslavl (Rostov), some 140 km from Moscow (75 km from Sergiejev). City is rich in historical monuments, but they are spread all over the town, so to see every interesting monument you will need at least full day.
Objects chosen for future inscription cover relatively compact area and are located in the real center of the town. White stone Savior's Cathedral (Russian: Спасо-Преображенский собор) is considered to be the oldest church (still surviving) in Northern Russia. It was founded in the mid XII century together with the whole city. Comparing to monuments of Suzdal and Vladimir it is relatively small and during my visit it was still housing some kind of city archive, but at least from the outside it still looked as normal church. Close to the Savior's Cathedral (and still within old town area) there are three other churches from later periods: church of Aleksander Nevsky (Russian: Церковь Александра Невского) and St. Volodymyr's Cathedral (Russian: Собор Владимирской иконы Божьей Матери, those two are quite near the main monument and located a little bit further, mostly in ruins during my visit - XVI century Church of Metropolitan Peter (Russian: Церковь Петра Митрополита).
Another relict from early medieval times are the town walls or more precisely city ramparts (Russian: Валовое кольцо) that surrounds the whole old town area. These are earthen embankments currently around 10-12 meters high (initially around 16 meters), impressive, but that is only an earthen structure – no towers, no walls, no gates.
I just wonder if these two components are sufficient to be inscribed on the list. We will see, but apart from these monuments there are plenty of other that are not included in this nomination. Many other churches, some wooden architecture from XIX centrury but first of all five monastery complexes (with my favourite Goritsky Monastery, Russian: Успенский Горицкий монастырь, currently museum). Maybe it will be good idea to include other churches / monasteries into this nomination (like in Pskov)? Probably the only obstacle is that the majority of other monuments are from later periods.
Practicalities: Bus terminal (Автовокзал) is located on a way to Sergiejev Posad, main road, some 4 km from Savior's Cathedral. Buses to Rostov / Yaroslavl or Sergiejev Posad / Moscow are quite frequent. For visiting two distinguished components 2-3 hours should be enough but visiting other monuments require at least full day. There are few places of accommodation in the town (during my stay only main "Pereslavl" hotel was entitled to house foreigners, fortunately this law no longer exists in Russia).
Places on the photo, bottom left, than clockwise: plan of Pereslavl monuments (circle in the middle is the city ramparts), Saviour's cathedral, city ramparts and church of Aleksander Nevsky (red) with St. Volodymyr's Cathedral.
---
Community Likes
Site Info
Full Name

Cathedral of the Transfiguration of the Savior with the Medieval Rampart City Wall of Pereslavl-Zalessky (1152-1157)

Country

Added

Type

Cultural

Categories

Link
Site History
2019

Added to Tentative List
Site Links
Locations
The site has 2 locations
Cathedral of the Transfiguration of the Savior with the Medieval Rampart City Wall of Pereslavl-Zalessky (1152-1157) :
Cathedral of the Transfiguration of the Savior
(T)
Visitors
6 Community Members have visited.