Guizhou Triassic Fossil Sites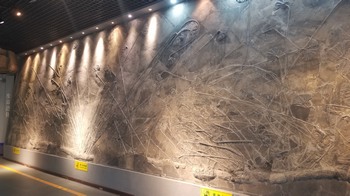 Guizhou Triassic Fossil Sites is part of the Tentative list of China in order to qualify for inclusion in the World Heritage List.
Guizhou Triassic Fossil Sites World Heritage Nominated Property is a series of fossil Lägerstattens composed of rich, complete and well preserved early Mesozoic fossils including marine reptiles, fishes, crinoids, ammonoids, bivalves, brachiopods and arthropods, etc. They are outstanding examples of the evolution of marine life: life-restoration-radiation-stabilization, in the post-Permian era and reflect a turning point between the Mesozoic marine reptiles' origin and it's early evolution.
Map of Guizhou Triassic Fossil Sites
Load map
The coordinates shown for all tentative sites were produced as a community effort. They are not official and may change on inscription.
Community Reviews
---
Chinese-Canadian - 23-Oct-20 -
You are probably thinking the same as me: another fossil site? Have you been to any WHS for fossils and you will know they are mighty boring. We have one in Canada which isn't half bad due to the tour guide explaining things well and you even get to hold a fossil as cool as you might think that is, and the Swiss - Italian Monte San Giorgio is pretty scenery to make it worth the trip, but similar to the Chinese site in Yunnan - Chengjiang Fossil Site - which gets one of the LOWEST ratings on this site, there is really not much worth seeing here. Disclaimer: The TWHS consists of 4 sites and I visited the Guanling Biota far south of Guiyang but I am very sure the others won't be much different. To get to Guanling you can take a bus or high-speed train but then you will need a taxi to drive you up the mountain and back as the museum is a bit far away from civilization. When I called the museum beforehand they claimed to have a bus running from the coach station in Guanling but there was nothing remotely like that once I arrived and the buses to the countryside are very infrequent. They did have an e-bus parked outside the entrance so perhaps it does shuttle from somewhere but alas I don't recommend it.
The museum seems big, my picture only shows the main exhibition hall, but most of the site is closed now. Again, like Chengjiang Fossil Site, there was once a budget to get all this built up and then nobody wants to maintain it due to lack of visitors. When I was there I saw only one couple strolling around. The upside is that you get some nice scenery in the distance and fresh air - once again, like at the Chengjiang Fossil Site. The 4D cinema is closed, the "Ichthyosaur comes to life" exhibition appears to have been locked down a long time so you are pretty much stuck with 3 small exhibits as seen in my top pictures which have not been moved from their original location, as well as the large hall with random stuff. FYI there is hardly any English here so unless you understand the background of what you are looking at it's a bit of a waste of time. I found some plant Lagerstätten nicely displayed and preserved, then less impressed with a plastic animal exhibit as you exit the museum.
The serial nomination is only aiming for one criterion: outstanding examples of the evolution of marine life. I might be ignorant but this is very niche. I'll just quote that so you don't have to look it up:
life-restoration-radiation-stabilization, in the post - Permian era and reflect a turning point between the Mesozoic marine reptiles' origin and it's early evolution: from the Middle Triassic Anne Guizhou Panxian fauna representative of the adaptation of shallow coastal platform life, into the late Triassic latitudinal Guizhou Xingyi fauna and the late Triassic Guanling biota tour to the ocean life and constitute an complete evolution sequence. Shastasaurus, Qianichthyosaurs and Pistosaurus which has ocean cruise ability was appeared.
Got all that? In my opinion, understanding the evolution process of our Earth is one thing and scientifically very important; however, pinpointing certain places that have more and for certain time periods is a tad silly to receive a title of World Heritage. Lastly, in high season you can pay ~$10 to dig around in Lagerstätten in the back of the museum - get excited!!
---
Site Info
Full Name

Guizhou Triassic Fossil Sites

Country

Added

2019

Type

Natural

Categories

Link
Site History
2019

Added to Tentative List