Cold Desert Cultural Landscape of India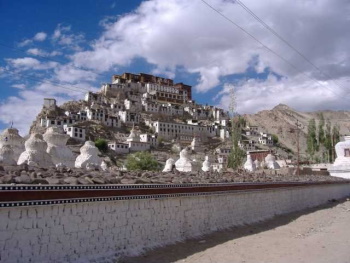 Cold Desert Cultural Landscape of India is part of the Tentative list of India in order to qualify for inclusion in the World Heritage List.
The Cold Desert Cultural Landscape comprises parts of Ladakh, Spiti and Kinnaur. The landscape is characterized by very high elevation and very little rain. The inhabitants of its scattered settlements practice their own distinct Buddhist culture, which is visible in the many Gompas. The region is also a retreat for the Snow Leopard, Tibetan Antelope and Himalayan Wolf.
Map of Cold Desert Cultural Landscape of India
Load map
The coordinates shown for all tentative sites were produced as a community effort. They are not official and may change on inscription.
Community Reviews
---
Whilst reviewing the Mughal Gardens in Kashmir I noted that the T List "Cold Desert Cultural Landscape of India" was also un-reviewed and, to date, has only 7 recorded visitors among our community – including myself for our trip back in 1983. I wonder why? Possibly because there are no other (T)WHS "ticks" available from this lengthy journey....or because the area is only accessible by road in Summer (when people are less likely to be travelling to India for other reasons) and is extremely cold in winter for those who fly in after touring elsewhere?
Although Indian Kashmir/Srinagar has been closed to normal tourism on and off across the past 35 years, Ladakh has remained relatively easily accessible by air from e.g Delhi or Chandigarh, or by the Manali to Leh highway opened in 1989 which misses out Jammu/Kashmir altogether! I would suggest that those who been to India without visiting Ladakh have been missing a great experience - whether you want the Buddhist culture or the world class trekking and wild life viewing - or all of these! And, even if it never gets that UNESCO inscription, it is well worth seeing.
When it first appeared on India's T List in 1998 it was as 2 small separate cultural sites ("Hemis Gompa" and "Buddhist Monastery Complex Alchi, Leh"). In 2015 these were replaced by/incorporated into the current entry which covers a much larger area ("around 9,898,000 hectares") as a "Cultural Landscape" with mixed OUV. The boundaries (which are not well defined in the T List text) seem to have been determined primarily by the general physical extent of the "Cold Desert Landscape" and appear to be in 2 parts – one solely in Ladakh around Kargil & Leh, and one shared between Ladakh & Himachal Pradesh centred on Spiti. We didn't visit anywhere in this second area – but it is conveniently located for anyone approaching from Manali. All Cultural sites within this "CL" area are, of course, included "automatically" and are not fully listed but, within the Kargil/Leh sector, the T List description states that "Important Gompas in the J&K region include Hemis, AlchiChoskhor, Lamayaru, Likir, Thikse and Ridzon" – so, the 2 original ones, plus 4 others. Now, 2 separate Gompas didn't make much sense as nomination candidates. but the move to a c10m ha mixed site is quite a leap! If its size in the UNESCO text is correct it would be the World's largest "non maritime" Mixed CL. Has India bitten off more than it can chew?
Back in 1983, we took the, then only, highway from Srinagar - a 2 day bus trip in each direction! We still remember it as "hard" and Kargil itself as the "pits" (We arrived at 11pm and left at 4am…and we shouldn't even have bothered with the "hotel" we found, as sleeping in the bus would have been cleaner/more comfortable!)! I can't remember why we didn't fly, whether because of cost or availability (indian Airlines still had the monopoly for domestic flights in 1983), but I would recommend no more than a 1 way land trip. Even then the 2 days could probably be better spent in the area. We crossed the "Cold Desert" on the 2nd day from Kargil to Leh (which itself is "in" the "desert") and we saw (but were not able to stop at) Lamayaru Gompa a bit off the highway (around half way to Leh with around 115 kms still to go).
We spent 3 days in Leh and, as well as seeing the local palace and gompas etc, also took a 1 day trip by Jeep to 4 more Gompas - Shey (and Palace), Tikse, Hemis and Matho and another palace at Stok. This covered around 100kms with Hemis as the furthest point, and seemed to be the "standard" offering at the time in Leh for a 1 day trip. Although Shey and Matho didn't get a specific mention in the T List description, my diary indicates that I found them well worth the visit … though was less impressed with Stok Palace. However, that now seems to have become a rather upmarket "Heritage Hotel" (£200pn and up)!! I wonder if this is indicative of how much the rest of Leh has changed? Other sites seem to have suffered in the intervening years. Leh itself was added to the World Monument Watch list of "100 Most Endangered Sites" in 2008. And this article from 2017 gives an indication of conservation problems regarding the Gompas of Ladakh in general with bad restoration having taken place and an ongoing dispute between the monks and the ASI (plus ça change with the ASI!)
Although we passed through and thus "saw" the Cold Desert we didn't give it any time as a "Natural" site so I will make no further comments on that aspect other than to note that the UNESCO text refers specifically only to a very limited range of protected areas - "the Cold Desert has been declared as the 16th Biosphere Reserve of India in 2009 that includes Pin Valley National Park and surroundings, Chandratal and Sarchu, and the Kibber Wildlife Sanctuary in H.P. The Changtang Cold Desert Wildlife Sanctuary in district Leh, J&K is another protected habitat". Noticeably missing is any reference (whether intentionally or by mistake isn't clear) to Hemis NP "the only national park in India that is north of the Himalayas, the largest notified protected area in India……..and the second largest contiguous protected area," (Wiki) which is also "globally famous" for its ("around 200") Snow Leopards and is the place to go to try to see these creatures. I personally regret never having done a trek in Zanskar or similar for its scenery and wildlife but, by 1983 Mrs Solivagant was on the scene, and my "trekking days" were largely over!!!
Regarding the Cultural aspects which we did see/experience. The architecture was typically "Tibetan" and the location and appearance of some Gompas (as the site photo of Tikse shows) were remarkably reminiscent of the Potala. Inside the monasteries (and elsewhere in the villages and markets) I remember a series of very authentic and "untouristy" encounters. The Gompa ceremonies (Photo - something was "going on" at all of them!) proceeded oblivious to our presence and photography wasn't restricted. There were other tourists – but relatively few, such that I seem to have excluded them from all of my photos! I note the then entry price everywhere was IR10pp....at a time when we were only paying IR50 for our cheap room in Leh!
My subsequent main comparators for "Himalayan Buddhist" monasteries have been visits to Tibet (1994) itself and Bhutan (2001) and, less so, to Nepal, elsewhere in China and Mongolia. Our "Ladakh experience" didn't and doesn't, pale in comparison with those visits (Though Bhutan had the additional value of a "Festival" when we went and it could be worth looking out a Ladakhi one if planning a visit). The concern must be that, 39 years later, the "authenticity" of those encounters (from general "internationalization" of all cultures) and buildings (via "excessive" renovation as per Stok Palace) will have been significantly reduced. But that of the other places will also have changed and one can only see what is available now with the certainty that changes will be even greater in the years to come!
---
Community Likes
Site Info
Full Name

Cold Desert Cultural Landscape of India

Country

Added

2015

Type

Mixed

Categories

Link
Site History
2015

Revision

Includes FTWHS Hemis Gompa (1998-2015)
2015

Revision

Includes former TWHS Buddhist Monastery Complex, Alchi, Leh, known as Alchi Chos-kor (1998) and Hemis Gompa (1998)
2015

Added to Tentative List
Visitors
8 Community Members have visited.