Historic Guild Town of Mudurnu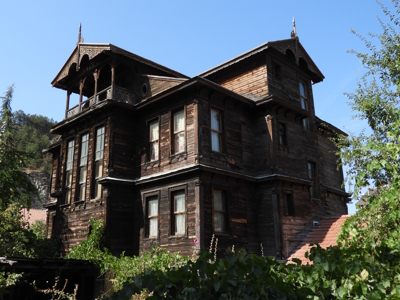 Historic Guild Town of Mudurnu is part of the Tentative list of Turkey in order to qualify for inclusion in the World Heritage List.
Mudurnu is a town known for its Ahi Order guild system. The commercial and residential quarters are show remarkable vernacular timber architecture. Its ıldırım Bayezıd Mosque represents an important step in Ottoman mosque architecture.
Map of Historic Guild Town of Mudurnu
Load map
The coordinates shown for all tentative sites were produced as a community effort. They are not official and may change on inscription.
Community Reviews
---
Chinese-Canadian - 26-Jan-22 -
Seemingly remote but must be some weekend retreat in summer months for both Istanbul and Ankara, it boasts traditional wooden houses and an old mosque (see pic). The mosque likes to wake you up at 6am and is nothing special. I stayed in a sort of home stay just nearby because off-season sees many hotels closed, and the stay was in one of these traditional guild houses so I believe I got the best view from the inside. The tall door designs, creeky wooden floors and furniture are nice but nothing like world heritage quality.
---
Mudurnu is a nice town to visit, but in my eyes no world heritage.
You can walk there and see nice things, the little museum with old stuff is nice.
But what is really worth the drive is this: Burj Al Babas Villa (check the images on google) just outside Mudurnu if you drive to Beyparazi.
Certainly no world heritage, but one of the most remarkable things i have ever seen ....
---
Mudurnu was a must during my family trip to Turkey in early May 2019 as it was proposed for inscription this year. Unfortunately for me, similar to Kizilirmak delta, a couple of days after my return Turkey withdrew the nomination, most probably after negative ICOMOS assessment. Luckily it did not require a long detour – it is only one hour by car from Istanbul-Ankara highway.
According to nomination file, Mudurnu was a town that played an important role in the Turkification of Anatolia and was an important market town, laying at the crossroads of the Silk Road (from Constantinople to Iran) and Crimean Road (from Damascus to Black Sea coast). Based on what I read, Mudurnu seemed a bit similar to already inscribed town of Safranbolu. And indeed, when we arrived there, the similarity was quite obvious. But Turkey did not admit that – they compared Mudurnu not to Safranbolu, but to some other 'guild towns' in Europe and Asia, such as Visby, Spissky Hrad or Tabriz. This is because Turkey based its nomination on the Ahi Order, merchants' solidarity organization and guild system that was present in Mudurnu almost since its beginning in XIIIth centtury. Akhism was quite influential in medieval times and was famous of its hospitality and social solidarity.
The whole town is small but quite pleasant. We visited in on Sunday morning so there were not so many tourists but judging from the number of restaurants and handcraft shops, it is quite popular. The center of Mudurnu seems quite well preserved and most of the houses are original. First we visited hammamYildirim Bayezid, which had very interesting, carved entrance. Then we headed to Yildirim Bayezid Mosque, which is the most prominent building in Mudurnu. And indeed, the mosque, dating from XIVth century, is really beautiful inside. Second most important mosque of Sultan Suleyman was under reconstruction. We did not spot any particular references to Akhism but it was difficult to do so – the description of main historical buildings was in Turkish only.
Overall we found Mudurnu quite pleasant town for a quick visit, but not worth WHS status. On our way through the moutains to Iznik we passed quite a few similar towns so Mudurnu does not seem that outstanding. This is why underlining Akhism as distinctive element was so important. It seems ICOMOS was not convinced but who knows, maybe Turkey will try to push it anyway in near future.
---
Community Likes
Site Info
Full Name

Historic Guild Town of Mudurnu

Country

Added

Type

Cultural

Categories

Link
Site History
2019

Requested by State Party to not be examined
2015

Added to Tentative List
Visitors
6 Community Members have visited.