Syrian Hajj Road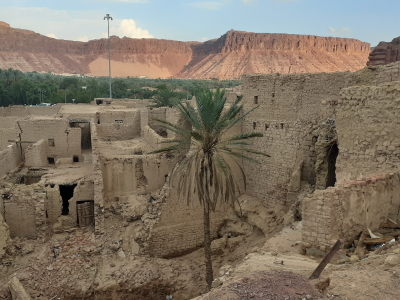 Syrian Hajj Road is part of the Tentative list of Saudi Arabia in order to qualify for inclusion in the World Heritage List.
The Syrian Hajj Road is the oldest transboundary Islamic pilgrimage route to Makkah. It leads from Damascus across the Arabian desert and unites believers from different regions and ethnic groups. Along the way there are water management systems, inscriptions, camps and palaces.
Map of Syrian Hajj Road
Load map
The coordinates shown for all tentative sites were produced as a community effort. They are not official and may change on inscription.
Community Reviews
---
Syrian Hajj road is another of the long-winded multi-site serial nomination to be inscribed, along with Dar Zubaydah (Saudi-Iraqi road) and Egyptian road. This pilgrimage route connected Mecca and Medina with Syrian capital Damascus and measured 1307 kilometres in length. It was also called Attabukiya. It consists of places of refuge for pilgrims and security posts (forts, castles), markets (pilgrims took different products and wares from their country to trade at these places, changing items of value into local currency to fund their pilgrimage), bridges, canals and water reservoirs.
We have visited or seen three different components of this proposed site. The best and most convenient visit is definitely the Al Siker Fortress in Tabuk, also called Tabuk Castle (it's actually quite close to the Tabuk Hejaz Railway station). Although legends say that a castle stood on the site for several millennia BC, it is of Ottoman origin, dating from 1559. Its purpose was to protect a nearby reservoir and provide accommodation for pilgrims. The fortress has two floors around the perimeter of which are rooms now used as a museum, a mosque and a courtyard. The museum houses historical artefacts and many infopanels providing information about the Syrian pilgrimage route as well as the most famous historical figures who walked it (Ibn Battuta, Evliya Celebi). There are parking spots at the beginning of the pedestrian section the fort is located at. Information is provided in English on the infoboards, which is appreciated.
Moving on to AlUla from Tabuk, we saw the Al Mua'azam Fort along the way. It's difficult to miss, you can have a stop and take some pictures. Fenced as everything else, I believe you can just drive off the road towards it and there should be a gate in the fence - at least that was our experience with other Saudi places of interest. However, we skipped this one.
Finally, we saw the component of AlUla Old Town (or Traditional Town), an old neighbourhood with mud houses. It's located on right-hand side as you drive towards AlUla from Hegra direction and we passed it couple of times. Unfortunately, it was plagued with Saudi enthusiastic reconstruction so intense, the traffic was redirected from that section of ring road because of it. Hopefully it would make for a more satisfying visit in the future.
Overall, I'd say it was more interesting for us than Dar Zubaydah, but alas, still kind of dispersed everywhere with sites under construction. I would definitely recommend visiting the Tabuk Castle as it gives the most information and best context for your visit of this site.
---
Community Likes
Site Info
Full Name

Syrian Hajj Road

Country

Added

2015

Type

Cultural

Categories

Link
Site History
2015

Revision

Egyptian/Syrian Hajj Roads TWHS are both reduced versions of a combined nomination Al-Ma'diyah and Al-Shamiyah pilgrimage routes (1988).
2015

Added to Tentative List
Visitors
12 Community Members have visited.