Hejaz Railway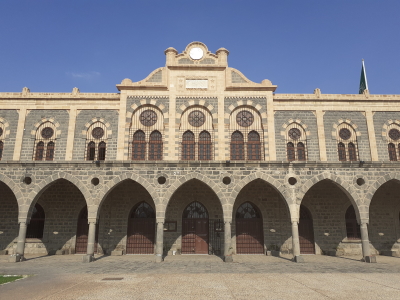 Hejaz Railway is part of the Tentative list of Saudi Arabia in order to qualify for inclusion in the World Heritage List.
The Hejaz Railway was built by the Ottomans as a modern way of transport of pilgrims to the holy sites. It dates from 1909. Bridges, fortifications, stations and water works were constructed along the route.
Map of Hejaz Railway
Load map
The coordinates shown for all tentative sites were produced as a community effort. They are not official and may change on inscription.
Community Reviews
---
Hejaz Railway is an interesting nomination and I would say my favourite in Saudi out of the four large serial ones (the three others are pilgrimage hajj routes). It's a coherent collection of sites with an interesting story and many places to see in still quite decent shape. The Hejaz railway was a narrow gauge railway, named after the Hijaz region of present-day Saudi Arabia through which it ran. It connected Damascus in present-day Syria with Medina in Saudi Arabia, with a branch line to Haifa (present-day Israel). It was part of the Ottoman railway network and its original purpose was to connect Damascus and Mecca with Istanbul. The builders' grandiose plans were thwarted by the First World War; only the Damascus-Medina line, which was 1,300 kilometres long, was built. As you might have guessed, the main purpose of its construction was to bring pilgrims from Europe, Asia and the Levant to Medina and Mecca. To give you an idea, the journey from Damascus to Medina by camel took forty days, which the railway shortened considerably.
It was built in eight years, between 1900 and 1908, using local labor, local resources, and the charity of Muslims (their obligatory alms called zakat). There were stations every 20 kilometres, mainly for defence reasons, and there were water tanks - as there is no water to spare in the desert, the train had to have, among other things, one carriage of water, which was used to power the steam locomotive.
The glory of the Hijaz railway did not last long. During World War I, sections of it were attacked by representatives of the Arab Revolt and British officer T.E. Lawrence (I recommend the film Lawrence of Arabia) and by 1918, less than two decades after the project began, the railway lay in ruins. Today, the railroad operates on sections from Amman to Damascus and from the phosphate mines at Ma'an to Aqaba. Between Mecca and Medina, Saudi Arabia's two main pilgrimage centres, a high-speed rail line was completed in 2018. The most important historical stops along the way can be found in Medina, Madain Saleh (today's AlUla) and Tabuk.
I'll repeat myself like a broken radio, but even in the case of the Tabuk train station (the historic one), the town is preparing for a more expressive influx of tourists. You can go to the station area and go look at it - it's fenced off with a set of historic buildings built of brick as well as parts of the railroad tracks. The large visitor center is, unfortunately, being renovated again, however photos from the Google Reviews show interesting exhibition including a railway engine, so I guess I am happy for the visitors in the future.
Our second visit was similiar, we visited the train station in AlUla - a drive about 5 minutes from the town centre, it's located close to the park. The site is once again fenced off, but can be seen well and you can walk around. There are also many other stations along the main road as we drove, we took pictures of them. Given more care and information as well as signposts, this would be an interesting inscription. After the reconstruction works are done, of course.
---
Site (or to be more precise: sites) visited recently, November 2022. Searching for future inscriptions in a country relatively new within UNESCO structures can bring such sites like Hejaz Railway. While preparing the trip I found that it could be easy to see some of the designated places on a way from Medina to Madâin Sâlih.
Visiting railway station in Medina was quite promising. The building was recently restored and converted to well-equipped and maintained museum. Part of exhibits are connected with railway and its history, most of others are about overall Saudi Arabia, all descriptions in Arabic and English. Very interesting as the museum provides basic information about history and context of constructing Hejaz Railway. Main problem starts if you want to visit station outside museum building. Unfortunately the area with other railway buildings and wagon (looking as open-air museum) was closed – probably open in the late afternoon (possibly from 5 p.m.). Unfortunately I was there around noon but luckily one of the doors were opened so I had a chance for a quick walk within station premises before being taken back to the museum.
Next stop was the first real railway station – at Makheet (outskirts of Medina) shown on Maps.me as mhtt mkhyt – qtar alhjaz. Located few hundred meters outside modern village it consist of the station itself (Mahattat Muhit) and a kind of fort / caravanserai . Both buildings are partly ruined, fenced with no access for visitors. No railways are preserved although a railway embankment is partly visible. There are also ruins of military post on the hill and observation tower. Place look as completely abandoned and what is pretty sad it is treated as a place to leave garbage.
Another station was at Al -Hafeerah (Mahattat Hafirah) – some 25 km for Makheet, express road Medina – Tabuk (15). The station consisted of two buildings just few meters from the main road. Same layout of the station as previous one. Two buildings, both fenced but this time the doors were partly open with a possibility to go inside and explore interior (frankly speaking both interiors were not prepared for visiting, some areas looked fully neglected with lots of garbage, some looked unsecure – huge holes in the ground, exploring second floor at your own risk). Railway embankment still visible although partly destroyed. No railways left.
Next station – Bwatt (mhtt bwat, Mahattat Buwatah) – same layout, two buildings located near side road. Both buildings closed, partly ruined, fenced, with no possibility to go inside. Similarly to the previous one – railway embankment still visible but in very poor condition.
Subsequent station Beer Nassif (Mahattat Al-Anqa, mhtt byr nsyf) – similar layout, two fenced buildings but this time station was accessible via opened door. Unfortunately similarly unprepared for visiting – staircase for second floor partly destroyed, no information in English. Area looked as a bit neglected.
Next station Al Buwayr (mhtt albwyr, qtar alhjaz) – finally something more than previously seen – partly preserved railroads, some wagons, locomotive. Layout is pretty similar to all other stations but preserved infrastructure and machinery indicates plans for future museum. Currently closed and fenced but can be seen from outside.
The rest of the stations (with the exception of Estable Antar) are located outside main road to Al Ula so I decided to skip them. While in Al Ula, and on official Madâin Sâlih tour there is a possibility to see Al Uthaib station, same layout as all others.
Another potentially interesting places are Al Ula Station (and Hejaz Railway Cars) and Hegra Raiway Museum (currently closed)
Basic facts about Hejaz Raiway – Constructed during Ottoman Empire from 1900 to 1908 to facilitate pilgrimages to Islamic holy places (and unofficially strengthen Ottoman control over the most distant provinces of the empire hence military buildings within all the stations). It run from Damascus to Medina, total 1320 km. After construction used for only 8 years when Arabian revolt (inspired by British officers) destroyed Maan – Medina leg. After the end of IWW only certain sections of the railway were utilized in Syria, Transjordan and Palestine, mostly as cargo freight.
Practicalities: Medina Station is located in the centre of the town (the same with Al Ula), other stations require own transportation. Most of them are currently located in the middle of nowhere and you need a decent map to get there. Chances of future inscription – they may be higher with joint nomination (KSA + Syria + Jordan) but even than there are still much more historical railways in the world better preserved, maintained including those much older.
More about railway: https://www.visitsaudi.com/en/do/culture/the-hijaz-railway
Places on the photo, bottom left, than clockwise: Makheet fort, Medina Station, interior of Hafeerah Station, locomotive at Al Buwayr Station.
---
Community Likes
Site Info
Full Name

Hejaz Railway

Country

Added

2015

Type

Cultural

Categories

Link
Site History
2015

Revision

Renomination of 1988 TWHS
2015

Added to Tentative List
Visitors
17 Community Members have visited.