Yue-Kiln Site at Shanglin Lake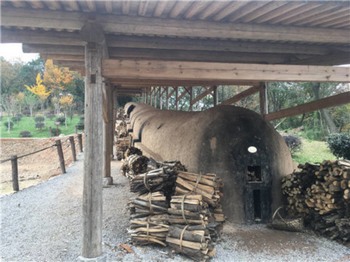 Ancient Porcelain Kiln Site in China: The Yue-Kiln Site at Shanglin Lake is part of the Tentative list of China in order to qualify for inclusion in the World Heritage List.
The Ancient Porcelain Kiln Site in China includes the serial representative sites of ancient Chinese celadon-producing kilns from the 1st to the 17th century. There are abundant remains of porcelain shards accumulated on the ground, buried workshops, kilns and other remains of production facilities, as well as historic settings related to porcelain production including porcelain clay zone, firewood resource zone, slopes where kilns were located, water sources and transport waterways. Celadon is the most broadly spread, the most influential porcelain genre with the longest history in the world stretching over five dynasties (from the 8th to the 16th century).
Map of Yue-Kiln Site at Shanglin Lake
Load map
The coordinates shown for all tentative sites were produced as a community effort. They are not official and may change on inscription.
Community Reviews
---
Chinese-Canadian - 20-Mar-18 -
Although there are more than one location for the listing the main one would be Shanglin Lake. Do not be fooled by Google Maps telling you to go to the south side for a "relic" site. There is absolutely nothing there but there was a convenient bus to get me here so imagine the disappointment. Most tourists come here for the lake because you are immediately approached by touts to take a boat tour. I dismissed this at first but then of course had to come back for questions about the relic sites. After finally figuring out that the exhibition hall is at the NORTH side of the lake I took the lady's boat to reach it rather than going all the way around by buses (there are no taxis in this area). Checking with Google Map I found a listing in only Chinese for said exhibition hall.
As far as pottery goes I didn't find it very special. The very similar tentative site in Korea (Gangjin Kiln Sites also listed as tentative site) has a much more unique feel about it. The showcases for just pieces of pottery did not justify the trip for what is apparently something special in the world. They should try to focus on that. Apparently this kind of pottery known as celadon originated from here. I would prefer that the two countries join forces on a celedon listing for a better chance to pass this. After now having been to both places I was more impressed with the Korean one by far.
---
Community Likes
Site Info
Full Name

Ancient Porcelain Kiln Site in China: The Yue-Kiln Site at Shanglin Lake

Country

Added

2008

Type

Cultural

Categories

Link
Site History
2008

Added to Tentative List
Site Links