Catholic Doctrine Temples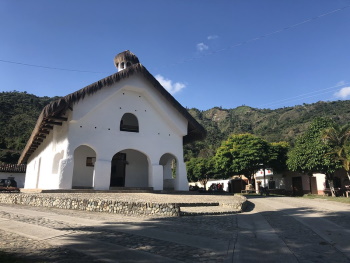 Catholic Doctrine Temples is part of the Tentative list of Colombia in order to qualify for inclusion in the World Heritage List.
The Catholic Doctrine Temples are 7 Spanish colonial churches that played a part in the evangelization of the people in remote areas of Colombia. They date from the 18th century. Their architecture is a mix of colonial style and indigenous traditional techniques.
Map of Catholic Doctrine Temples
Load map
The coordinates shown for all tentative sites were produced as a community effort. They are not official and may change on inscription.
Community Reviews
---
As we had private transport, we took the opportunity to make a short excursion along the road from San Andres de Pisimbala to nearby Sta Rosa to see its "Catholic Doctrine Temple" as well, of course, as visiting the one in Pisimabla itself, which dominates the centre of that village. It was around 8kms – but, as the average speed on a rough Colombian road is rarely above 20kms an hour, it fully filled our time between finishing off El Tablon and having dinner in Pisimbala! To reach it continue along the road from El Tablon.
Currently we don't have its location identified on our maps and I can confirm that it is situated at 2.582890, -76.002442. On Google it has been identified as "Sta Rosa Tierradentro" but no church of that name is inscribed! Since it is definitely NOT "Sta Rosa de Suin" which is clearly situated elsewhere, I can only assume that it is the church called "Sta Rosa de Lima o Capisisco" in the UNESCO documentation. That would seem to be confirmed by this article . The church is situated in open country but next to it are a school, community centre, sports hall etc whose exterior walls were totally painted in Colombian style with representations of Indigeno life and culture. There were only a few houses and the church/Community centre etc obviously serve a much larger hinterland of small fincas. As one visits the area of Tierradentro and San Agustin one needs to appreciate that one has entered a region fraught with political and cultural differences and conflicts, particularly as concern "Campesinos" and "Indigenas" in relation to land, education and cultural rights. Issues which might not be obvious to an outsider!
We tried to discover more "on site" - without much success. As mentioned by WatkinsTravel in his earlier review, the Church in Pisimbala had been burnt down in 2013 (it had also suffered fire on several previous occasions- one as recent as 1975 and also from earthquake in 1994). What is perhaps surprising is that, on the most recent occasion, it was apparently burnt down by "Indigenas"!! It seems that, although to the outsider, the hard life of the small landholders of the area is uniform, there is in fact a cultural divide between those who regard themselves as members of an "indigenous" people and those who are merely "mestizo" peasants – one would have thought that each had the same problems to overcome but presumably the former gain strength from their cultural cohesion. There are a number of articles on the Web in Spanish which indicate the background as to how intense this conflict can become. This one gives a quick overview as the conflict related to the burning of Pisimbala Church. The article doesn't really clarify why the indigenos should have burnt down their own church. No one has ever been prosecuted but it is widely accepted that, in the heat of conflict, some did indeed do so. This article from 2016 gives an overview of how the Paez themselves reconstructed it.
The exterior design of the Church at Sta Rosa differs little from that at Pisimbala (photo). It lacks the latter's initially "authentic" and appealing "thatched" roof (though it appeared to us that this now merely covers a somewhat more weather/fire proof substrate). It does however have a few exterior, and probably original, religious wall paintings near the door and inside. We tried to discover more about the nature and dates of the mission activity which led to the building of these churches but didn't progress much beyond the information provided on the UNESCO web site i.e the construction started in the very late 18thC (1787 onwards according to UNESCO). However these dates remain problematic since the first article above refers to the Jesuits arriving from 1613 whilst the 3rd states that Pisimbala was first constructed in 1736. What seems likely is that, for many years Spain did not fully control the Paez (a.k.a "Nasa") people and that interactions with the Jesuits were originally informal and not government sponsored. This policy seems to have changed in the late 18thC.
Whether the Jesuits still controlled the churches I didn't discover. I am not particularly knowledgeable about Jesuit ritual/organisation etc but the 2 church interiors we saw were indeed very simple. We attended a delightful evening service at Pisimbala which seemed very "informal" with guitar music, people wandering in and out, and a couple of little dogs among the congregation! As to whether the attendees were "Indigena" or mestizo "Campesino" - we couldn't tell. Further west in the region the indigenas demonstrated their ethnicity by wearing local costume but we didn't see that in the Pisimbala area.
This article is by far the best introduction to the churches which I have discovered. It contains rather different original dates for the churches than does the UNESCO site and repeatedly refers to a date of "c1630" without actually confirming this in the text.
The remaining churches are certainly in need of renovation and preservation. There is story to tell about Spanish mission activity in yet another part of S America. The churches are quite attractive even if they lack much internal decoration – my view would be "why not" to inscription. Colombia might well like an opportunity to demonstrate its cultural inclusiveness in line with its 1991 Constitution which recognised the country as "pluri-ethnic" and "multicultural". A problem might be the views of the Paez themselves – would they regard an inscription as a recognition of their culture or as an imposition from Bogota? This issue has impacted other Colombian sites both Inscribed and Tentative.
---
With a similar colonial history to the rest of Latin America (Spanish/Portuguese conquest and almost immediate establishment of Catholic missions to "convert the heathens") it seems natural that Colombia would want to recognize this aspect of its history the way Paraguay, Argentina, Brazil, Bolivia and Mexico have. In a remote southern region of Colombia there are still 7 churches remaining to group together into this TWHS.
We only visited 1, San Andres de Pisimbala, because we were already staying in San Andres to visit Tierradentro WHS and it was a 2 minute walk away from our guesthouse. I hope that it is not representative of the others because it was disappointing. Its most defining features are its thatched roof and simplistic whitewashed style. This church burnt down in 2013 and was presumably reconstructed faithfully to the original and if so there is little value to add to the already listed missions. There are no impressive artworks adorning the interior, no remains of a religious community or compound surrounding the church. Instead, beside it is a school, guesthouse and some shops. The interior was just whitewashed walls, photos of the fire and rebuilding process and the usual alter. It is possible that the other 6 churches have more to offer but I felt the significant effort required wasn't going to yield enough reward. The roads are rough and public transport is scarce and irregular so you would need private transport to reach any of the others in a reasonable time frame.
---
Community Likes
Site Info
Full Name

Catholic Doctrine Temples

Country

Added

Type

Cultural

Categories

Link
Site History
2012

Added to Tentative List
Locations
The site has 7 locations
Catholic Doctrine Temples: Santa Rosa de Lima (T)
Catholic Doctrine Temples: San Roque de Yaquivá (T)
Visitors
7 Community Members have visited.