Mausoleum and Sacred area of Hecatomnus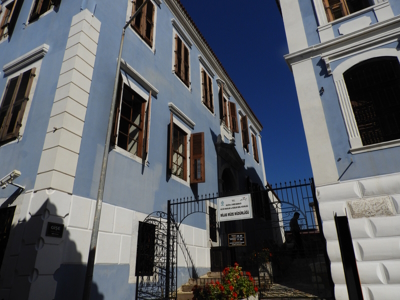 Mausoleum and Sacred area of Hecatomnus is part of the Tentative list of Turkey in order to qualify for inclusion in the World Heritage List.
The Mausoleum of Hecatomnus is a decorated tomb structure including sarcophagus from the early 4th century BC. Hecatomnus, who was buried here, was the satrap (governor) of this region for the Persian Achaemenid king. The structure is similar to (and probably the predecessor of) the Mausoleum at Halicarnassus.
Map of Mausoleum and Sacred area of Hecatomnus
Load map
The coordinates shown for all tentative sites were produced as a community effort. They are not official and may change on inscription.
Community Reviews
---
Chinese-Canadian - 20-Jan-22 -
Nothing has really changed about this location since the first review only that they now have a proper museum instead, charging entrance fee and it all seems a bit cleaned up.
Parking nearby is challenging. The hilltop has a small square with a few spaces if you are lucky, otherwise trying to make circles in these narrow streets isn't adviced. You can park on the main road below if you feel that's safe.
There isn't much to see. The main mausoleum section is just big slabs of rock covered up to reduce damage. You can see all that in 10 minutes. While I understand there is history behind it and it was an important site, I don't find it having enough impact to really consider as universal value.
---
The Mausoleum of Hecatomnus archaeological site lays in the middle of the modern city of Milas. While you may well go around the city when driving the main road from Bodrum to Ephesus or to the South coast of Turkey, only (T)WHS hunters would take time to drive through the town center to this site. It is managed by the museum of Milas, and entrance is free. There are very few signs to guide you there, and no park place for your car, but you can rely on Google and on the map of this website to find it.
Compared to other places in Western Turkey, this is a small site, but it is allegedly the best-preserved "mausoleum". Four centuries before Christ, "Satrapes" (local kings), were ruling this area in the name of the then superpower: Achaemenid empire from Persia. They were heavily influenced by Hellenistic art and architecture, and one of them, Mausole, was buried in a great shrine, a kind of elevated temple, classical Greek style, in the heart of the city of Halicarnassus (nowadays Bodrum). The monument was so impressive that it was named one of the seven wonders of the ancient world, and the king gave his name to this type of monument: a mausoleum. If you go to Bodrum, you can see a big archaeological pit, with few stones – in few words: almost nothing. Visiting the Mausoleum of Hecatomnus (Hecatomnus was the father of Mausole, and a Satrape as well) in Milas will help you to figure out what a mausoleum may have been.
You can walk the paved, sacred area surrounding the mausoleum. The building stands around 2 meters above ground floor: only the massive podium is left, with some ceremonial stairs, while all the upper part (columns, etc.) is gone. Very unfortunately (for visitors!), these remains are sheltered under a metallic roof, and you cannot access the inner part of the building. Only one column stands up: the one that is believed to have held a statue of the king at its top. Nowadays it is crowned with a big nest. Underneath the podium, and therefore no accessible (for preservation reasons), there is the burial chamber, with the sarcophagus still in place in the middle, and some frescos on the walls. A two-room exhibition located in a nearby old ottoman house, also part of the museum of Milas, displays a replica of the sarcophagus and pictures of the frescoes. We also had the opportunity to watch a ten-minute movie about the life of Hecatomnus and the archaeologists' work at the mausoleum – available in both Turkish and English. In total, one hour is enough to see the whole place.
One of the strongest claims for this site is that it is supposed to have been used as a reference to build, few years later, the famous Mausoleum in Halicarnassus – and to be better preserved, which is not so difficult. We enjoyed this visit, and people from the museum were very nice with us, but thinking back at our trip in Western Turkey and Greek Aegean islands, we see it as a minor site, important for local history and quite unique indeed, but probably not WHS class. But who knows? Very few is left at Heraion in nearby Samos, still it was inscribed years ago already.
---
Community Likes
Site Info
Site History
2012

Added to Tentative List
Visitors
6 Community Members have visited.