Karez Wells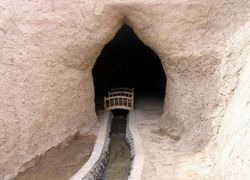 Karez Wells is part of the Tentative list of China in order to qualify for inclusion in the World Heritage List.
Turpan water system, called Karez, is a vertical tunnel system adapted by the Turpan (Turfan) people. There are more than 1400 Karez wells in Turpan. Karez wells are a successful application of the sinking technology of the Central Plains in the area. In the oasis of Turpan, Karez wells nourish the crops, nurture the people in this oasis and provide water sources for the passing merchants who are traveling through the great desert.
Map of Karez Wells
Load map
The coordinates shown for all tentative sites were produced as a community effort. They are not official and may change on inscription.
Community Reviews
---
Chinese-Canadian - 04-Dec-21 -
One thing's for sure: the Karez wells are cool, and only in a temperature way. They are in fact anything but cool to look at and in a somewhat typical Chinese way they are fancied up with additional attractions around it like bike rides, museums unrelated to the wells, a stroll past a lake etc. You pay a pretty steep entrance fee what is actually just a small manmade cave.
The wells can be found in Turpan and Hami, with the ones in Turpan more likely to be added as WHS if ever. There are literally dozens of these all over town, some better than others. There is one in Turpan claiming to be the deepest and it's made into a bigger museum, boasting a more expensive entrance fee as well of course.
I visited three in total, not because I really wanted to but because there was time for it. The one in Hami is a drive-by coming from the desert, and Turpan has only so much to do for 3 days aside from the Silk Road WHS and the desert (claiming to be the hottest spot in China). The picture is the one in Hami but they all basically work the same way. The water is tunneled down from Tianshan (WHS) and funneled to a manmade cave where it pools for collection. This is how the towns exist in the desert in the first place. So these wells are very important and I understand the significance, but world heritage? No way.
In the end all you see of the well is the pool of water, a small canal leading to it and you can follow it to where it would eventually disappear into a narrow passage that you cannot follow - for obvious reasons. A visit to your local sewage plant might be more interesting - I kid you not.
So my advice I can give: only visit one just for having seen it.
---
Community Likes
Site Info
Full Name

Karez Wells

Country

Added

Type

Cultural

Categories

Link
Site History
2008

Added to Tentative List
Visitors
8 Community Members have visited.