Alisadr Cave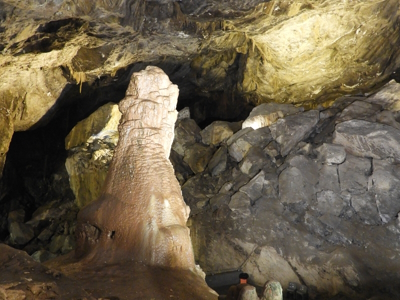 Alisadr Cave is part of the Tentative list of Iran in order to qualify for inclusion in the World Heritage List.
The Alisadr Cave is a water cave that can be navigated for 2400m, apparently the longest in the world. It features stalactites, stalagmites and carst deposits. Signs of early human occupation also have been found within the cave system.
Map of Alisadr Cave
Load map
The coordinates shown for all tentative sites were produced as a community effort. They are not official and may change on inscription.
Community Reviews
---
Chinese-Canadian - 02-Feb-19 -
Have you ever done one of those lovely swan boat rides and think it's so awesome that you want to do it in a cave? Welcome to Alisadr Cave.
The entrance cost for what is Iran's most popular tourist destination (I am making this up but more about that in a second) is a whopping 700,000 and I had to embarrassingly return to the card for more cash. Without it I would probably be the only guest in the cave because winter doesn't attract many tourists. However, as I was now a few minutes later a small group of 4 Iranians had also arrived. Once you pay you get a VIP ticket as foreign guest which just means you paid more but no special treatment in any way. Enter the main hall which looks like a massive waiting room in a ferry port. Collect your swim vest and enter the warm cave - finally. Well, before that you have to walk past rows and rows of MORE waiting room seats. This is why I think it may be the most popular site to visit. Can you imagine waiting in the hall, then again inside and then you can finally go on the li'l boat.
Because I was the first guest in line the guide pointed me into the front of the pedal boat so I would have to do some workout in the cave. Actually at first I didn't think gym was for today but when I rested my feet he didn't seem to pleased about it. I suppose having a boat with 4 adults attached in the back isn't so fun for him alone.
Anyhow the first leg of this journey is fun. He steers and you can enjoy the cave. The ceiling was apparently created by the former water level and it has cauliflower rocks along the entire cave. It's pretty magnificent to admire. Some of the sections are 14m deep. I was thinking of having just reviewed the PP Underground River and how much better it is here. The guide didn't point out much here aside from the signs that identify the same.
After around 15-20min we arrived at a walking section and leave the boat plus guide behind. Another guide who seems to stay in this area all day greets us and Mr. "Sorry my English is bad but I can explain everything else in better English than most guides in Iran" takes us through the beginning section. I say hjs English is good but answering some questions were lacking info so I think he prepared some basics well for foreign tourists. He doesn't go all the way to the end of this section but only on the floating parts. The rest of the section is on concrete, first in a big hall which is impressive as a large room but nothing I hadn't seen before. Then the rest of the tour follows paved paths built along the side of the water. It is all in excellent condition but still, have you been left alone in large cave by yourself before? I wasn't scared in any way but it doesn't seem a bit odd. Nevertheless soon you reach the boat captain again watching TV. I could have been done with the cave in an hour but the other two couples were very slow so I also had to wait another 15min at this point. The last stretch, another 15-20 minutes on the boat is more workout than enjoyment I think. You got used to the cave so much in a short time that I had enough and my legs starting feeling that too.
Where as not the most beautiful caves in the world, Alisadr claims to be the biggest water cave in the world. I have been to a few caves WITH water but nothing like this before. I didn't find the crystals and rock formations special though, it was still an enjoyable morning.
---
Community Likes
Site Info
Full Name

Alisadr Cave

Country

Added

2007

Type

Natural

Categories

Link
Site History
2007

Added to Tentative List
Visitors
6 Community Members have visited.