Raja Ampat Islands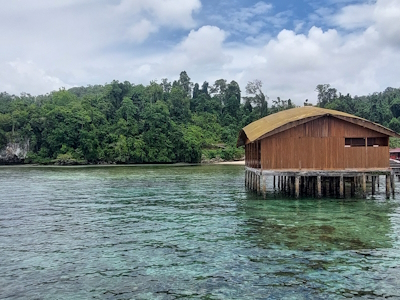 Raja Ampat Islands is part of the Tentative list of Indonesia in order to qualify for inclusion in the World Heritage List.
The Raja Ampat Islands consists of about 1,500 small islands, characterized by karst formations surronding clear water bays. It is located off the northwest tip of Bird's Head Peninsula on the island of New Guinea. The marine life diversity here is the greatest among the areas incorporated in the so-called Coral Triangle (Indonesia, Malaysia, Philippines, Papua New Guinea, Solomon Islands, and East Timor).
Map of Raja Ampat Islands
Load map
The coordinates shown for all tentative sites were produced as a community effort. They are not official and may change on inscription.
Community Reviews
---
Chinese-Canadian - 04-Jul-23 -
Highly recommended even for non-divers. Obviously the main draw is diving and even snorkeling is popular at the resorts but you'll be missing a lot of the area just looking at the lush-green karst and trying your luck to see a special bird, or any bird really. The obvious choice of coming here is a liveaboard but resorts have their own transportation so staying on one and doing day trips is a good option, and you can even get a public ferry of sorts if you want to go budget (not recommended). So I went with the liveaboards for ~2 weeks and the price was higher than most places around the world but I wouldn't want to compare this to a budget safari on the red sea - you get a lot more out here and the distances are quite far so fuel costs are something to keep in mind. All tours start in Sorong which has decent flight connections but I would recommend not having to stay in a hotel here because it's not a lovely town or anything, thus try to arrive with a morning flight and go directly to the boat. The tour I chose was specific because it started going to Misool in the south, prettier for underwater but troublesome to arrange diving because local "owners" will restrict each site to one boat per hour. In Central, the area that is in the center of the islands, you don't have this problem and you get more of a mix between underwater and surface beauty. Finally the tour went north to the outskirt islands which are slightly prettier than the rest but underwater life isn't as good there. I would in hindsight recommend a south+central tour instead, saving money for sure, but definitely saving rough overnight migrations to the outer islands and back.
Central also has the famous manta cleaning station where you reef hook into the cliff and watch manta rays storm by by the second. You won't get many sharks around these parts, whalesharks are possible but not common, the highlights were usually cuttlefish, giant turtle (at one of the resorts, it's famous if you ask around) and the usual blend of coral life. So I wouldn't highlight this part of the world as unique for that. In fact I saw more diverse diving in North Maluku, with the eastern part of said province being the new secret spot to go as it doesn't have the tourist masses and the nature is more pristine. Raja Ampat does have the history and reputation to boast but as an analyst for natural criteria I would definitely pass on Raja for better spots. Now this isn't to say the place is bad, it's surely a must-see, but I think there are some issues. For one the birdlife seems to be totally missing. You can try to find the bird of paradise but even just seeing random birds is hard. Apparently they get trapped and hunted by local communities. The two days visiting the geosites (Karawapop & Piaynemo) was dead quiet with zero birds in the air or forests. Shocking.
Final note that you need to ensure your visa (which currently is only valid for a month) is not an issue while you are away on a boat. The local immigration office will not renew it unless you only have two weeks left (wtf, right?) and it takes several working days to process. Handing to them too early is not possible although the boat mentioned using an agent to handle all this but you actually have to take a pic and fingerprints locally so not sure how much it helps - well, just don't bank on everything going smoothly and you may have to add a spare day to sort this out which in Sorong isn't much fun.
---
I visited these remote islands in West Papua, Indonesia in September 2018. To get there I caught a series of internal flights (Garuda Indonesia is the most reliable overall) via Jakarta and Mekassar, Sulawesi until we landed in Sorong Airport. From there we took an airport taxi to the Sorong ferry harbour where we bought our 'VIP ferry tickets' (important if you have big luggages and want comfortable seats and air condition) to Waisai island.
I must say that considering that there are no international flights to West Papua and limited infrastructure, the Raja Ampat Marine Park management and entrance permit system is top notch. Other parks and indeed WHS such as Komodo NP should really emulate Raja Ampat's system which is really simple and practical. Upon disembarking from the ferry at Waisai island and before heading to the different small boats which take you to different home stays or smaller islands, there is a make shift booth welcoming visitors where you currently pay 1 million rupiah and a laminated credit card format permit with your name is printed on the spot and is valid for 1 year. No more snorkelling fees, ranger fees, conservation fees and hassles as per Komodo NP for example.
We had booked online at a home stay island (top right photo) with rudimental over-the-water rooms and already the choppy currents to get there were a premonition of what was yet to come in the coming days. In all we spent 4 nights there and visited different islands and snorkelling spots. One of the main reasons I was eager to visit such a remote place were the endemic birds of paradise which I previously believed were solely Papua New Guinea's endemics. On a low tide moonlight trip to Gam Island at around 5am, we headed towards the largest bird of paradise's habitat. The Red Bird of Paradise (top left photo) could be heard immediately as we approached the island and after a 30 minute ramble/walk to the higher rainforest area of the island in the dark with an ornithologist, we waited till sunrise till the beautiful noisy Paradisaea rubra males performed their mating display on the tree-tops. It was a birdwatchers dream come true to see such an amazing spectacle even though upon my return to the coast I noticed that the vicious mosquitoes present had bitten me through my thin long-sleeved shirt even though I put a lot of DEET mosquito repellent and wore a mosquito repellent wrist band! On Waigeo island we spotted and heard the much smaller but nonetheless Wilson's Bird of Paradise.
During our 3 and a half weeks in Indonesia, we noticed that bird trapping is a very concerning issue all over Indonesia with practically every other house, bar, restaurant or building sporting all types of colourful birds in small cages - birds of prey, woodpeckers to kingfishers, from mynas, parakeets and parrots to small passerines and doves. Every village seems to have a bird market and it's no wonder that wild birds in urban or rural areas are almost non-existent. West Papua, while technically part of Indonesia, couldn't be more different than the rest of the country. Apart from the two species of birds of paradise, other highlight endemics or peculiar species we spotted were the Western Crowned Pigeon, the Papuan Hornbill or Blyth's Hornbill, the Common Paradise Kingfisher, the Waigeo Brush Turkey, the Yellow-faced Myna, the Willie Wagtail, Rufous-bellied Kingfisher amongst others as well as the cute common spotted cuscus marsupial.
Another draw factor when choosing to visit Raja Ampat islands were the sea karst islands and coral reefs of Piaynemo and Wayag. We opted to visit Piaynemo which meant braving unbelievable rough seas, high waves and treacherous currents on a cheap speed boat to get there. Definitely not for those who get sea-sick easily or who hate long bumpy sea journeys but the view from the top is incredible (bottom left photo). In a way it is quite similar to New Caledonia's Upi Bay or Palau's Rock Islands but the surrounding coral reefs known as Melissa's Garden are a top-notch snorkelling and diving spot and are well worth the effort to get there.
The Raja Ampat Marine Park is truly enormous and second only to the 'nearby' Great Barrier Reef. It is home to 540 types of corals, more than a 1000 types of coral fish and 700 types of molluscs. The corals seem very healthy with layers upon layers of marine life and they have not suffered from major bleaching. I think these islands deserve to be inscribed especially for their great effort in conserving such an outstanding place and the rather low human impact on such a vast area.
PS: Make sure to secure a window seat top enjoy the view from above the coral reefs and islands (bottom right photo).
---
Juan Saldarriaga
The islands of Raja Ampat are right in the middle of the center of diversity of coral reefs and reef fish in the Indo-Pacific; it is hard to come up with a better reason than that to include anything in the list of World Heritage. I visited on board a ship dedicated to scuba diving, and boy was it ever worth it. The reefs are almost pristine, mostly because there are no large cities nearby and so there isn't much runoff or (many) fishermen. Huge schools of fish, both small and colourful and also very large (snappers the size of Volkswagens!), sea snakes, dugongs, sea turtles. Oh, an on land there are birds of paradise, too. An amazing place.
---
Site Info
Full Name

Raja Ampat Islands

Country

Added

2005

Type

Natural

Categories

Link
Site History
2005

Added to Tentative List
Visitors
5 Community Members have visited.