Bunaken National Park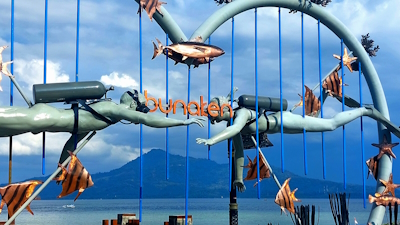 Bunaken National Park is part of the Tentative list of Indonesia in order to qualify for inclusion in the World Heritage List.
Bunaken National Park comprises the terrestrial and marine areas of volcanic Bunaken Island. The park also includes the islands of Manado Tua, Mantehage, Nain and Siladen. Its deep waters have a high diversity of corals, fish, echinoderms and sponges.
Map of Bunaken National Park
Load map
The coordinates shown for all tentative sites were produced as a community effort. They are not official and may change on inscription.
Community Reviews
---
Chinese-Canadian - 22-Apr-23 -
I love Bunaken. I've been there twice, once when I was young and recently again as I dived at almost every Indonesian place there is to dive :) Bunaken is special. It's also easy to reach. You can fly in to Manado via Singapore which is really convenient, skipping Jakarta or Bali altogether and save soooo much time, and you can also go via Makassar if you really have to. My domestic connection was from the latter and it's quite easy to connect. Once you arrive in Manado you still have to reach the islands but don't fret it's really close by. The taxi trip to the pier is half an hour at the most (r100,000 max at 2023 rate) and the public ferries go once a day and cost only r50,000 and takes 30 minutes max. Those ferries are quite basic so you'll get wooden planks to sit on but since my last visit they do have windows to close off in case it rains. Previously you'd get wet if that happens. Most resorts will offer private picks up from the airport which is a little bit more expensive but saves you some trouble. They pick you up from the airport, get you on the private speedboat and you'll go directly to the resort. Some resorts are bit away from the main pier on Bunaken so it can be a hassle to walk although you can also get a pickup trike if you have a lot of luggage. Either way, there are lots of resorts on the island ranging from basic to all-inclusive and you can also choose the nearby islands but then you actually have to take their private transportation option. I don't have a recommendation for the resorts because there seem to be a lot but I would highly recommend one that is all-inclusive because dining on the island is kinda limited and you don't really want to go out of your resort area, not because it's unsafe or anything but just because the island isn't a "trekking" place and there isn't much to do in terms of window shopping or browing the village. The only road going around is used by the motorbikes for transportation.
There are tons of dive sites around the islands. My first question to the resort was if they go to the other islands as well and it was explained well to me that the best sites are right HERE already and the fuel charge going to another location is a waste. Trust me in saying the same, you'll not miss out on anything just staying around Bunaken and it's so nice to be shuttled around and be back at the resorts quickly. The main draw for an inscription is diversity and I have to agree that diversity is a big factor in the dive site specialty. Additionally, it's amazing the islands have managed to keep so clean and packed with marine life although a large city is just across the bay. My picture above is only from 1 day diving which showed me the turtles, pygmy seahorse, octopus and quite a lot of nudibranchs. The turtles alone are quite special here because they are EVERYWHERE, healthy bunch, and they are not shy - not friendly in a playful way but they will not scuttle away as soon as they see you 20-30 meters away. They are used to divers and let you hug the wall next to them as much as you want. I think only 1 in 40 would swim away and that's because a group was going towards it so I get it. The turtles alone are maybe a reason for inscription because it seems like some similar places enjoying playful oceanic manta rays or nurse sharks, here the turtles are welcoming divers as part of the marine life around them. They aren't as big as the Sipidan turtles and aren't dancing around as much as them but they'll be quite entertaining one way or another. Most dives for us were 70+ minutes which is quite long but there is so much to see that it's definitely worth it. One can also enjoy this place snorkeling because we had some people in the group and they said this was on their top snorkel list. One can see the wall and reefs below and the waters were so clear.
---
Bunaken National Park is located in the Northern Part of Sulawesi (Celebes) island in Indonesia. It takes around 3 hrs flight from Jakarta (going east) to Manado city, and then some short trip to the port. You need to take a boat to get to the islands and/or snorkeling/diving sites.
The National Park consists of islands where people can do embark to have lunch, have some water sports, rent snorkeling and diving equipments. Where the highlights of this NP is the snorkeling and diving itself.
The maritime beauty of this Eastern part of Indonesia is unquestionable and a must when you go to Manado.
---
Community Likes
Site Info
Full Name

Bunaken National Park

Country

Added

2005

Type

Natural

Categories

Link
Site History
2005

Added to Tentative List
Visitors
11 Community Members have visited.