Great City of Chicomostoc-La Quemada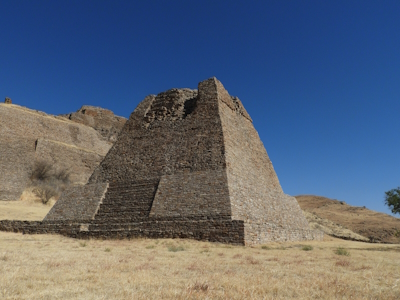 Great City of Chicomostoc-La Quemada is part of the Tentative list of Mexico in order to qualify for inclusion in the World Heritage List.
Chicomostoc-La Quemada is an archaeological site. It is the remains of a fortified ceremonial centre built between 400 and 900 A.D. It has defensive walls made of volcanic tuff, remains of buildings of various sizes and 50 large terraces spread over five levels. The Hall of Columns, the Ball Court and the Votive Pyramid are its most famous structures.
Map of Great City of Chicomostoc-La Quemada
Load map
The coordinates shown for all tentative sites were produced as a community effort. They are not official and may change on inscription.
Community Reviews
---
After visiting Zacatecas I had to choose the road to Guadalajara. It was possible to drive quickly and conveniently on the motorway or a bit slower and certainly less comfortably via an alternative route through the mountains. The alternative route had the advantage - it led through the ruins of La Quemada, T-List site with encouraging photos on the Internet. We chose an alternative route and after an hour of driving, we appeared at the entrance of La Quemada.
It was a hit. At first glance, La Quemada is a ruin of many but with picturesque location on the mountainside, with a beautiful view of the surrounding area. However La Quemada stands out from the sea of ​​Mexican ruins, known from the south of the country - the pyramids and urban buildings have slightly different shapes, the city is distinguished by a thick wall, and unimaginably steep stairs lead to it. It was so steep, that my 3-year-old daughter simply could not reach the higher step and I had to carry her all the time. I give my word that I got tired three times more than going to the Pyramid of the Sun in Teotihuacan.
Researchers in pre-Columbian cultures do not agree on the essential facts from the history of La Quemada. According to one of the hypotheses, the city was a legendary Chocimostoc from Aztec traditions and this nickname has already officially clung to it - the archeological site is called Chicomostoc-La Quemada. It is known for sure that routes from different directions of the world led from it, and the length of some is over 150 kilometers.
For us it was the most interesting place which was not on the UNESCO list of Mexico and I would not be surprised if it was inscribed in the future. And we were there almost completely alone and in ruins, undisturbed by others for a long while, we played hide-and-seek with my children.
---
Community Likes
Site Info
Site History
2001

Added to Tentative List
Visitors
7 Community Members have visited.