The Spa at Luhacovice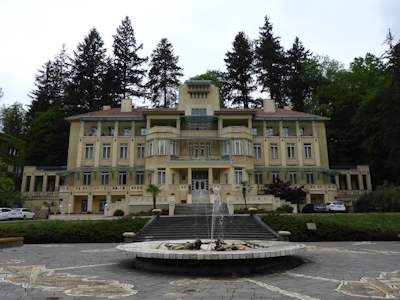 The Spa at Luhacovice is part of the Tentative list of Czechia in order to qualify for inclusion in the World Heritage List.
The Spa at Luhacovice is known for its modern spa architecture from the early 20th century. Architect Duâan Jurkoviê combined Slavonic folk architecture with Art Nouveau. It attracted more and more visitors due to the construction of railway lines.
Map of The Spa at Luhacovice
Load map
The coordinates shown for all tentative sites were produced as a community effort. They are not official and may change on inscription.
Community Reviews
---
This must have been very frustrating for all supporters of Luhačovice inscription to WHS list as this spa town originally initiated the process but it has been eventually omitted from the 2020 nomination called the Great Spas of Europe…
During my trip to central Moravia (Kroměříž and Olomouc WHSs) this summer, I did an afternoon detour to Luhačovice. The region of White Carpathians, where this spa town is located, is familiar to me, because I traveled there quite often some 10-20 years ago because of unique meadow landscape with the highest concentration of terrestrial orchids in the Central Europe. But I have never visited Luhačovice before, and must say that there is a huge contrast between this popular spa town and surrounding rural landscape.
Unfortunately, I had only 3 hours for my visit at Luhačovice that is not enough to explore every interesting place in detail, but it was enough to understand at least briefly what this spa town is about.
Besides the original but unassuming village of Luhačovice around the former castle and the Luhačovice Dam at just opposite corner, there are interesting districts in between related to the spa boom in 20th Centuries and included to the nomination: (i) White District close to the railway station with the post office and several villas for spa guests built in functionalistic style, (ii) the area around the Main Colonnade, (iii) adjacent area of the Central Spa District with Sun Spas, and (iii) the Prague District with villas built in diverse styles of 20th Century for spa guests called after several neighborhoods in Prague.
I like functionalism, but for now I omitted detailed exploration of the White District as it only partly contributes to the potential OUV. Something similar can be said about the Prague District that is obviously more colorful than the White District.
The area around the main colonnade is visually the most interesting part of Luhačovice, and not only visually, because there are mineral springs that can be tasted for free. This part was carefully reconstructed this year and it is in an excellent shape now. It consists of small baroque chapel, embankments around river Šťávnice with colorful bridges and tennis courts, all completed by the representative set of spa buildings in styles spanning from the art deco, the unique neo-eclectic style inspired by traditional Slavonic architecture to the post-war functionalism and constructivism, and the so-called Brussels style (inspired by Czechoslovak exhibition in EXPO in Brussels). The blend of half-timber neo-Slavonic style of Jurkovič House (PHOTO) with clean lines of Main Colonnade and perfectly reconstructed monumental Vincentka Colonnade is what makes this place exceptional.
The half-timber spa houses of the Central Spa District are also exceptional but they are still waiting for careful reconstruction.
To conclude: Luhačovice Spa area is different as compared to locations included to the Great Spas of Europe proposal. It is more modern and less "international" and I found it kind of unique – the question is if it is enough. The representatives of Luhačovice did not give up their ambitions towards the WHS list, and I support their effort. In the case of the West Bohemian Spa Triangle I expect quick inscription this year.
---
Japan / USA / Europe - 07-Feb-20 -
I visited this TWHS after visiting the Slavonic Fortified Settlement at Mikulcice TWHS earlier in the day in January 2020. My Czech friend "R" in Brno drove me to both sites, but we didn't leave Brno until noon, so by the time we got to Luhacovice it was 4 pm.
Luckily R says he spent some 5 years in Luhacovice when he was growing up, so he was all very familiar with this place.
We parked his car by the city hall and walked for a few hundred meters to the main area of Luhacovice.
During my research on the site before I mentioned to R that I was interested in going there, I could not even figure out where exactly to go in Luhacovice. But R immediately pointed out that the main place to go is called Vincentka (Photo), where we can drink the spa water as much as we wanted...although not much.
We didn't stay in Luhacovice too long, as it was getting darker and colder. We just walked around a little, went to a few other spa water dispensers outside and came back to his car. Many of the stores along the way were closed, and R says it's much more crowded and festive in summer, even attracting such foreign guests as Germans and Russians, so I would recommend going there in summer to get the real feel of this spa town.
Among some dozen spa towns I have visited in Europe Luhacovice reminded me of Karlovy Vary in Czechia and some in Poland more than others.
According to R, Luhacovice is the main spa town in Moravia, but unfortunately it has been left out from the Great Spa of Europe nomination. I don't think it will be inscribed anytime soon.
Read more from Tsunami here.
---
Community Likes
Site Info
Full Name

The Spa at Luhacovice

Country

Added

2001

Type

Cultural

Categories

Link
Site History
2008

Deferred

Better management
2001

Added to Tentative List
Visitors
17 Community Members have visited.