Mt. Myohyang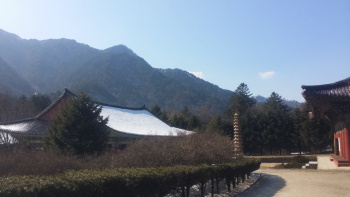 Mt. Myohyang and the Relics in and around the Mountain is part of the Tentative list of Korea (DPR) in order to qualify for inclusion in the World Heritage List.
Mt. Myohyang is the celebrated mountain famous for its curious, unique appearance and breath-taking scenery. Its characteristics lie not only in its outstanding natural beauty, but also in the harmonization of cultural properties with their surrounding natural landscapes. Mt. Myohyang is concentrated with many properties relating to Buddhism, including some 20 temples, among which Pohyon Temple (built in 1042) well represents the style of architecture and its evolution process peculiar to Korea.
Map of Mt. Myohyang
Load map
The coordinates shown for all tentative sites were produced as a community effort. They are not official and may change on inscription.
Community Reviews
---
Chinese-Canadian - 05-Mar-21 -
I wasn't aware I had visited this tentative site until the other review showed the picture of the temple and mentioned the exhibition hall. I would think the North Koreans want to inscribe the area due to the exhibition hall but then I read it is mainly about the mountains and the temples in the area. The reason I say this is because every tour will visit this hall and it is a huge propaganda piece. It is common for countries to do diplomatic gift exchanges, your own country will have a bulk load of gifts stored somewhere, but the DPRK makes a museum out of it and claim that they got these gifts because "they love us so much" and "they want to be our friends" (real quotes from the guides). You go figure.
Anyhow, we the group visited Pohyon Temple. It's not bad in any way, but it's like many generic temples I have seen in China and even South Korea. One shouldn't be surprised here but then why try to inscribe them? Apparently (sic) "Buddibism" properties, as the documentation calls it, are well presented in the area, and I'm interested in the "Archives of the 80,000 Wooden Blocks of the Complete Collection of Buddhist Sutras" that I never got to see. A proper hike into the mountains would help me establish and change my mind about this property being worthy of an inscription.
---
I visited Pohyon temple and the Mt. Myohyang area during my North Korean tour in late 2017. As with all things while in the country, I had no control over what we were doing but as a main part of our itinerary on day 3 we drove to this area primarily to visit the International Friendship Exhibition Hall, tucked away in the mountainous area across the river from the temple. After a while of viewing the displays of gifts in a few rooms (some of the gifts were impressive but most seemed to be from Chinese companies (greasing the wheels of business?) or unheard of fringe communist groups in random countries whose membership probably doesn't reach triple digits...) we head over to the nearby Pohyon temple.
Unfortunately by that point it had started to rain and we were rushed around the grounds rather quickly with only the briefest of commentary. Not that I would know what to believe if they told me more. The area is scenic for sure and the temple grounds extensive and well kept/restored, after being bombed by the Americans during the Korean War, with many other small halls, gates and shrines scattered about. In any other situation I would have spent more time poking about or backtracking a bit once the rain eased up somewhat.
The guide claimed that there is freedom of religion in the country though I suspect their definition is much more limited compared to home and indeed there was nobody else there at the time other than some very elderly monks. Whether this is due to its relative isolation or other reasons I don't know. As far as OUV, I can't say much. There are many scenic and sacred mountains already inscribed and we can't do them all or it will be a very long list indeed. The cultural aspect is no doubt more important as it is one of the oldest temples remaining in North Korea and although it is considered a national treasure it is not tied to the current dynasty so who knows what they will do with it.
---
Community Likes
Site Info
Full Name

Mt. Myohyang and the Relics in and around the Mountain

Country

Added

2000

Type

Mixed

Categories

Link
Site History
2000

Added to Tentative List
Visitors
11 Community Members have visited.