Mattanchery Palace, Ernakulam, Kerala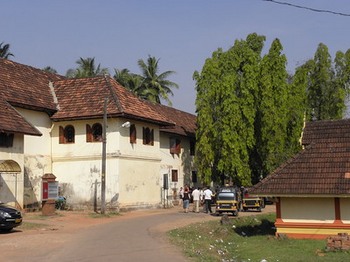 Mattanchery Palace is part of the Tentative list of India in order to qualify for inclusion in the World Heritage List.
Mattanchery Palace in Ernakulam is a 16th century Portuguese colonial palace built as a present for the King of Cochin. It was extended by the Dutch in the 17th century, hence the nickname "Dutch Palace". The building has a wooden roof and elaborate Kerala-style murals in the tradition of Hindu temple art in its interior.
Map of Mattanchery Palace, Ernakulam, Kerala
Load map
The coordinates shown for all tentative sites were produced as a community effort. They are not official and may change on inscription.
Community Reviews
---
Aishwarya Sharma
I chanced upon this when I visited Cochin a couple of months ago. This former Dutch Palace is well worth a visit - if you are interested in a bit of history. Cochin is not short of them as it was part of the first fledgling European Empire in India started by Afonso de Albuquerque in early 1500.
The palace is probably an architectural feat as it blends typical ancient Kerala style with Colonial overtones. It is 2 tiered quadrangular building with cavernous halls - containing paintings, artifacts, carriages used by the Cochin Royals, armory of that time and Royal jewelry in a secured vault. On the sprawling garden outside, they even put Kerala style cultural show - Kathakali dance when I was there.
The flooring is special inside the palace. What may appear as polished black marble stones are made out of a mixture of burnt coconut shells, charcoal, plant juices and egg whites as the binder.
I made it a point to look at a website to gather information on Heritage sites in India here: www.come2india.org
It claims to be free from commercial interest and for me - it contained enough information to plan my trips.
---
The only reason I can think of why this site features on India's T List, is to give Cochin/Kochi a WHS. Not that Cochin needs to attract even more foreign visitors - I found it a tourist trap completely geared to western tastes. Fortunately I don't think it has any chance of getting in.
Matancherry Palace, locally known as 'Dutch Palace' because they restored it, was built ca. 1555 by the Portuguese. It is located in the south of Fort Cochin peninsular, close to the Jewish town. I rented a bike to get there from the central northern area, a bargain at 50 rupees (0,90 EUR) for a half day. Cycling also has the advantage that you are redeemed of the rickshaw drivers calling out to you every single second. And other tourists either admire or envy you!
The 'palace' is a two tiered white-yellowish, quadrangular building. There's a 5 rupee entrance fee and it gets pretty busy with visitors. I wrote 'palace' because it looks more like a fortress, quite austere with wooden ceilings. Its T List nomination is not clear what the specific reason would be why this should become a WHS, but I guess it's because of the murals. About half of the rooms are adorned with paintings that are sometimes faded, sometimes pretty well-preserved (however in a strange orange colour). They depict scenes of the Ramayana and various Hindu deities. Worth a visit if you're in the area, but not more than that.
---
Community Likes
Site Info
Site History
1998

Added to Tentative List
Visitors
14 Community Members have visited.