Yen Tu Complex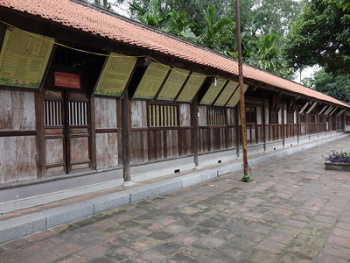 The Yen Tu Complex of Monuments and Landscapes is part of the Tentative list of Viet Nam in order to qualify for inclusion in the World Heritage List.
The Yen Tu Complex of Monuments and Landscapes is a series of Buddhist architectural masterpieces constructed in a majestic and poetic landscape, demonstrating human interaction with the surrounding natural environment. The monuments gave birth to Truc Lam Zen Buddhism, a pure Vietnamese line of Buddhism, and contain rare and precious antiques, scriptures, and books bearing witness to its spiritual and ideological values. The temples, shrines, pagodas, and mausoleums of the monuments demonstrate principles of feng shui and are set amidst an unspoiled natural landscape.
Map of Yen Tu Complex
Load map
The coordinates shown for all tentative sites were produced as a community effort. They are not official and may change on inscription.
Community Reviews
---
'The Complex of Yen Tu Monuments and Landscape' is a mixed site that comprises a huge area, spread out over 3 separate regions. It is the heartland of Truc Lam Zen Buddhism. Skimming the long description of this TWHS, the Vinh Nghiem pagoda stood out to me as probably the most worthwhile individual component.
The Vinh Nghiem pagoda dates back to the beginning of the 11th century and was enlarged during the Tran dynasty (from the 12th century on), when it became the center of Truc Lam Zen Buddhism. Truc Lam ("bamboo forest") is the only indigenous form of Buddhism in Vietnam. The Vinh Nghiem pagoda was also the first training institute in Vietnam to teach Buddhist monks and nuns.
This pagoda lies near the provincial capital of Bac Giang and within a reasonable bus distance from Hanoi. So on a gloomy New Year's Day I first went with city bus 34 to Hanoi's long distance bus station My Dinh and there caught one of the half-hourly buses to Bac Giang. The Vinh Nghiem pagoda lies in the village of Tri Yen, some 18km outside of Bac Giang. I had an idea how to get there (take a taxi), but not what to expect of it. Would it be big or small? Would it be open to tourists at all? And an important lesson from previous visits to remote (future) WHS: would I be able to find transport back?
The pagoda turned out to be on the edge of the village of Tri Yen. It looked deserted, but all gates were open. I walked through the large wooden doors into the first big hall of the pagoda. Wow! I knew immediately that it had been a good decision to come here. What an impressive collection of statues of Buddha and arhats. It has a central altar that goes deep into the back of the temple - it seems infinite. Also behind this are rows and rows of statues.
The religious complex of the pagoda consists of four original wooden buildings in a row, including a bell tower. Around it are outbuildings that are still inhabited. There is also a garden.
To the left of the temples there is a storehouse which holds more than 3000 ancient woodblocks for printing. These contain early Buddhist writings in Chinese and Nom (Vietnamese written with Chinese characters). A bit similar to the Tripitaka Koreana at Haeinsa, but they are so special that they are already on another UNESCO list: the 'Memory of the World' register.
I did not encounter anyone during my entire visit. However, music played softly in the background all the time and I found two not too vigilant dogs at the back of the pagoda complex. Afterwards I was prepared to walk the 6km to the main road to catch transport back to Bac Giang and then Hanoi, but already just outside Tri Yen village I stumbled upon a growing group of people waiting for a bus. That bus (arriving at 2pm) turned out to be a big coach. Soon it became clear why: in every hamlet, on every street corner, students were waiting to go back to school or university after the free long weekend. The bus sign said 'Bac Giang' but when it turned onto the Bac Giang – Hanoi Expressway I knew that it was going to Hanoi straight away. It was again a lucky escape for me from a remote (T)WHS.
Read more from Els Slots here.
---
Chinese-Canadian - 05-Feb-18 -
Perfume Pagoda, as it is better known to foreigners, is really popular with Vietnamese tourists in March and April when they have religious festivals. The rest of the year it is dead quiet. To get here you need to join a tour or hire a driver. The tours are cheap compared to the other attractions around Hanoi.
When you get there you will see a crappy wharf with tiny metal row boats. Surely this can't be it? Yes it is! Those metal boats are hard on your ass so bring something to pad your butt for the 45 min boat ride along the canal. The boats are also uncovered so if the sun is glaring down you better have a hat. You later have to take the same route back with the rower asking you for a tip. Tipping is a difficult subject but she basically just rowed and waited, and then rowed back. You pay for that in a ticket already...besides that they tell you the boat needs 6 people so you need to pay extra if you don't want to wait which in my opinion is a bit of scam already.
When you get to the temple area you will see many restaurants. Shortly afterwards you get to see a big temple complex. This is actually not the Perfume Pagoda even though you see it on many pictures online. It is not a bad temple although aside from the main gate there are generally just new buildings to see inside. I still suggest going through this area.
The next part gives you the choice of ascending on foot or taking the cable car. I thought I will go up and enjoy some scenery along the way - NO. The entire path up is riddled with shops that would normally sell you trinkets, coffee, food and soft drinks. As I was going in off-season 99% of these shops were closed and a few of these closed shops were doing renovations too = dust and wood shavings all over the path. Aside from that you cannot actually see any of the area around because the shops are lining along like a wall. Even if there is not a shop in the way the view will still be closed off with a metal sheet as if they did that on purpose. The path is also uneven and continuously ascending. Do yourself a favor and take the cable car!
So you finally made it up to the top and what do you see? A long staircase ascending into the mountain. Interesting and mystical. This is one of the highlights once again. I saw pictures online with massive amounts of people filling this small valley but in off-season you see maybe less than 10. There isn't much here aside from the tiny cave with religious statues. The shops before the descend had prayer items for sale. After you had a look around here, basically having a break, you go back all the way to the entrance of the mountain - hopefully by cable car. The return boat ride is still as hard as before.
Probably the worst sight on the Tentative list in Vietnam at the time of writing - although from a cultural point of view I wouldn't be surprised if it gets added to the WHS list.
---
Site Info
Full Name

The Yen Tu Complex of Monuments and Landscapes

Country

Added

2021

Nominated for

Type

Cultural

Categories

Link
Site History
2021

Added to Tentative List
Visitors
6 Community Members have visited.