Monastery of St. Amenaprkich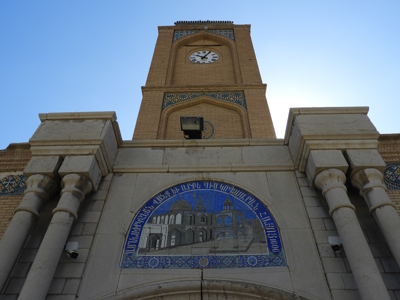 Monastery of St. Amenaprkich (New Julfa Vank) is part of the Tentative list of Iran in order to qualify for inclusion in the World Heritage List. It is a proposed extension of Armenian Monastic Ensembles WHS.
The Monastery of St. Amenaprkich in Julfa (Isfahan) is influenced by both Armenian and Iranian architecture. It constitutes the easternmost manifestation of the Armenian Church. The cathedral was established in 1606, built by the hundreds of thousands of Armenians that were forcibly resettled by Shah Abbas I in his new capital.
Map of Monastery of St. Amenaprkich
Load map
The coordinates shown for all tentative sites were produced as a community effort. They are not official and may change on inscription.
Community Reviews
---
Site visited January 2016. Armenian monastery of St. Amenaprkich or 'Vank Cathedral' is the latest architectural sight of Isfahan added to the tentative list and yet again an Armenian heritage on Iranian UNESCO list.
The special position of Armenians in Iran is an interesting fact, especially if one think about the Armenians' relationship to the other two mainly Islamic neighbours. That kind of religious tolerance in a society like Iran is very surprising. But there are some historical reasons for this. In 1606, during Ottoman-Safavid War, Shah Abbas I transported 150 000 Armenians from original Julfa (nowadays in the northern border of Iran) to the outskirts of Isfahan, and named the village 'New Julfa'. Shah Abbas appreciated Armenian merchants, craftsmen and artists, and ensured that their religious freedom was respected. He hoped that the Armenian merchants would benefit the country with their silk trading skills. The construction of Vank Cathedral began soon after the New Julfa has been established.
Although it is today a lot smaller, New Julfa is still one of the largest and oldest Armenian quarters in the World. There are about 5000 Armenian residents, 16 Armenian churches and an Armenian graveyard in New Julfa. Comparing to the rest of Isfahan, the New Julfa district is like a different world. The atmosphere is more liberal and relaxed. Therefore the district is popular among young people. Vank Cathedral is a centrepiece of New Julfa district and Armenian culture in Isfahan. Armenians have also had bigger influences in Iran. In the cathedral library is an Armenian book which was the first book ever printed in Iran.
Getting to the monastery is easy. I stopped a taxi at Imam Square and asked a driver to take me to Julfa. The taxi driver immediately asked me "Vank"? I assume the Armenian word for 'monastery' is widely used in Isfahan. The monastery seems to be quite a popular place among foreign tourists. My visit was around the time of New Year. It guess it is always confusing when you hear Christmas songs and western pop music in Iran. That was also my feeling when I heard music from the loudspeakers in the courtyard of the monastery.
Stylistically all the Armenian churches in New Julfa don't look like Armenian churches, and the Vank Cathedral is not an exception. It has a domed sanctuary, resembling a typical Iranian mosque. On the courtyard is a bell tower, several graves, a library, a museum and a memorial to the Armenian Genocide. What is striking that although the monastery is from 17th century the brickwork of the exterior looks quite new. While the exterior is simple, the interior is just great: it is covered with colourful and detailed frescoes, gilded carvings and rich tileworks. It is an interesting fusion of Islamic ornaments and Christian motives. The frescoes illustrate the life of Jesus and some Armenian martyrs.
At the time of my visit the whole interior and frescoes have been recently restored. Everything looked so fresh, clear and colourful. What I remember from my visit are the stunningly beautiful frescoes and strong scent of cedarwood inside the building, and Abba song 'Happy New Year' played on the courtyard, because it sounded so out of the place. Overall, visiting Vank Cathedral is like a small glimpse of western culture in an extremely Islamic environment.
It is noteworthy that respect between Iran and Armenia seems to be reciprocal, because Armenia plans to submit Yerevan's Blue Mosque for tentative site.
So the question is whether this should be a World Heritage Site on its own or to be an extension to the existing WHS (The Armenian Monastic Ensembles in Iran), or to be WHS at all. I think it has all the qualities for a World Heritage Site. Despite its exquisite and distinctive interior I don't see it as a WHS on its own. There are already three WHS in the city of Isfahan. This TWHS relies on the impressive frescoes and that the cathedral is an important center of unique Armenian community in Iran. Therefore Vank Cathedral would be a nice extension to the current Armenian Monastic Ensembles WHS.
---
Community Likes
Site Info
Full Name

Monastery of St. Amenaprkich (New Julfa Vank)

Country

Added

2019

Extension of

Type

Cultural

Categories

Link
Site History
2022

Postponed

Due to >1 nomination proposed by State Part in same year
2019

Added to Tentative List
Visitors
11 Community Members have visited.