Yukon Ice Patches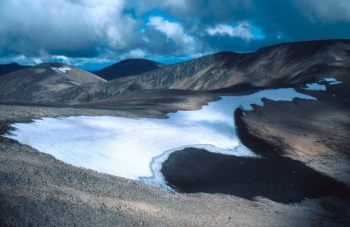 Yukon Ice Patches is part of the Tentative list of Canada in order to qualify for inclusion in the World Heritage List.
Throughout the millennia, woodland caribou have congregated on snow and ice during summer months, making Yukon's ice patches a vital resource areas for Indigenous hunters. Hunting weapons that missed their marks became incorporated into the snow and ice. Fragile, organic objects, seldom seen at archaeological sites, are recovered, provide exceptional evidence for an enduring Indigenous cultural tradition of seasonal hunting. Persistent seasonal hunting demonstrates an outstanding and enduring use of a cultural landscape centred on alpine hunting and the evolved symbiotic relationships between ice, animals, insects and people for 7500 years.
Map of Yukon Ice Patches
Load map
The coordinates shown for all tentative sites were produced as a community effort. They are not official and may change on inscription.
Community Reviews
---
Chinese-Canadian - 12-Aug-18 -
When I first read Canada wants to inscribe ice patches I already figured something crazy must be behind this site, or let's call it "sites". Ice patches are not unique to the Yukon at all. That is for me the first problem. Of this is a pioneer inscription that would later expand to other areas I find it the wrong approach. Secondly, the ice patches in the Yukon are not just in the Carcross/Tagish First Nation hunting grounds. Thirdly this would also extend the sites into the US side which again means for me the entire area should be considered before attempting this inscription. Lastly, and for the most worrisome of all, ice patches are disappearing due to environment changes. That would essentially leave the hunting ground artifacts and possibly keep that as a worthy inscription. Lake Mungo in Australia is a similar example of such a cultural site.
As for the actual ice patches, they were only discovered in the 90s and what went down was the caribou use the ice fields to cool down in summer, not bothering to leave the patch even if pesky insects or those pesky hunters would come to bite/slay them with their arrowheads. The hunting artifacts are not accessible in the wild but you can see it at several visitor center: Kluane, Haynes Junction and Carcross. On a side note I always find a bit of luck involved who of Parks Canada is in the office with knowledge about certain things, and this is not just Canada of course.
So can you see the ice patches? Yes. There are several at Lake Fish near Whitehorse, not far from Carcross going towards the east, and in Kluane NP if you do a helicopter tour although your guide doesn't point them out to you – ask of they know and don'tbe surprised if they only know about the glacier ice. Having said all that, I obviously have no idea which exact area of Yukon wants to be recognized for this. You can actually find some hunting ground remains when you go trekking (or rather horseback riding) around Lake Fish but as I said that is not the area for Carcross/Tagish First Nation hunting grounds.
---
Site Info
Full Name

Yukon Ice Patches

Country

Added

Type

Cultural

Categories

Link
Site History
2018

Added to Tentative List