The Banda Islands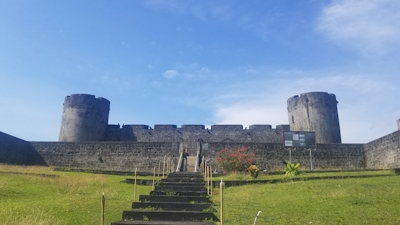 The Historic and Marine Landscape of the Banda Islands is part of the Tentative list of Indonesia in order to qualify for inclusion in the World Heritage List.
The Banda Islands are a volcanic group of ten small volcanic islands, which until the mid-19th century were the world's only source of the spices nutmeg and mace. They were among the earliest European exploitations in Asia, the Dutch already constructed a comprehensive nutmeg plantation system on the islands during the 17th century. The plantations relied upon the endemic and high-quality Bandanese nutmeg tree. The island group also has one of the most spectacular coral reefs of the region.
Map of The Banda Islands
Load map
The coordinates shown for all tentative sites were produced as a community effort. They are not official and may change on inscription.
Community Reviews
---
Chinese-Canadian - 20-Jun-23 -
Banda is magical. It features so much and while it's not for everyone, the people who were there had already visited multiple times over the decades and want to stay as long as the visa allows. I suppose you can get addicted to the relaxed style. If you only want to come for a couple of days then this isn't really the place to fit into a tight, fixed schedule.
Side panel: the Indo visa issue is that you have to extend after 1 month and you need to return to an immigration office which would be in Ambon but you have to wait several working days to get your passport back and the ferry/flights aren't often enough to make this a quick hop. Thus: come with a fresh visa if you plan to stay for 2-3 weeks because extending is a major problem. Maybe at one point they'll introduce the 2 month visa commonly to avoid this problem because it's also very annoying going on lengthy liveaboards.
As I've begun talking about logistics then let's start with that. You can get a flight from Ambon. It's twice a week, schedule is sort of fixed and you can also continue east if you prefer that, however, you can ONLY buy tickets from an agent and that agent only sells you when the schedule is confirmed, meaning a month before or so. That's a big problem for organizing your trip well so you have to be flexible. It also seems the agents in Ambon sell the tickets from Ambon and the agent on Banda sells the ones originating from Banda - crazy, right? The flights aren't expensive though and you can take enough bags unless you have full dive gear in which case you purchase extra if available. The OTHER method of getting to Bandon is by ferry. There are 2-3 regular ferries which means you have a trip every few days. They go through the Banda sea so they'll be slow and the weather can disrupt the journey. My first leg was delayed by a day at first, then 6 hours on the day it was supposed to go. The hotels on the islands know all about this and delay in Indonesia is "normal" thus no worries about your bookings - just be flexible, remember! The ferry is ok but not exactly comfortable or fun. You get to see the islands the last hour of the leg, you get some basic food and there is a store for additional instant noodles and drinks. I suggest you get an overnight trip. Additionally, all Bule will be greeted by the crew as they try to rent you out their rooms while they sleep in the regular places or a hammock. It's a good business for them so they'll be happy, and you pay maybe 200k 2023 rate. The rooms have a toilet, usually working, aircon(!) and privacy. They literally give you the key for the room and don't bother you until arrival. I didn't get a private room on my return to Ambon and the mattress isn't great but was fine for a night, with everyone sleeping and the only loud noises might be near a toilet door (if there is space you can just move somewhere else on the floor). Ok enough about logistics, but to wrap up: it's cheap, unreliable, and you want to be flexible and arrange a lot of time on your hands. One more thing: if you are scuba diver you can find liveaboards that start in Ambon, do some frogfish muck diving over there, then go to Banda and beyond. This is suitable if you aren't into all the logistics crap and want to just go diving for a couple of days only. You'll miss a lot of the islands but just want to point out the option as my buddy did that and was happy with it.
Banda is several islands, with more than half inhabited. The arrival island of Banda Neira being the arrival point for both the ship and plane, which has restaurants, shops, a usual empty ATM, Fort Belgica right in the center, nutmeg plantations at the north and the major hotels (don't think Hilton etc, they are family run) at the western stretch. A regular traveler will be spending most of your time here. Banda Api is the largest active volcano which you can hike up, usually in the morning to be there for sunrise (see pics) and ever since the last eruption it's only inhabited by a dozen houses. Banda Besar is the largest island you will probably only go there for either biking around or visiting the larger nutmeg plantations. There are also some outliers like Ai, Run and Hatta, one I visited for a dive trip and spend lunch on the island, and they do offer lodging if you don't mind super basics and no internet access. There are local ferries which are usually timed with the ferry arrivals. If you don't intend to go there for longer stays then I think the main access is only via a dive or snorkel trip.
Banda has a lot of history and importance. The Brits and Dutch used to fight over it after the Portuguese were replaced, mainly because the nutmet was a huge trade profit. Nutmeg comes from Banda and nowadays it might not be so special but I ensured getting some nutmeg to take home (...smuggle perhaps?!) was on the cards. At one point the countries traded Manhatten for Banda which at the time seemed less important due to the spice trade but noways that's perhaps as silly as the Louisiana Purchase. You won't find many non-Dutch remains on the island. As you are probably staying on Banda Neira you can easily visit Fort Belgica which is also on the 1,000 Rupiah note, with the picture include the volcano in the background taking from the eastern tower up on the fort which involves a tight ladder climb to get up there.
If you want to visit nutmeg plantations your best bet is on Besar which means organized a trip. A car trip around the island will be half-day easy but the hotel also offered a mountain bike which makes it more fun but also very bumpy. You technically don't need a guide to get around but it's easier. You also don't really need a guide for the volcano hike which starts at 4am but it's recommended. The path up starts rather gently but the loose gravel is dangerous and you'll be spending an hour fighting to get up there. High fitness is required.
Lastly, my favourite, the scuba diving. You can arrange it with the hotels (recommended: Baba Lagoon or Maulana which was once visited by Lady Di according to legend, and signed the guest book) and they will go out daily if there are enough divers and usually they are. Worst case you do a local dive but they aren't too great if you ask me. The triple pinnacle is a highlight, you might also find tuna heads left behind by fishermen which attracts moray eels. The visibility is so good out in the open sea that you will always spot something. If you are lucky and in the right season you can also find orcas chasing the dolphins which at first I figured was impossible but I've learn orcas are not okay with warmer waters but mainly hang out in the colder ones due to their feeding grounds - seals. Anyhow, I spend a week diving here and would have done more but due to the raw logistics I was happy to move on to my next destination.
Once again, Banda is magical, you'll have a great time, it's very relaxing and the people I met were a perfect crowd to have around. It almost feels like they knew how the place was and gelled right in. I'd say a week on the island is enough time to see everything and not get bored.
Finally, site owner Els wants us to do more ranting of sorts but I have to say the people on the islands were the friendliest bunch of Indonesia, even with Bali getting that vibe by the bogan visitors, and they don't seem to care about commercialism and just enjoy life the way it is. There was also a group of policemen from Ambon flying in to stay at the Maulana and when I mentioned the huge ferry delays and being worried I miss my flights to Manado/Bunaken they offered to take me along the next day - which is incredible - but I felt I didn't want to "owe" anyone something which wasn't really discussed but, well, just didn't want to risk a risqué situation. All worked out in the end. Oh, still haven't ranted or insulted anyone...well how about this one: silly Dutch to give up Amsterdam for nutmeg...sorry that's the best I have.
When you get to Banda don't forget to review because it gets scarce overage.
---
Site Info
Full Name

The Historic and Marine Landscape of the Banda Islands

Country

Added

2015

Type

Mixed

Categories

Link
Site History
2015

Revision

Renomination of Banda Islands (2005)
2015

Added to Tentative List
Visitors
1 Community Members have visited.