Mount Harşena and the Rock-tombs of the Pontic Kings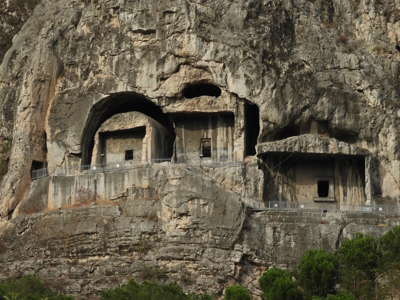 Mount Harşena and the Rock-tombs of the Pontic Kings is part of the Tentative list of Turkiye in order to qualify for inclusion in the World Heritage List.
Mount Harşena and the Rock-tombs of the Pontic Kings comprises a landscape of limestone rock formations in which tombs were carved. The tombs hold the remains of the 5 Pontic Kings. They are Hellenistic in their design, with round-arched facades. They date from the 3rd and 2nd century BC. This mixed proposal also includes the river valley they lie in, Amasya Fortress and an Ottoman neighbourhood with wooden houses.
Map of Mount Harşena and the Rock-tombs of the Pontic Kings
Load map
The coordinates shown for all tentative sites were produced as a community effort. They are not official and may change on inscription.
Community Reviews
---
Amasya was on our way from Ani to Istanbul and, considering it required only a short detour from main E80 road, I decided to go there. It was Saturday afternoon and the town was bustling with tourists. There is no doubt the town is worth its popularity – it was undisputedly one of the most beautiful places in Turkey we visited. The town, like many Turkish settlements, is located on the slope of Mount Harşena, along the river of Yeşilırmak and its city center is well preserved. The buildings just on the river bank are really picturesque. To fully admire the beauty of the town one has to climb up the mount Harşena. As a WHS fan I had to do it anyway because the mountain is on Turkish Tentative List. The uniqueness of Harşena stems from stone tombs carved in its slopes. The tombs were carved by several Pontic kings, who resided in Amasya as a capital of the kingdom from 3rd century BC.
The Pontic Kingdom was established by Persian satrap Mithridates who adopted Persian tradition of rock tombs (of which the most prominent example is Naqsh e-Rostam near Persepolis). The ones carved in Harşena are very big – up to 15 meters high, but in terms of artistic value are far away from their Iranian counterparts. I dare say they look much nicer from a distance than near. There are no reliefs, just carved caves with small entrance (you cannot look into the tombs but I guess there is nothing there). The builders made a passage around all of the tombs and even one of them is open for visiting.
I am not sure if this place has any chances for inscription but it is definitely worthwhile to go there.
---
Community Likes
Site Info
Site History
2015

Added to Tentative List
Visitors
9 Community Members have visited.